One-click Transfer Tool between Different Smartphones
Switching smartphone from one platform to another would be a big headache without the help of any tool. There are so many things being transferred from the old device to the new one, especially like phone contacts, text messages, photo gallery and media files. Fortunately, Phone to Phone Transfer is ready for assistance under such cases. It's a full functional Windows app designed for mobile users who is preparing to replace its old phone to a new one automatically without any hassle. With this program at hand, the entire transfer process can be done with one-click! No any single additonal work included! Tech specs:
Supported Mobile Platforms: Android and iOS.
Supported Brands: Apple, Samsung, HTC, LG, Sony, Motorola, Asus, Oppo, Huawei, ZTE , Nokia and many more.
Supported Network Providers: AT&T, Verizon, T-Mobile, Sprint, Orange and other more.
Backup and Restore Phone Data with Lossless Quality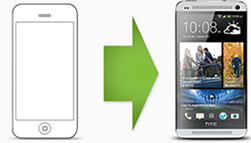 Need to backup the data stored on your old phone before selling it to someone else or in case of damage? Besides content transfer, this prorgam also supports to export all your phone data to local computer in preparation for the new device, including contacts, text messages, photos and media library. The whole backup process is pretty simple and straightforward, only a few clicks can get the job done. No hassle involved!
Backup and Restore Later: You're allowed to backup phone with a lick and then restore to any other supported phone.
Retrieve BlackBerry Backup: It lets you restore BlackBerry backup files and transfer to iPhone or Android.
Transfer iTunes to Supported Device: The desktop app continues to fully support all plug-ins and extensions, this means you can easily transfer iTunes songs, playlists to Android device if you'd like. Besides it allows you to transfer contacts, text messages, photos, video, etc. to any supported mobile device.
Erase All Data on Your Phone (Optional)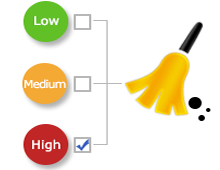 In most cases, people tends to sell their old phone for a new one. To protect the data stored on the old phone from being leaked, it's highly recommended to delete the private data before selling. With this consideration in its original design, the program provides addtional function to solve the problems that users may come across. Phone to Phone Transfer has the built-in feature to let your permanently erase your data in a few minutes.
Erase Deleted Data:  It can deeply scan your phone and permanently erase all deleted data in the phone memory.
Erase Existing Data: To protect the data stored on the old phone, it can wipe all content off your iOS or Android phone.
Transfer Content between Different Networks: AT&T, Verizon, Sprint, T-Mobile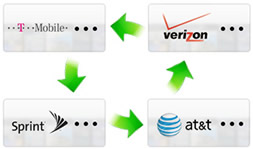 Don't rely on personnel at the phone store to transfer only contacts from your old phone to the new one. This Phone to Phone Transfer can transfer just about everything with as little as a single click.
Transfer data between phones from the same carrier
Migrate data on phones of different carriers
Copy data from a contract phone to a no-contract one
Supported Device
Apple
iPhone 11, iPhone XS/XR/XS Mac, iPhone 8/8 Plus, iPhone 7/7 Plus, iPhone 6S/6S Plus, iPhone 6/6 Plus, iPad, iPad Mini, iPad Air, iPad Pro, iPod Touch
Android
Samsung, HTC, LG, Sony, Motorola, HUAWEI, Google phone, ZTE, Xiaomi and other phones
Ready to Download the Trial Verison?