How to Completely Erase Photos from iPhone without Restore
Photo files can occupy too much space in your iPhone, resulting to slow functioning of your device. Perhaps, you prefer to keep all those photos in your iPhone because they are memorable to you. But then, what if they already occupy too much space in your device? Or you want to upgrade your device, sell it, or give it to someone else? Surely, you would never want others to feast on those photos and some could be too private to share. You might think deleting them is enough but you are entirely wrong. When you delete a file, it is just hidden somewhere in your device so that you cannot see them anymore. But remember that the delete function in your iPhone does not destroy data so that others cannot see them or use them anymore. Your photos can be recovered and perused by someone who knows about computers and who is technology-savvy enough to retrieve and open your deleted files.
Don't take chances with all the information that you have stored in your iPhone, including our photos. Those who engage in cyber crimes can use them to blackmail you especially if you have stored photos that are too private and are too personal to share with others. These are mere photographs but they can cause trouble when they land on the hands of lawless elements and opportunists.
Drive away all fears of having your photos exposed or used as threat. Install iOS Data Eraser to your computer and destroy all photos before you give your gadget to a buyer or to someone you want to have it. This program uses technology of destroying data and it can completely obliterates all data and no matter how knowledgeable or how computer-savvy the one who got it, he would never be able to get any photos from your iPhone.
Tutorial: How to Erase Deleted Photos on iPhone 4/5/6/6S/7 Permanently
Step 1

Run the iOS Eraser and Connect Your iPhone to Computer

To get started, you need to connect your iPhone and run the iOS Data Eraser program on your computer, the Windows and Mac version are available for download, you will see the main windows.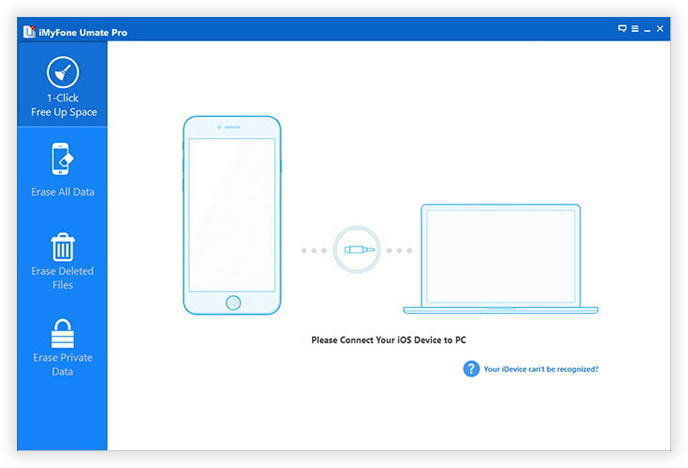 Step 2

Select the 'Erasing Mode' Based on Demand

This program offers 6 erasing options for user's different demands, to help you understand it better, this article will demonstrate how to erase deleted photos from iPhone device, because of the simple deletion will not erase or destroy the deleted data, for all this, you have to select ' Erase Deleted Files' to completely erase your deleted sensitive photos from iPhone device.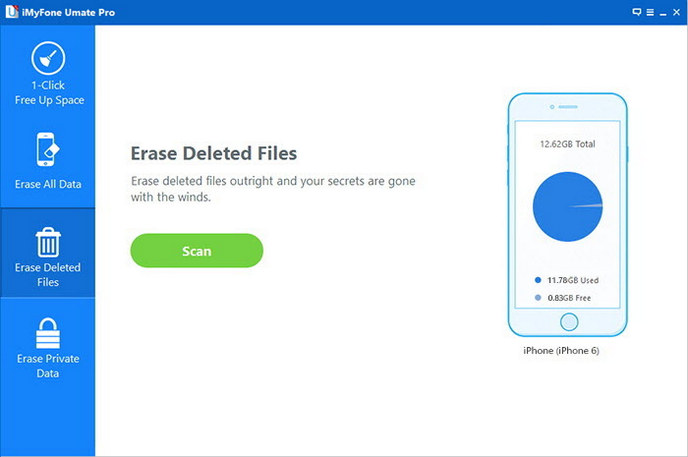 Step 3

Start to Analyze the Content stored on Your iPhone Device

This program will produce deep analysis and visualizations of your iPhone data, it will take some time to analyze the all data on your iPhone, just wait for while. Please don't disconnect your iPone while analyzing.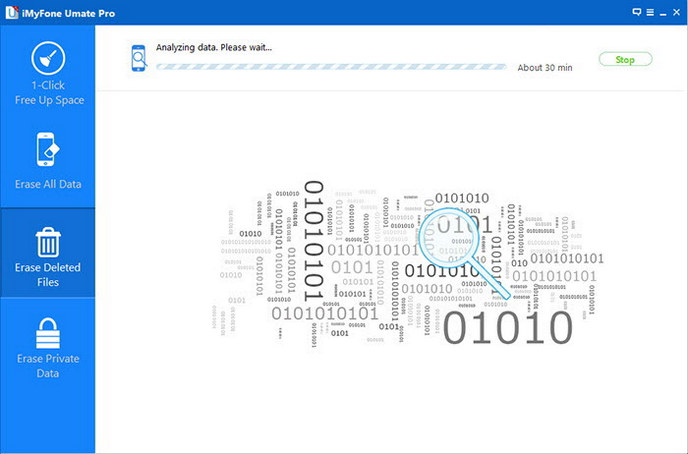 Step 4

Select the Photos You Need to Erase Permanently

After analyzing, all the found data will be displayed in categories with details (number, name, data, type and deletion time), you can select the items you want to erase, then Next.
Step 5

Start Erasing iPhone Photos without Restore

Just ensure you've selected the private photos that you don't want to be recovered by others, just click the 'Erase Now' to start erasing photos from old iPhone device.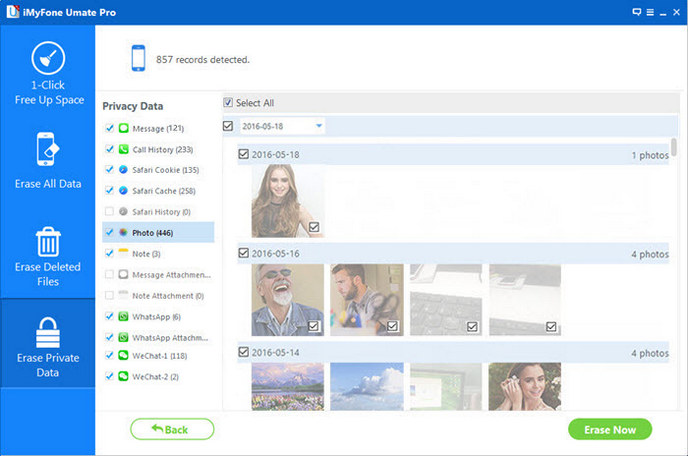 What if you just want to delete some photos to free more space? Remember that deleting photos does not mean that they are gone. They are just there and they still occupy precious space that you can use for other files, it can still be easily recovered by professional data recovery program. Further, if you want your iPhone to work fast, there must be enough free space. With iOS Eraser Program, you can create a backup of all photos you have in your computer and choose ones you want to keep in your iPhone. You can now erase from your device photos you do not need to keep. The remaining ones will be compressed. The size is reduced and so you get more space now to store other data you want.
Aside from photos, you can wipe out everything in a single click, or you can only select files that you do not need anymore. This program will be your best tool when it comes to getting rid of information that you think is not safe to share with other people.