How to Fix iPhone Stuck on Apple Logo
The problem of which I will discuss in this article is one of the most insidious that you can find on the iPhone: the fact that the phone remains stuck on apple logo during power up and that in fact it is impossible to end the startup of the device. What are the causes of the iPhone stuck on the screen with the Apple logo?
1. Update iOS.
2. Restore from iTunes or iCloud.
3. Jailbreak iPhone.
It happens to many users that see the iPhone stuck with the Apple logo after an upgrade or after a restore. If you are reading this article, then you've probably been trying to make the device back to normal and do not want to lose any data on it. When the iPhone is stuck on the screen with the apple logo, you cannot access anything. You need to find a solution if you want to continue using the device. In addition, if you have tried to press the Home and Power buttons but noticed that you do not solve anything, then a restore seems to be the only solution to the problem.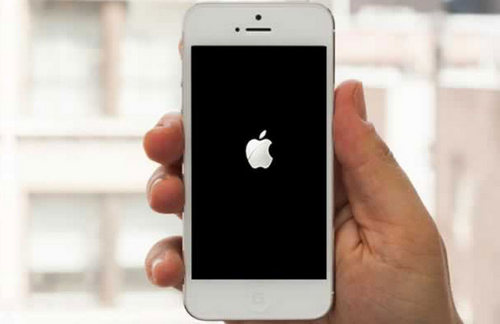 Fix iPhone Stuck on Apple Logo with Restore
Fortunately, it happens when an occurrence of this kind you have a weapon on your side, which is iTunes: generally, in most cases, the iPhone is recognized although it will remain stuck on apple and we can then make a backup of the device, thus saving all your data and your applications as well.
The interesting thing is that the backup is not a 1:1 (identical) of the data on the iPhone, so the problems with the jailbreak, as well as the jailbreak itself, are not saved. In this way, you can restore your iPhone without losing any of your data.
To restore the device you need to turn iPhone into a particular way, it manages to avoid the "apple block" is called DFU mode and requires a little use of hand to be activated. When your iPhone stuck with logo, just turn off your device by holding down "Home button" and the "Power " button simultaneously for ten seconds, your iPhone will shut down abruptly. Let's wait a few seconds, and then press the "power button" to turn on it back and after turned on immediately press the "Home button" as well, hold the both button until for about 10 seconds. After that release the power button but do not release the Home button for another 15 seconds.
In this way, you will have activated the DFU mode that will help you to make recovery from the last useful backup through iTunes. Now, connect the USB device to your computer and wait for the recovery operation to complete. Eventually, your iPhone should be returned to function properly.