How to Fix iPhone/iPad/iPod Stuck in Recovery Mode
"Hey! My iPhone is stuck in recovery mode. But, I do not want to restore with iTunes to prevent deletion of my data. However, I have connected my iPhone to my computer but it is not recognized by iTunes as well. What Can I do? Help Me!"
This is a common issue we often see in forums that iPhone users ask for help. That is the reason why I wrote this post to help you get out of recovery mode without losing data on iPhone. But, before explaining what is the most effective ways to fix the iPhone stuck in "recovery mode" problem, let's try to understand the reasons that bring the iPhone into recovery mode. Generally, your iPhone/iPad /iPod could suddenly go into recovery mode after one of these actions below:
1. Update iOS: The battery is not sufficient for the complete installation of the upgrading process.
2. Restore to Factory Settings: The iPhone may get stuck in recovery mode during or after the device reset for errors.
3. Jailbreak: A wrong operation or failure during jailbreaking can cause the iPhone stuck in recovery mode.
4. Reasons Unknown: When using the iOS device, it can happen suddenly to enter into recovery mode and the reasons for this behavior are still unknown.
Method 1: Fix iPhone Stuck in Recovery Mode with Manual Reboot
For the manual reboot, you have to use the two buttons on the iPhone: Home button and Power Button. If these buttons are working fine, then you can get out of Recovery Mode easily in this way.
Step 1: Press and hold both buttons simultaneously for about 15 seconds until the iPhone turns off.
Step 2: Press the power button to start the iPhone. Then iPhone will be back to normal.
Method 2: Fix iPhone Stuck in Recovery Mode with Special Software
If the method 1 failed or if the two buttons of iPhone are not working properly, then you should use the following method, which is based on the useful software iOS System Recovery. This premium quality software is available on both Windows PC and Mac. You can fix the problem in a simple and fast way. Plus, you can also recover deleted or lost data from your iPhone with the program, such as Contacts, Messages, Calendar, Media, and Notes etc. But in this case, I will show you the steps to fix iPhone stuck in recovery mode.
Step 1

Download and Install iOS System Recovery

First, you have to download and install iOS Data Recovery. It is available for Windows and Mac as well.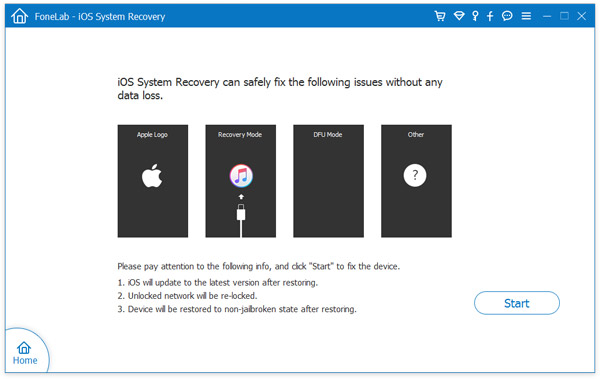 Step 2

Connect iPhone to Computer

Launch the program on your computer and connect your iPhone with USB cable. After the program detects your device, you will get a message on the screen that your phone is in recovery mode.
Step 3

Download Device Firmware

From the main screen, select "More Tools" -> "iOS System Recovery" and click "Start" button. Later, you need to download firmware version according to your device mode.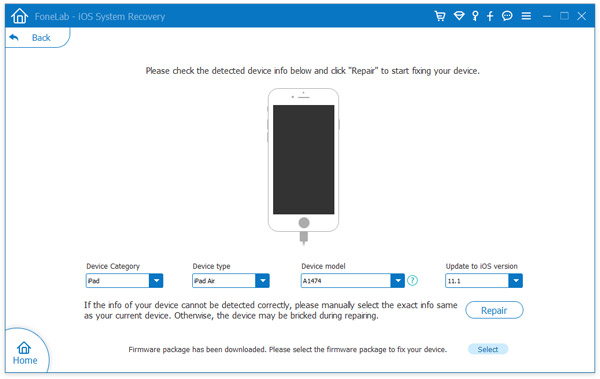 Step 4

Start Fixing iPhone to Normal Mode

When the download was complete, the program will start to repair the device. A few minutes later, your iPhone will get into normal mode.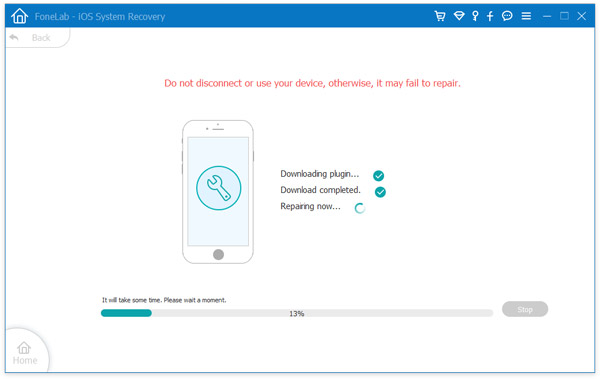 Besides fixing iOS system problems, this program can also recover deleted data from iOS device, iTunes or iCloud backup. So when you lost data on iPhone, iPad or iPod, you can restore them from the three options. In addition, you need to back up phone data regularly just in case of unexpected damages to the device. If not, it would take more time and effort to retrieve the lost data. If you have any question, please leave a comment below.