#1 Rated Data Wiping Solution for iPhone/iPad/iPod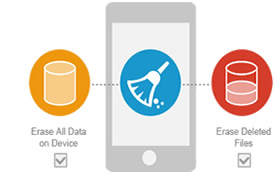 Still worry about the privacy issue before selling out your old iPhone, iPad or iPod? Are you wondering whether the default factory setting is reliable or not? Privacy is a big concern these days as new hacks exploited at a daily basis. However, the questions are cleared now with the help of iOS Data Eraser, ranked NO.1 by industry experts from all over the world. It's the perfect tool to stop identity theft from your iPhone, iPad and iPod touch with 1-click safeguard for ultimate privacy protection.
100% remove contacts/text messages/photos/notes/calendar/bookmarks.
Permanently delete system settings and account details.
Automatically scan and wipe all underneath app cookies and caches.
Featured on CNET, PC World, Life Hacker Softpedia and Softonic.
3 Data Erasing Models Powered by Unique Algorithms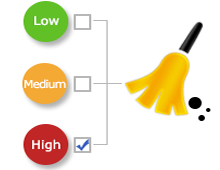 There are 3 different data erasing models you can choose from when wiping your device data. Each model is powered by exclusive patent-protected algorithm to ensure the deleted data unrecoverable, even with the most sophisticated data recovery tools. The higher the model is, the more secure for the deleted data. However, it takes more time to complete the process with high level models.
High (3 passes): meets the DOD 5220 - 22 M standard.
Medium No Erasing Trace: leaves no trace of erasing when finishing the whole operation.
Low (1 pass): Effectively delete data on iPhone, iPad and iPod in seconds.
Featured on CNET, PC World, Life Hacker Softpedia and Softonic.
No Any Data Recovery Possibility
Not Recoverable after Data being Erased by the Software
Simple deletion is not enough, compared with the general deletion; this program offers a more deep-seated, and the most safest and effective data protection solution available foe iPhone, iPad and iPod device, it lows you to erase files in such a way that it is impossible to recover them by software or hardware means, this is The only way to fully ensure that data cannot be recovered by some iOS data recovery program.
The user interface is simplified and straightforward complied with the latest Windows design trends. The program displays the hints on its main screen, telling you the features in short before proceeding to use the function in real. No hassle involve among the entire program, even you are a computer novice, you will have no problem in working with the program for sure.
Supported iDevices - iOS 12, iOS 11 & iOS 10
iPhone Series
iPhone XS Max, iPhone XS, iPhone XR, iPhone X, iPhone 8, iPhone 7, iPhone 6S, iPhone 6, iPhone 5S, iPhone 5, iPhone 4S, iPhone 4, iPhone 3GS, iPhone 3G
iPad Series
iPad Air, iPad mini with Retina display, iPad mini, iPad with Retina display, The New iPad, iPad 2, iPad
iPod Series
iPod touch 5, iPod touch 4, iPod touch 3, iPod touch 2, iPod touch,
iPod classic 6, iPod classic 5, iPod classic 4, etc.
iPod shuffle 4, iPod shuffle 3, iPod shuffle 2, iPod shuffle 1,
iPod nano 7, iPod nano 6, iPod nano 5, iPod nano 4, iPod nano 3, iPod nano 2, iPod nano
Ready to Download the Trial Verison?