3 Way to Transfer Contacts from iPhone to Samsung Galaxy
Mobile phones have emerged more as the smart sensations; something more than the communicative orientation alone! This has led to the booming sales and dynamic switchovers to better models and devices that offer more and better of everything. This dynamism has been felt more in the frontline firms like Samsung and Apple among others. While each is competing against each other, the users are upbeat and want to make real time transitions. Market trends have suggested increased resonance for the Frontline model Samsung Galaxy S8 and many Apple users are busy finding ways of how transfer contacts from iPhone to Samsung S8? Here are authentic ways to make such transfer in a safe manner without risking the health of the gadget even in the slightest.
Apple offers to its users, real time, reliable and fluent cloud backup services through iCloud and iTunes. The methods to make such transfers are based on leveraging these authorized spaces. Various smart applications like Phone Transfer tool and others offer the same fluency. Let's discuss each of these.
Solution 1 : How to Transfer iPhone Contacts to Galaxy S9/S8/S7/S6 with iCloud
•     Switch on iCloud Backup in your iPhone.
•     Now click 'contacts' button on the menu of the main screen of the iCloud.com.
•     Now select ExportVcard option from there to allow storing all the contacts as the .vcf files. Your contacts are now on cloud.
•     You will have to enter your Apple ID and password to access the iCloud. The ID you enter has to be of the iDevice from where the contacts data is to be transferred.
•     Bring your .vcf file to the Samsung Galaxy S5 root folder through the default People App.
•     The contacts would be thus imported. This process however requires the iCloud enablement.
Solution 2 : How to Transfer iPhone Contacts to Galaxy S9/S8/S7/S6 with iTunes
•     Connect your iPhone to desktop via USB.
•     Open the iTunes and select your iDevice from there.
•     Navigate to 'info' tab and select 'sync contacts with'. Then select 'Google Contacts'.
•     You will have to register for a Google account if there is none available with you.
•     Click on the icon 'Apply'. This will allow Google to get synced with the iTunes.
•     Now navigate in your Samsung Galaxy S5, to Setting – Accounts.
•     Add the created Goggle Account to your S5.
•     All your contacts would be synced with your S5.
Solution 3 : Transfer iPhone Contacts to Galaxy S9/S8/S7/S6 with Phone Transfer
If you want to avoid all the hassles of iTunes and iCloud then smart apps like Phone Transfer program are available as fine escorts. Whether you're switching to a different phone or changing carriers, the phone transfer app can make it extremely easy for users to copy everything between different phones regardless of operation system, everything it transfer is 100% the same as the original one, including contacts, messages, videos, apps and other data. The following simple steps are to be adhered and it will all be done in minutes. Here is the chronology of how to proceed.
Step 1

Install and Run Phone Transfer App on Your Computer

Now download the suite and run it so that it gets installed. The screen will automatically appear after the installation. The Windows and Mac version are now available for download, it is extremely easy to use and requires no configuration or additional app. You can see there are a bunch of options on the main interfac, please select Switch now.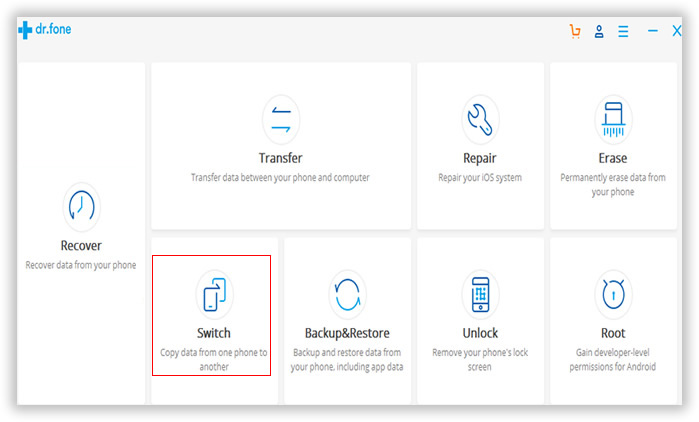 Step 2

Connect iPhone and Galaxy S7/S6/S5 to the Same Computer

You need to connect both the devices to the system through USB. The USB drivers have to be ensured if both the devices are to be sensed. Once detected, both your Samsung phone and iPhone will be shown in the window. Make sure the iTunes are installed on your computer.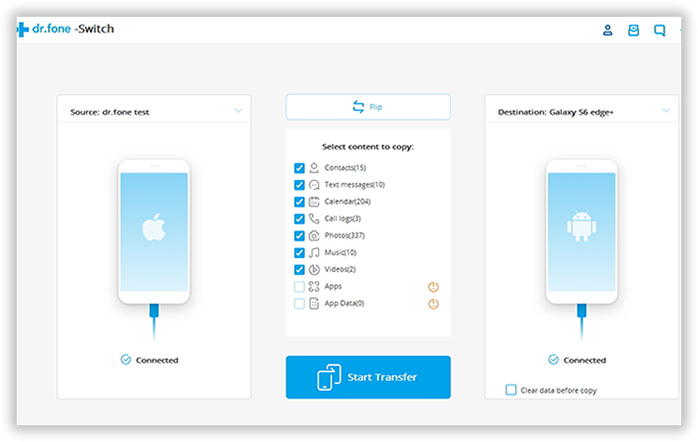 Note: There is a "Flip" button on bottom of the program, which allows users to switch the destination or source device.
Step 3

Began Analyzing and Transferring iPhone Contacts to S7/S6/S5

In this step, the program will automatically analyze and read the data in your iPhone device, then display each items with numbers. Then just select the data you need to transfer from the content list, click Start Transfer button located at the bottom of the app, after a short time, you will see a small window pop up and tell you all work is done. Just note that the connection can not be broken during the transfer.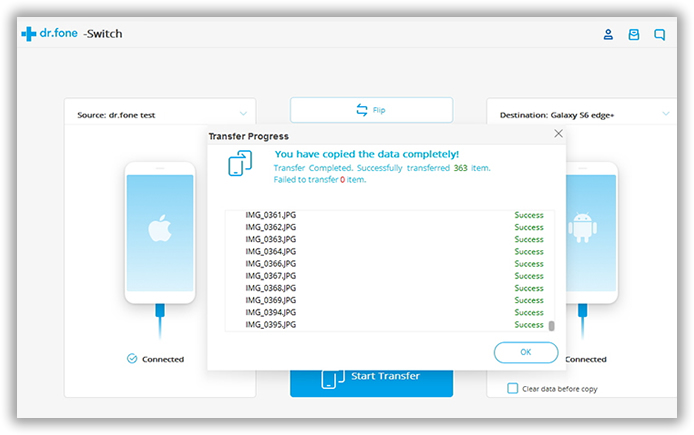 All the above processes offer authentic routes to transfer contacts from iPhone to Galaxy S8/S7/S6 efficiently. The first two are the authentic, but complex while the third one that relies on app Phone to Phone Transfer has really proved to be a smart process that offers swift results and in a safe way too! The requirement to enable iCloud and register for Google Accounts is also not required here! So choose your route wisely.