[Fixed] iPhone/iPad/iPod Screen Frozen | How to Unfreeze It
If you notice that your iPhone screen freezes and is not responding at all, don't worry too much. This happens a lot on iOS devices. Generally, there are 3 ways to solve the screen frozen issues. I will list all of them in here.
Supported iOS Device: iPhone 7/7 Plus, iPhone 6S/6S Plus, iPhone 6/6 Plus, iPhone 5S/5/4S, iPad, iPad Mini, iPad Air, iPad Pro and iPod Touch
Supported iOS version: iOS 10.0/10.1/10.2, iOS 9.0/9.1/9.2/9.3, iOS 8.0/8.1/8.2/8.3/8.4 and iOS 7.0/7.1
Method 1: Fix iPhone Screen Frozen with Hard Reset
A hard reset is the easiest way to fix all sorts of iPhone issues you may come across. This is just like a compute reboot. Simple and efficient. So you can use this method to unfreeze your iPhone in less than 10 seconds. Please don't let word "reset" scare you away because it doesn't erase anything from your iPhone.
Step 1: Press the Home and Power button at the same time for about 10 seconds.

Step 2: After Apple logo appears on the screen, release the buttons.
Step 3: Now, the iPhone should turn on and function like normal. If this still doesn't help, then move to Method 2.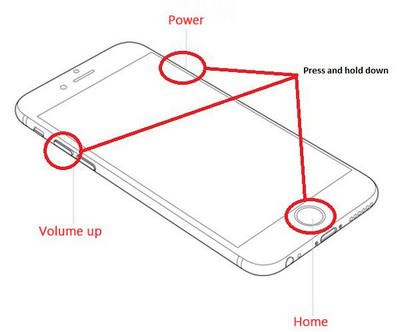 Method 2: Unfreeze iPhone Screen by Restoring from Backup
There are a couple of cases that cause the iPhone frozen. One of the most common ones is incompatible third-party apps. If this was the case, then a factory reset or restore can solve the issue with the help of iTunes. However, the data on the iPhone would be wiped permanently. Make sure you have backed up your iPhone previously. If not, then stick to Method 3. How to restore from iTunes backup:
Step 1: Connect your iPhone to a computer and open iTunes app.
Step 2: Click iPhone icon on the upper right corner. Then move 'General' tab on the left sidebar.
Step 3: There is an option on the main windows called 'Restore iPhone'. Choose a backup and restore from it.
Step 4: After that, the iPhone should reboot as normal.

Note: If the device would not be detected by iTunes, then move to Method 3, too.
Method 3: Fix iPhone Screen Frozen with iOS System Repair Software
If you already tried above methods and still unable to restart the device, then instead of trying to fix it on your own or asking for any expert, you should take the help of iOS System Recovery software, a newly developed app to fix your iOS device issues within 10 minutes. More importantly, you will not lose any data during the process.
This software can easily fix all the above problems and can get your expensive models back to normal. The best thing about this software is that it is easy to use and one can handle it without much experience. During the process, you will not lose any data. It works for all the models including iPod, iPad, and iPhone. 
Step 1

Install the Software and Connect iPhone/iPad/iPod to Computer

To access system recovery function, first, you need to download and install the program on PC or Mac. Then launch the app on your computer. From the main interface, choose More Tools -> iOS System Recovery.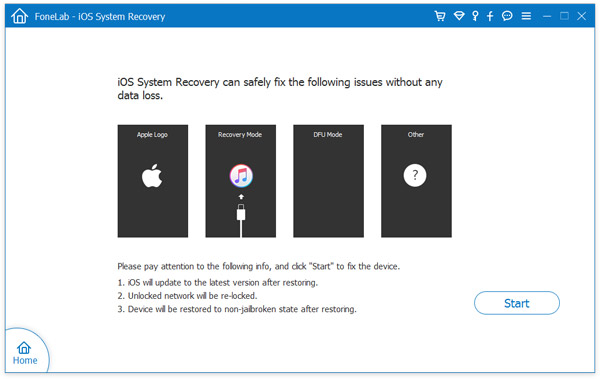 Now you connect your iOS device to computer with the USB cable. After the program detects your device, you need to click the Start button to continue.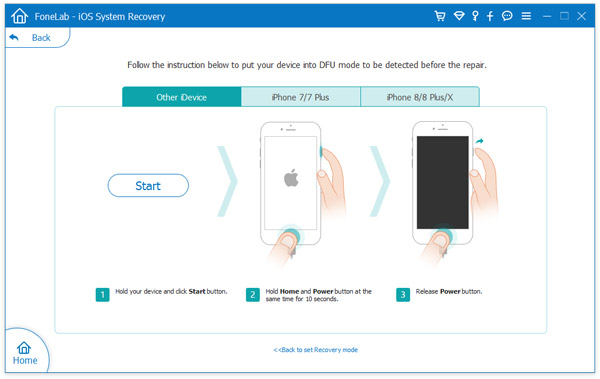 Step 2

Download iOS 10/9/8/7 Firmware 

In this step, you should download a correct iOS firmware for the device. Choose the device name and an iOS version, and then click the Download button. The firmware will be downloaded automatically. But it takes some time to be completed.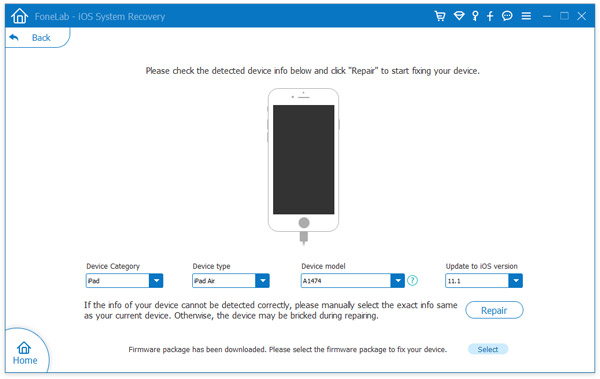 Step 3

Start to Fix iPhone Screen Frozen Issue

Once the download is finished, the program will start the repairing process. It'll repair your iOS device to get the get it out of the recovery mode and to make it work properly. Within a couple of minutes, you will come to know that your gadget is returning to the normal mode. The whole process will take less than ten minutes and your effort will be minimal.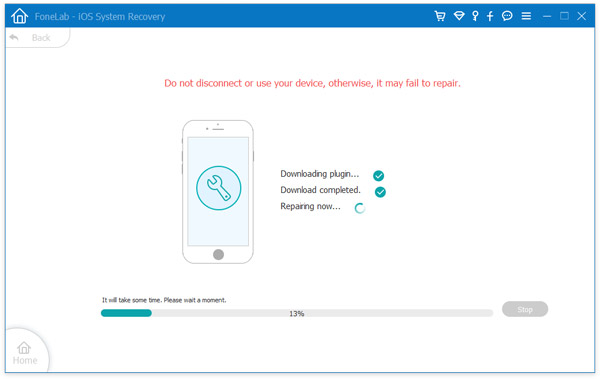 You can use this software when the iPad or iPhone cannot get out of the recovery mode, device restarts endlessly, when it keeps winding on the Apple logo, when the screen becomes while and when your device gets frozen and does not respond at all.
This iOS System Recovery software can fix your iOS device without losing any data. It can work for iPod touch, iPad, and iPhone. Moreover, it is easy to use and offers safe recovery guarantee. But if your device does not start after going through this process, then you should visit your nearby Apple store to fix the hardware issue.