How to Put iPhone in Recovery Mode or DFU mode
There is a special state on iPhone called Recovery mode, which is required during jailbreaking or data restore. You have to enter into this mode first before jailbreak or system restore. Given that the technology is not foolproof, even if the device you are using is among the top of the range, there is a chance to put iPhone into Recovery mode. Here in this guide, I will show you two different options that you can take into account to restore your iPhone. However, this guide may be applicable to restore all the iDevice. So, let's find out the way.
How to Put iPhone in Recovery Mode
Step 1: Insert iPhone USB cable to Mac or PC but disconnect your iPhone from the other side of USB cable.
Step 2: Open iTunes on computer.
Step 3: Hold down Power and Home button at same time for around 10 seconds. When the iTunes logo appears on the screen, release the buttons.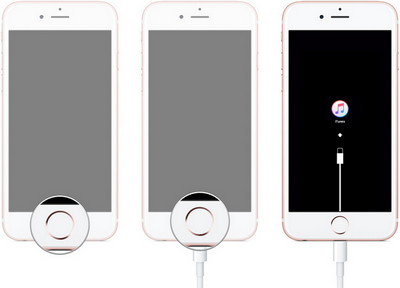 Step 4: Reconnect your iPhone to computer with a side of USB cable and keep pressing Home button. Release the button until there is an alert message saying iTunes has detected an iPhone in Recovery mode, which means iPhone is in Recovery Mode now.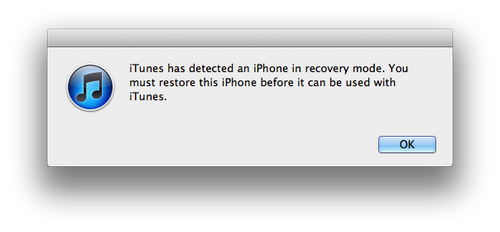 How to exit from Recovery mode? Simply Hold down Power and Home button for 14 seconds. Then the iPhone will be shut down in a few seconds. When the screen turns black, press Power button to power on the iPhone. After this, iPhone will be to normal state.
How to Put iPhone in Recovery Mode (Recommended)
Although the above tutorial looks like easily, it would take time to do these because it is hard to control the times. You have to do the exact time frame as Apple asks. Or the whole process failed and you need to do it again. Instead, you can use iOS Data Recovery to do that. It has an embedded clock within the program. It will display the time escaped to show you when to release the button.
Simply download the program on your computer and launch it after installation. Then connect iPhone to computer with USB. There are 3 options displayed on the left sidebar, select "Recover from iOS Device". At this, the program will tell you the exact steps to put the iPhone into Recovery mode with a clocker.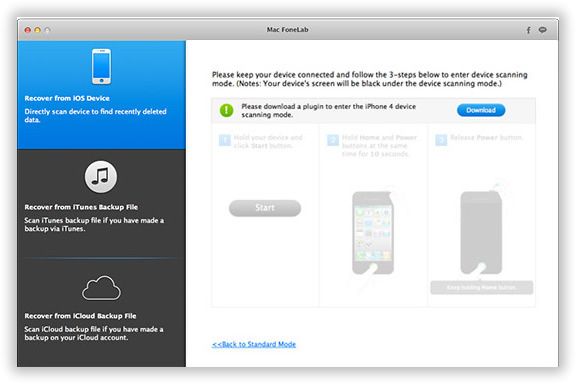 How to Put iPhone in DFU mode
DFU stands for device firmware update. The only usage for this state is to upgrade or downgrade device firmware for iOS device. So If there was problems with the iPhone such as stuck in black screen, then you need to put iPhone into DFU mode and reinstall the OS to make the device running again.
Step 1: Connect your iPhone to your Mac or PC with USB.
Step 2: Log in to iTunes, it is good to have the latest version. Eject the iPhone but leave the USB cable connected.
Step 3: Turn off the phone and then hold down the Power button and the Home button for 10 seconds, it will see the Apple logo that could disappear and reappear soon after. Release the Power button but hold Home button.
Step 4: Continue to hold Home button unless a message pops up in iTunes saying iPhone is in recovery mode. And now you can release Home button. At this time, iPhone screen will be complete black. Please don't worry about this. It is a normal state. If you see iTunes or Apple logo, it means the iPhone is in recovery mode. Please follow the steps more carefully and do it again to put the phone into DFU mode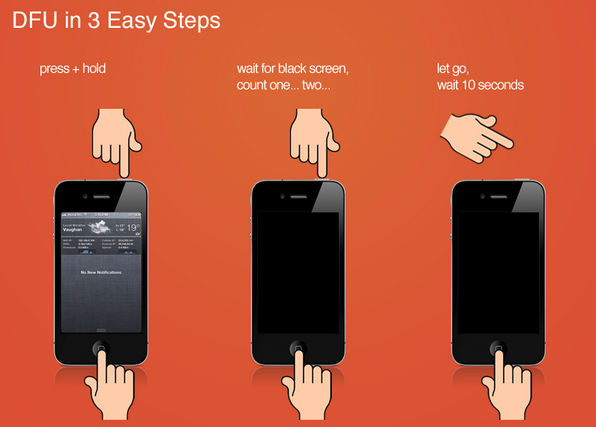 How to exit from DFU mode? Connect iPhone to iTunes and hold down both Power and Home buttons for a few second. Then press the Power button to reboot the device. After this, iPhone will turn to normal state.