How to Erase All Content and Settings on iPod Touch
Are you planning to sell your iPod Touch or give it away? Or is there a new model and you want to trade it in? If ever you were planning to do any of these, you should clean your iPod Touch first by erasing everything on it in order to protect your personal information and privacy. Simply deleting your data does not mean that they are gone. People who are tech savvy can easily retrieve all your deleted data and see everything stored on that device. If they intended to make use of the information for illegal activities, they can easily do so. What's more, your personal data might be used to commit a crime, dragging you into trouble you are not even aware to have happened.
Thankfully, modern technology has made it possible to come up with programs that can permanently erase all data on iPod Touch. iOS Eraser is considered as the most reliable tool to wipe out all information on iPod Touch. It erases all the content and settings from iPod Touch in just a few simple steps. Once you follow the instruction properly, you can completely clean your iPod Touch in just a few clicks. Besides data erasing, this program also provides other useful functions, such as cleaning junk files, compressing photos, deleting browser history etc… It's one of my favorite tools for managing iOS device.
Supported iPod Model: iPod Touch 4/3/2 Gen, iPod Classic, iPod Nano and iPod Shuffle
User Guide: How to Wipe All Data from iPod Permanently
Step 1

Download and Install iOS Eraser

From the above information, we know that iOS Eraser has a Windows version and Mac version. So you need to download the right one according to your computer operating system. After download, install it on your computer by following the default installation wizard. No worries, it's as simple as normal installation. When this is done, the program will be launched automatically.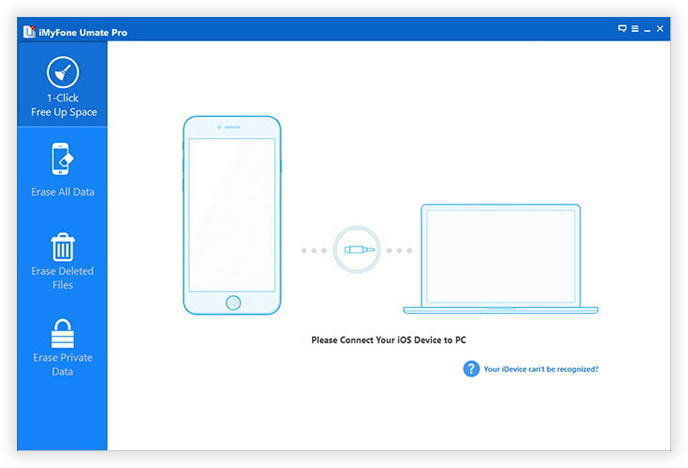 Step 2

Connect iPod Touch to Computer

After launching iOS Eraser, it asks you to connect iPod Touch to the computer. Simply use the USB cable to plug the device to the computer. A few seconds later, the device should be recognized by the program. If not, then you need to reinstall iTunes and do this step again.
Step 3

Select Data Erasing Mode for iPod Touch

From the sidebar, we know that there are 5 data erasing modes available in this program: express clean up, photo compressor, erase deleted files, erase private data and erase all data. In this case, we need to delete all the content and settings on iPod Touch, so select ' Erase All Data ' from the left sidebar.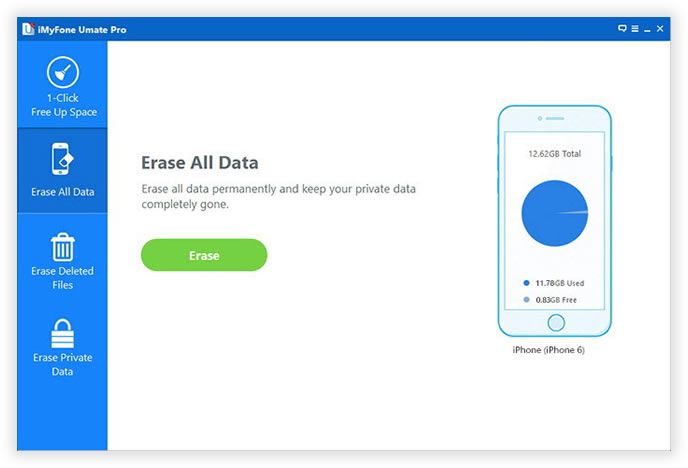 Step 4

Start Erasing All Content and Settings on iPhone

Click 'Erase Now' button on the main screen and type delete to confirm that you are sure to wipe the whole device. Then iOS Erase will delete all the data on the device, such as settings, Apple ID, photos, text messages, browsing history, contacts, etc. This needs sometime to be finished, please be patient.

After erasing everything from the device, the program displays an alert on the main screen, indicating the erasing process is completed.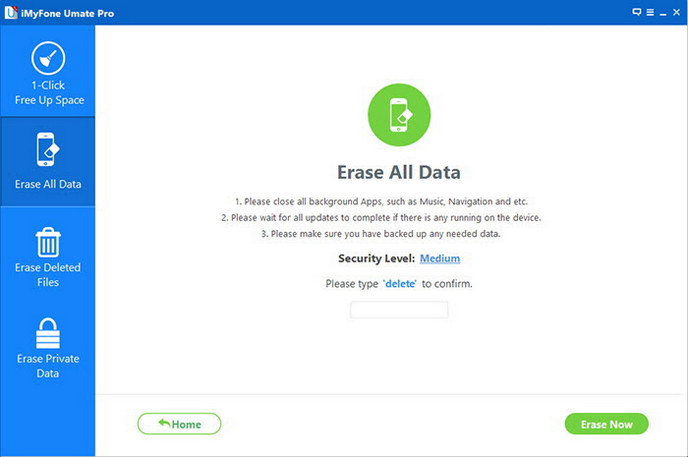 While some are skeptical about the capability of this product, the fact that it uses the US military way of destroying highly classified data, which makes it the most reliable data wiping software for iPod Touch. After iOS Eraser is done with your device, you can have peace of mind with the knowledge that your iPod Touch is now as clean as new. With this amazing iOS erasing app, your private data will be out of reach and totally gone. We are confident in the capabilities of the software so much that we offer a 15-day free trial and if you decide to purchase the product, you still enjoy money-back guarantee with 30 days after purchase. This simply shows how reliable this product is in erasing your iPod Touch.