How to Transfer Music form Samsung to iPhone 8/X/7/6S/6
Transferring music from phone to phone should be easy if the operating systems are the same. However, that is not the case for transferring from Samsung to an iPhone because Samsung phone are based on Android now. The steps that we will tell later on are extremely easy to follow, but you need to learn what is the program that we're going to use first.
When it comes to cross-operating system transfer (in this case, Android to iOS), iTunes Music Manager is the best solution. The program is easy to use since it has four buttons on the top, which leads you to the music, library, device and toolbox sections for you to gain control of all features in the program. You can transfer the whole music library or only selected songs from Samsung to iPhone in a convenient way. There are only a few clicks required to complete the transfer process, which is my favorite part of this program.
For extra features, it can also help you manage iTunes library. If you want to fix some tags on your iPhone music, it's your chance to do it with music clean feature. Also, there is a 1-click option to remove duplicate songs from iTunes. In all, it provides great convenience for every phone user who wants to enjoy music.
Samsung Phone: Samsung Galaxy S9/S8/S7/S7S6/S6/S5, Galaxy Note 8/7/5/4/3 and others.
iOS Device : iPhone 8/8 Plus, iPhone X, iPhone 7/7 Plus, iPhone SE, iPhone 6S/6S Plus, iPhone 6/6 Plus and iPhone 5S/5/4S, iPad Pro/Mini/Air and iPod
User Guide: How to Copy Music From Samsung Galaxy to iPhone 8/X7/6S/SE
Step 1

Install and Open iTunes Music Manager

First download and install the program on a computer. It can a Windows PC or Apple Mac. Launch the program when installation is completed.

Note: Make sure iTunes is installed. This is a must for using this program.
Step 2

Connect Samsung Phone to Computer

Connect your phone to computer with the USB cable and the phone should be detected by the program in a minute. Make sure USB debugging is turned on.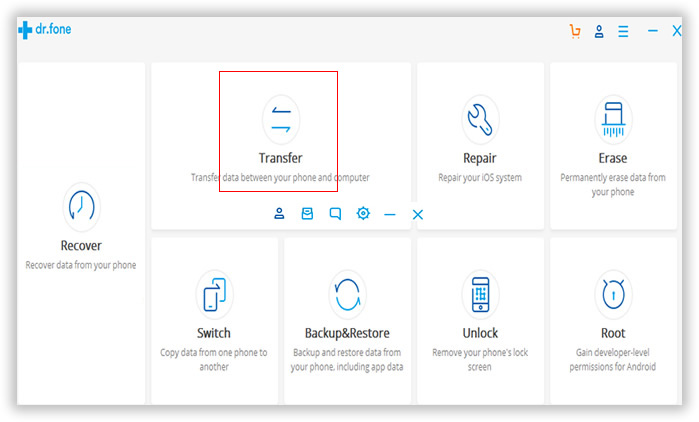 Step 3

Connect iPhone 6S/6/5S to Computer

After Samsung phone being scanned by the program, it is time to connect your iPhone. This is the same as above. Make sure trust this computer if it was the first time iPhone connected to the computer.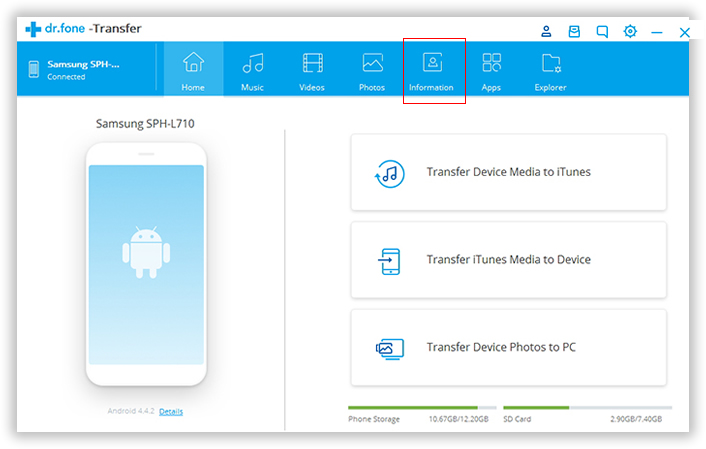 Step 4

Start Transferring Music from Samsung to iPhone

From the Device tab on the top, click the phone icon on the top left corner. Then click "Copy Music to Other Device" and select iPhone as the target device. Now the transfer will begin. The whole transfer time is dependent on how many files to be transferred. So please keep the phones well connected before completion.

Alternatively, if you just want to transfer part of the music library on Samsung phone, then there is another way out. Click "Device" and Music icon on the top left corner, which sits beside the phone icon. Then select the music you wish to transfer. Right click on the selected music and choose "Export to". Then select the iPhone name. After this, all selected music will be transferred to iPhone in a few minutes.

iTunes Music Manager can also provide you a nice way to listen to music simply by importing the songs or simply by plugging in the device where the music files are. It has its own player that can help you play some music if you want to relax and listen to your favorite songs. Once you're done, you can just go ahead and start transferring simply by exporting the music files to Samsung device, iPhone or a new computer.

Music is what makes the phone lively when used during idle time, and if you want easier means to transfer, you can do it using the best music transfer tool for any device. It helps your managing music conveniently on iPhone, Samsung phone, and even your computer. All you have to do is to download the program, follow the simple instructions when transferring music and you're all set to play some music on all of your devices!