How to Transfer Voice Memos from iPhone 7/6S/6/5S to Mac
I am a long time Android user that switched to iPhone recently. Generally speaking, the overall user experience is great and I have a lot of fun with the new iPhone 6, especially for social networking and gaming. But one thing I am really disappointed is that the file transfer between iPhone and Mac is really annoying and time consuming because of iTunes, which can be easily done with Android phone via only an USB cable. I have recorded about 30+ voice memos about my little girl when she is learning to speak. I want to share the memos to my family numbers but it took me hours to figure out how to transfer voice memos from iPhone to my Mac so I can share them via Dropbox. Initially, I did this with iTunes but without any good luck. And I finally found out that iTunes was designed for transferring items from computer to iPhone not the other way around. You have to use third-party apps to get my concern fixed.
As we all know that iOS users can easily record and store any audio files by using Voice Memos app built-in iPhone. You can capture a great temporary thought, record meeting content, these voice memos maybe very important for your job, you don't want to delete the momos and don't keep it on your iPhone device as it takes up the space. You may come up with an idea that export voice memos from iPhone to Mac in cause it be damaged or mended. Here iPhone Manager will be your best choice.
iPhone/iPad/iPod Manager for Mac is an amazing file transfer app aimed to reduce the pain of using iTunes for content transfer. You can easily use this app to transfer different content from iPhone to Mac in simple way, such as voice memos, media files, contacts, text messages and photos. All you have to do is just a few mouse clicks then hand the rest of work to the app, which works in background and takes care all of the dirty work involved. Unlike iTunes, this app is able to transfer files mutually between iPhone and computer. This program is the best iTunes alternative I have discovered.
User Guide: How to Copy Voice Memos from iPhone 5/6/6S/7 to Mac
Step 1

Run iPhone Manaer and Connect your iPhone to Mac

Download the Mac version of this app and install it on your Mac. Actually, it works well on both Windows and Mac. Make sure drag the icon to Application folder so you can easily open the app on Launchpad. The main interface is shown like this: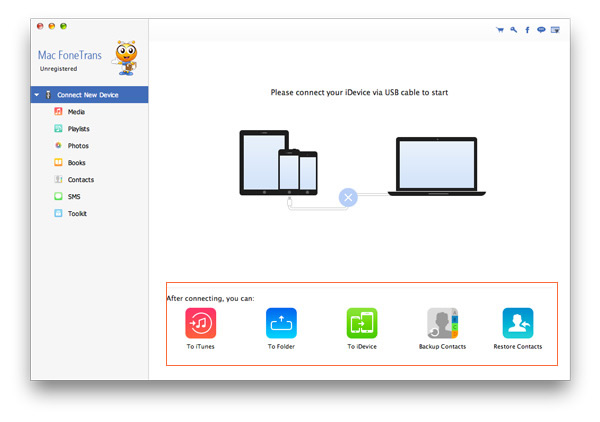 Connect iPhone to Mac: Plug your iPhone 6 to the computer via USB cable. Then the app starts to detect and analysis the device it scanned. And show the brief information of your device in a few seconds such as capacity, iOS version, serial number, etc.…
Step 2

Begin to Analyze and Scan Your iPhone

This program will automatically scan your iPhone after the analysis, it will display 12 categories in the left panel, and all iPhone library items are also on show in the list, you're allowed to check them when the scanning is done.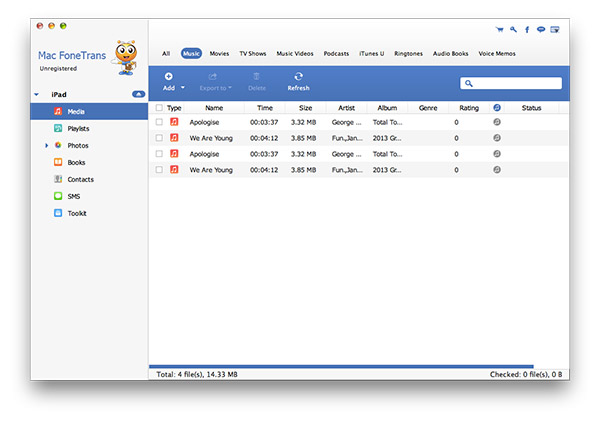 Step 3

Preview and Start to Transfer iPhone Voice Memos to Mac

Click on the Voice memos tab on the left sidebar, and then it unfolds a list of options on the right. Click on the Voice Memos tab on the top and check the voice memos files you want to export. Your files will appear under a new Voice Memos playlist, you're allowed to preview them. When everything is finished, click "Export to" - > "Export to Mac" and choose a local folder to store the memos file. Then it will start to export iPhone voice memos to Mac.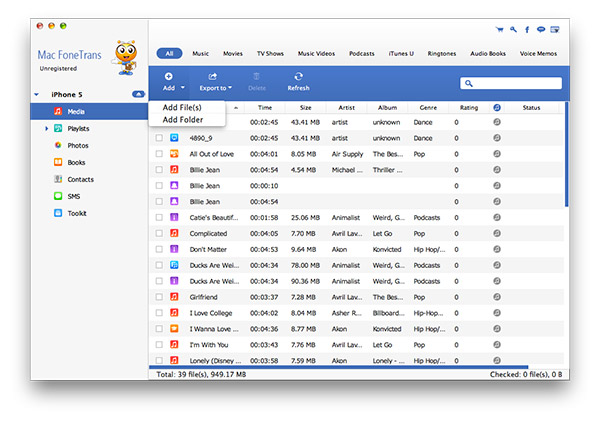 Note: This program provides 3 transferring option for different needs. Export to Mac and Export to iTunes.
Voice memos transfer is just a small function of this powerful app. Besides this, you can also transfer a lot of other content between iPhone and Mac, which you can see from the screenshot. The steps are exactly the same as described above. In addition, it's also able to backup those items to iTunes so that you can sync to other iOS devices, like iPod and iPad. In one word, iPhone Manager program is the best Mac app to manage and transfer iPhone content on a Mac.