How to Automatically Remove Duplicate Songs from iTunes
Managing iTunes library is not an easy task, which involves music import/export, media conversion and the challenging one: delete duplicated songs. When the library goes bigger and bigger, let say 500+ songs, it's inevitable to have duplicates in your library and you need to remove them as it will take valuable storage space on your iPhone or iPad, especially for 16G models. However, it would be a time-consuming task if you chose to do it manually. So many users are wondering if there was a way to remove the duplicate music automatically? The answer is a big YES. We will share two methods in this tutorial for finding and deleting iTunes duplicates on Mac and Windows.
Method 1: Remove iTunes Duplicate Songs by CleanGeeker (Mac Only)
CleanGeeker is an amazing Mac cleaning app that can help you get the computer clean and update to date. Removing duplicate files is one of the core features being used frequently. It will scan the entire iTunes library on your Mac and find the duplicate songs after deep analysis. The whole process will be completed in less than 3 minutes no matter how large the library is so it saves a lot of time on doing this.
In addition, you can also find and remove junk files, uninstall apps or destroy senstive data within the same app. Besides, the steps are very simple to follow with the help of such a great user interface. Detailed user manual is shown in below.

Step 1

Install CleanGeeker on a Mac

You need to download the DMG file from this website and install the app on Mac as usual. Don't forget to add the icon to Application folder at the end of installation so you can open the app from Launchpad.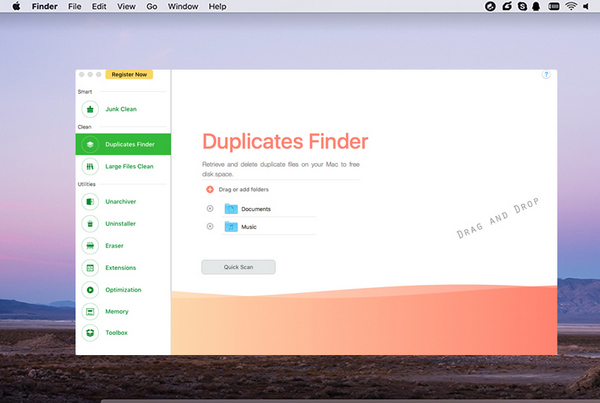 Step 2

Analyze iTunes Library

You can see a few options displayed on the left sidebar. Each one represents a core function of CleanGeeker. For duplicate file removal, please click "Duplicates Finder". Document and Music folder are set in default so you don't need to add iTunes library to the program. Now, click "Quick Scan" button at the bottom to start the analyzing process.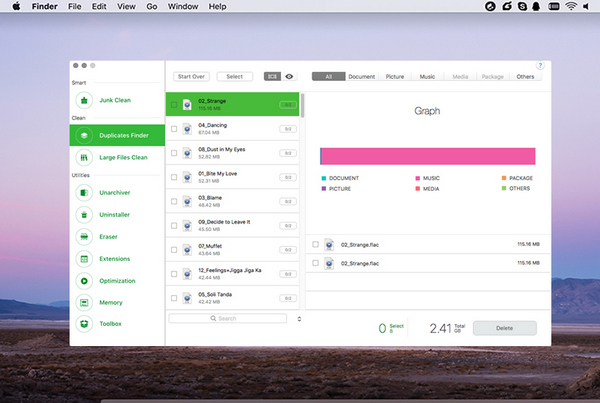 Step 3

Find and Remove Duplicate Music in iTunes

The scanning process will be done in less than 3 minutes in general. After that, all duplicate files including songs are listed on the central of the program. Now check the box of duplicate files and click "Delete" to remove those selected duplicate files on Mac. That is all!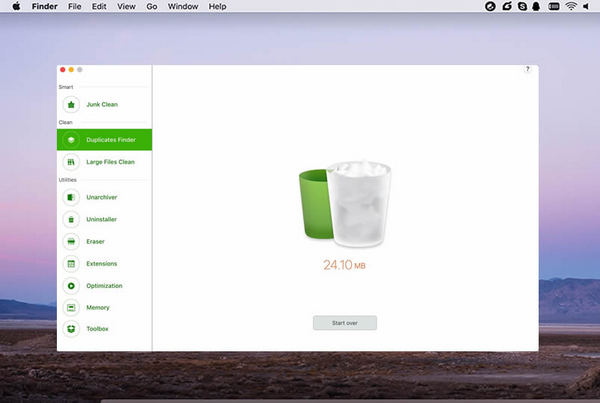 Removing duplicate files with CleanGeeker is kind of easy comparing to manual deletion or command line process. That's the main reason why we recommed it at first place. I have been using this app for nearly two years and helped me find and delete tons of duplicate music downloaded from Internet or ripped from old CDs.

Method 2: How to Delete Duplicated Music from iTunes Library
The answer is YES. iTunes Duplicate Remover is a well-known program that was first released in the late of 2015. The main purpose of this program is to help iTunes user manage their library more easily. So there are many helpful functions embedded in this nice app to ease our life. You can clean up the library in 1-click, which is 50X faster than doing it by yourself. Besides, you can also use this program to transfer iTunes library between different devices, download music from online sources, or record music. Heads up to the next section to check how to remove iTunes duplicates.
Step 1

Download and Open iTunes Duplicate Remover

Click the above download button to save the installation file on your computer. It's the only iTunes Duplicate Remover that can work on a Windows PC or a Mac computer. Then follow the default instructions to install the program on a computer and open it after installation.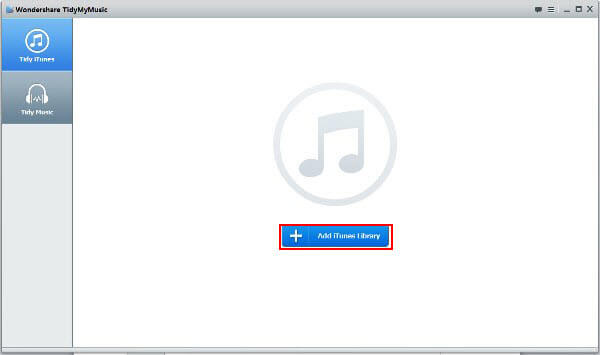 Step 2

Scan iTunes Library from Computer

There are two options available from the program, which are displayed on the left sidebar. Go to Tidy iTunes -> Add iTunes Library. Once the music library being loaded, click "Scan" button. and then this app will scan all the possible iTunes library stored on the computer and load them automatically on the mains screen.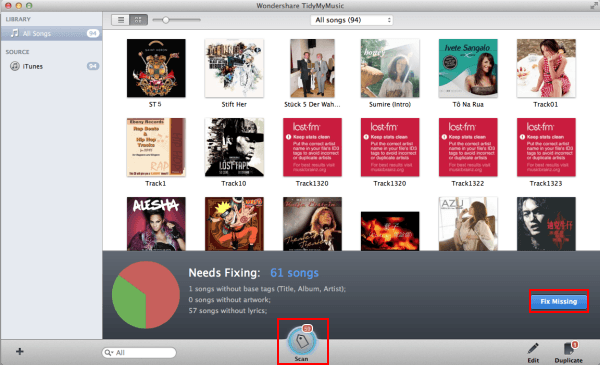 Step 3

Remove Duplicate Songs from Selected iTunes Library

Now go to the bottom of the program. Click "Fix Missing " and a drop-down list will pop up. Select the option of "Delete Duplicate Songs" from the list. Then the program will start analyze all the possible duplicates from the select library. Finally, you can find out the duplicates by different criteria such as name, artist, album, genre or size. After selection, click "Remove", and then all the duplicated songs will be removed automatically.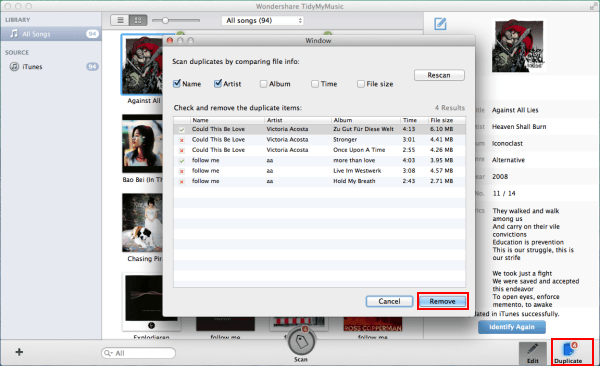 With the help of iTunes Duplicate Remover, the job becomes easier. Actually, I have done a test before. It took me 10 minutes to find just one duplicate song. On the contrary, the program only spent 1 minute to fully scan 20+ duplicates from my iTunes library. What's more, removing duplicates is only one feature of this program. You can use it for different purpose such as music recording, music transfer, etc… For me, it's the best iTunes alternative to help me manage my iTunes library. Still have doubts in this app? Then download this program for free and test it by yourself now.