Top 3 iTunes Alternatives for Windows & Mac
If iTunes does not meet your needs, here we show you the best alternatives to iTunes. Apple's software is often criticized because of its difficulty of use, lack of some interesting functions, or the time it takes to perform the actions that are requested. It is by this that in this article we bring you the best alternatives to iTunes, so you can choose the best program according to the needs and how you use it.
More and more users have an iPhone (or iPad / iPod) and they start looking for an alternative to iTunes. No matter if such an alternative is free or has a small cost, the important thing is to look for a program iPhone manager that is easy to use, fast and intuitive. These three characteristics are definitely not descriptive for iTunes, definitely innovative software but very heavy and often complex to use. This complexity results sometimes in a wrong use can also lead to deleting important data from your iOS device.
If you want to put an end to this "suffering" and not risk more of losing data to an incorrect synchronization, here you will find the top 3 alternatives to iTunes.
iTunes Alternative 1: iPhone Transfer
iPhone Transfer is shareware software that presents itself as the best alternative to iTunes on the market today. With this software (available for both Windows PC and Mac), you can manage your iPhone as if it were an internet key or an external memory disk. Then allows you to transfer data from your computer to your device (and vice versa), import / export contacts, save messages and SMS on your PC, manage photos, videos, etc...
The main advantages are these:
• Simple and clean user interface, suitable for less experienced users.
• Available on both Windows & Mac.
• Support Bi-directional synchronization: from computer to iPhone and vice versa from iPhone to PC / Mac.
Other popular features of iPhone Transfer:
• Transfer all kinds of data from any computer to any iPhone / iPad / iPod without iTunes.
• Support transferring music and videos in over 30 formats.
• Export Music from iOS device to iTunes/computer hard drive.
• Directly import data one iOS device to another.
• Easily Back up and restore contacts.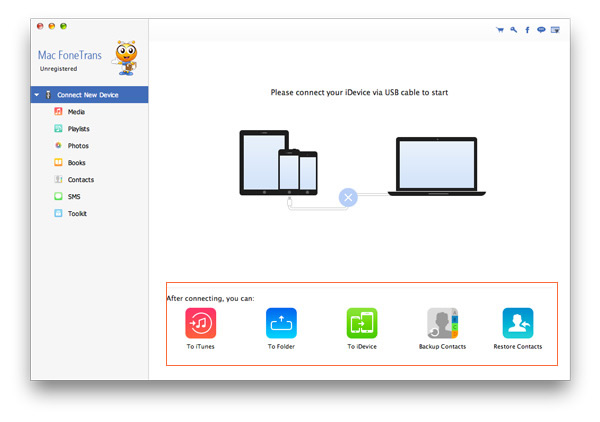 iTunes Alternative 2: CopyTrans Manager
CopyTrans Manager is another free alternative to iTunes that can handle data on the iPhone, iPod, and iPad. It allows you to easily import songs, movies, apps, etc ... from PC to iPhone without iTunes. The data transfer takes place on your iOS device without the risk of deleting / overwriting the original ones. But unlike TunesGo that is available for both PC and Mac, CopyTrans Manager is only available for Windows PC. It supports currently the following operating systems: Windows 7, 8, Vista and XP.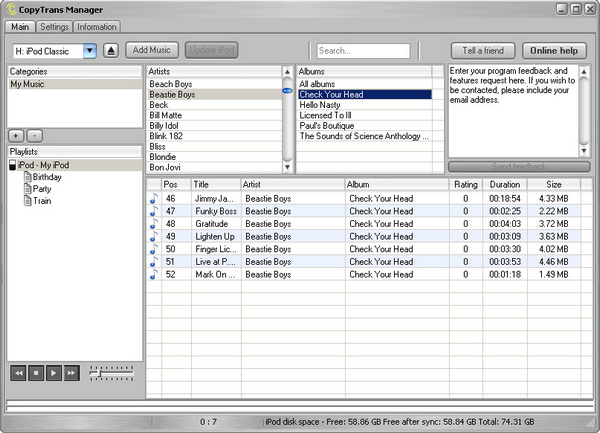 iTunes Alternative 3: SynciOS
SynciOS is a viable free alternative to iTunes with features useful to sync music, videos, and photos from PC to iPhone, iPod, and iPad. During the process of music and video files of the file transfer on the iPhone, this tool is able to perform the conversion in the format compatible with the device itself. It also allows you to make backups of songs, photos and videos from iPhone, iPad and iPod to PC. Even this tool is currently only available for Windows based computer.  
So far, these are the best iTunes alternative, however, there are other tools available too but these three tools have good user review, easy to use and secure as well.