How to Transfer Data from Blackberry to iPhone 8/X/7/SE/6S
Blackberry was one of the best names in smartphone industry in the early of 21st century. People were proud of being a Blackberry user. However, it's time for change now with the release of iPhone 6S and SE. One of the main issues Blackberry user came across when switching to iPhone is how to move the content on Blackberry phone to new iPhone. This would be hard in the past due to technology barriers. But this won't be a problem now with the help of Blackberry content transfer app.
Phone-to-Phone Transfer like its name implies is a powerful and convenient data transfer program for Blackberry and iPhone. You can transfer all kinds of data from one phone to another without any problem. And most importantly, you need only a few clicks to complete the transfer task. You can't find a solution better than this. The program provides a very clean user interface with on-screen instructions so you can use this program at first glance. What's more, it supports all the Blackberry and iPhone models, which will be listed below:
Blackberry Device: Blackberry Priv, Blackberry Passport/Classic/Leap/Z3/Z30/Q10/Z10/Q5/Bold/Torch/Curve and many other more.
iPhone Device: iPhone 8/8 Plus, iPhone X, iPhone 7/7 Plus, iPhone 6S/6S Plus, iPhone SE, iPhone 6/6Plus and iPhone 5S/4S.
Data Type: SMS, Contacts, Photos, Call log, Music, Video and Calendar.
How to Transfer Blackberry Text Messages to iPhone 7/6S/6 (For example)
Step 1

Backup Data on Blackberry Phone

As stated above, you need to have a backup of your Blackberry phone. You can do that through Blackberry Desktop Software. Therefore, you have to install Blackberry Desktop Software on your computer first. After you completely installed it, launch it and plug your phone to your computer using USB cable. Your computer will recognize your phone instantly, and a dialog box will appear on the screen. Click backup now to backup your files from your phone. Make sure you remember the location of backup file.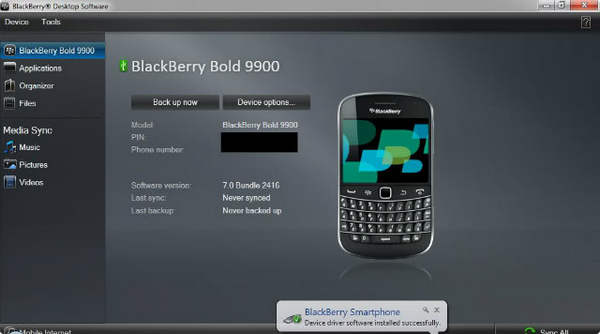 Step 2

Download and install Phone-to-Phone Transfer

The next step is to download and install Phone-to-Phone Transfer on the computer, which you just used it to backup the Blackberry phone. There are several options listed on main screen when the program was opened. In this time, click "Restore from Backups" and select Blackberry from the support list. Then all the Blackberry backup files will be scanned automatically and shown on the left side of the program.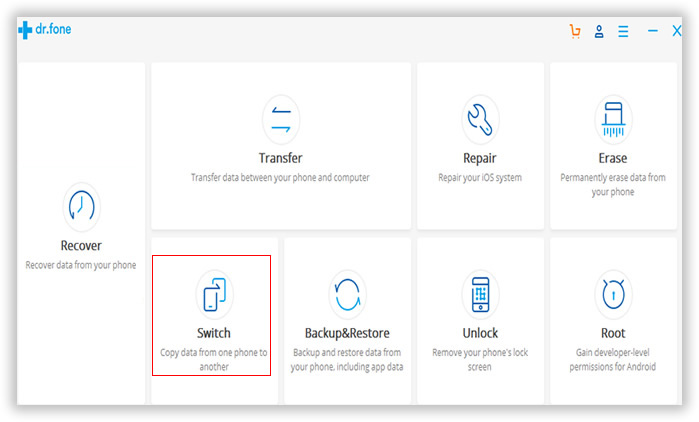 Step 3

Connect iPhone to Computer Where Blackberry Backup Being Stored

Plug your iPhone to your computer by using Apple USB cable. A while later, iPhone should be recognized by the program and list it on the right side. If not, you need to install iTunes on this computer to let it detect your iPhone.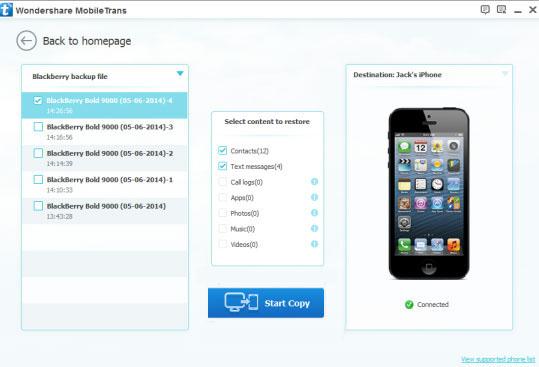 Step 4

Start Copying Text Messages from Blackberry to iPhone

Select a backup file from the left side of this program. And check the content you wish to transfer from Blackberry to iPhone. You can see multiple choices from the option box located on the middle of this program, including contacts, sms, calendar, music, video, call log and photos. Mark the data checked and click "Start Transfer " button to begin the content transfer process.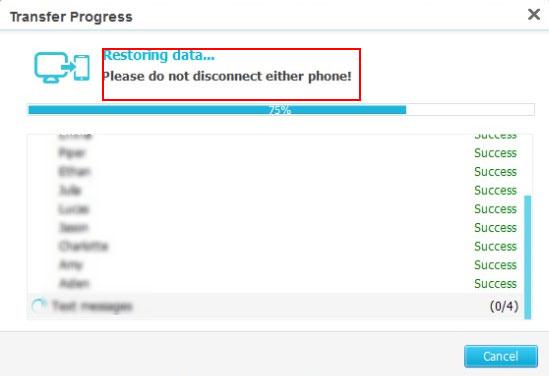 The whole process will take only a couple of minutes like 3-15 minutes, which is dependent on how many data being selected for transfer. From the tutorial above, we know Phone-to-Phone Transfer is a great user-friendly content transfer program for Blackberry and iPhone users. With this program switching Blackberry to iPhone will be absolutely no problem at all. Besides, you can also transfer data between other mobile devices, such as Android, Symbian or Windows phone. In addition, the backup option is able to transfer phone data to a computer for backup. If you want to sell the old device, then Erase Your Old Phone is the feature you will be happy to see.