How to Transfer Files from iPhone to PC (Windows/Mac)
It's almost impossible to live a life without smartphone in nowadays, and for sure iPhone is the brightest one without any doubt. As a long time iPhone user, it plays a very important role of our daily life both from personal and business usage, like taking photos, managing tasks and social networking. It's a good practice and habit to backup your iPhone data to Mac for following reasons.
For security. I have lost one of my iPhone before and all of valuable data was gone as I have never backed up it before. It took me a vey long time to get back my previous data, such as contacts, emails, photos. If I backed it before, then it will only take a few minutes to restore from the backup.
Save more disk space. The storage is always limited on portable devices, and iPhone is not an exception. And certain piece of data is eating disk space sharply, such as photos, music or videos. You have to move some of them to a secondary storage to open up opportunity for other apps and prevent lags for normal operations.
Many of users know that the iOS system is tightly closed and the move is designed to stop users from copying protected data between different devices and keep the iDevice more security and stability, sure it can be jailbroken but Apple takes a rather dim view of jailbroking your iPhone. To avoid the unnecessary jailbreaking and copy content from iPhone to Mac or Windows 7/8 computer. This article provides effective solution to backup your data , I'd prefer third party app for this kind of purpose. Because the official method is really gauche with less options left for customization. Here we will introduce a nice app - iPhone/iPad/iPod Manager is a Mac app developed by an individual software studio. It can help you transfer iPhone data to a Mac computer effortlessly. Only a few mouse clicks needed and the entire process can be done in a minutes.
User Guide: How to Copy Files from iPhone 8/X/7/6S/6/5S to Mac
Step 1

Install iPhone Backup Software on Mac

Download and install iPhone Backup app on your Mac. The app is a free trail software as normal ones, meaning you are totally free to try it in next 30 days. Click the icon to launch the app after installation is completed.
Step 2

Connect Your iPhone to a Mac

Plug your iPhone to the Mac via USB cable. The app will detect your iPhone once the new device is well attached to Mac. Then it lists all the details and available tools on its main interface.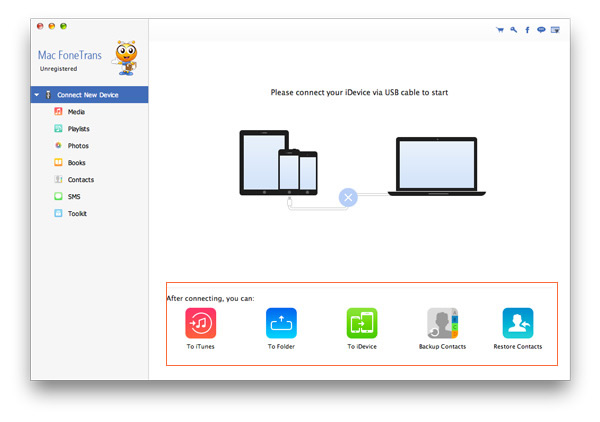 Step 3

Select the Items You Want and Export to Mac or iTunes

In this step, you will see all music files are listed in the left pane. Select the songs you want and click "Export to Mac" or "Export to iTunes". What's more, you are free to backup all kinds of items from iPhone to Mac, such as music, photos, movies, TV shows, podcasts, etc… Select the specific items and click the export button to transfer the content to your Mac for backup. The process will be finished pretty fast, usually a few minutes.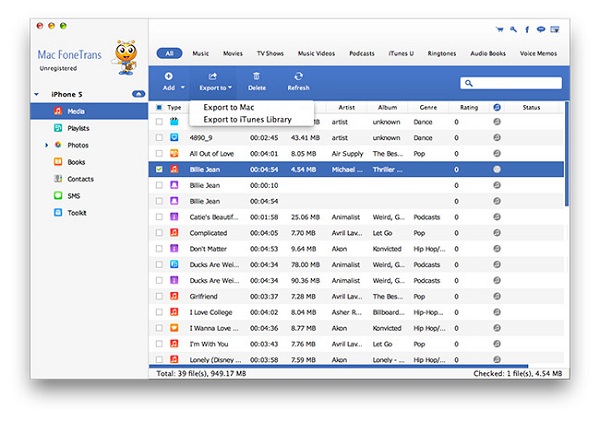 Step 4

Easily Export Photos, Videos and Other Files

To export photos from iDevice to computer, simply click the "Photos" in the left column, all the photos will be presented on your device. In the right column, click Camera Roll or Photo Library to reveal the photos contained in those two spots. Then click "Export" at the top of the main window.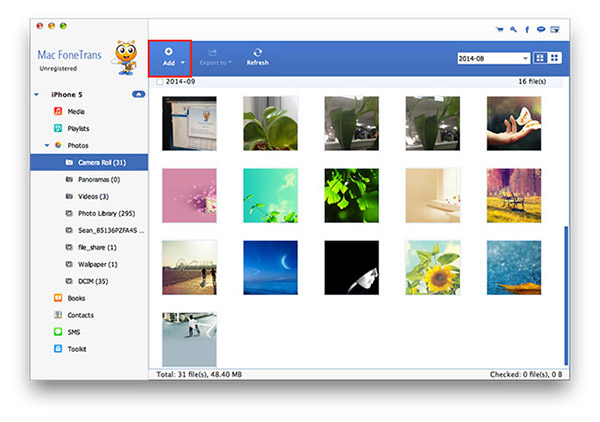 Lets You Conveniently Edit, Add, Modify Contacts or Export to PC
The powerful program is equipped with contacts editing feature, which is capable of searing, adding, editing, deleting and modifying the contacts easily on your Mac and sync to your iPhone automatically. So convenient and quick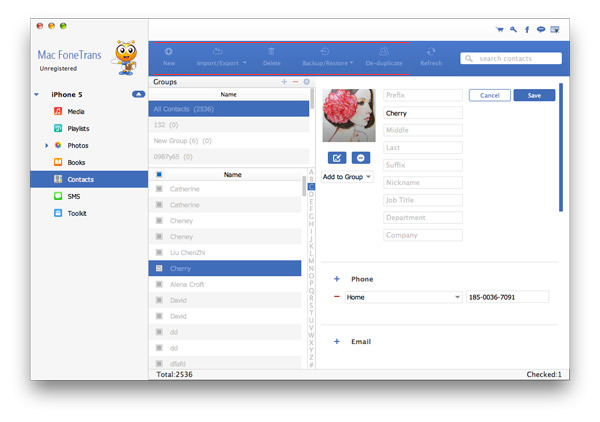 To be honest, using this method to backup iPhone is quite straightforward and much easier than iTunes or iCloud. It's really painful to do the same task with iTunes from my personal experience. You are absolute free to control the backup items. Actually, there is no need to back up all of the staff, which is time consuming. Only important ones count. Still not convinced? Start your own journey for free now!