How to Fix iPhone Screen Unresponsive to Touch
It is happened to almost all Apple iPhone users that all of a snap the touchscreen of your device becomes unresponsive. It doesn't matter how hard you try but the screen simply won't response to any of finger touch. At this point, you realize that the phone is totally not working and completely unusable. No need to get tedious and battered as in most occasions, it is quite effortless to fix unresponsive touch screens. We will list few ways to you to show you how to fix this issue at home without taking your phone to service center.
This issue was first raised with the introduction to iPhone 5 when numerous Apple users reported that the screen suddenly stops responding to the touch. Apple did take care a lot with the latest version and the issue was significantly decreased over time but not completely fixed. There are many reason why the iPhone screen becomes unresponsive and one of the top reason is that the iPhone may have iOS related issue or there could be many programs running at the same time or the touch screen may be physically damaged and so on. Try to follow the steps that we will mention in this tutorial and hopefully you will be able to fix this issue.
Method 1: Remove Screen Guard
Step 1: Gently and thoroughly pill the screen protector from the iPhone.
Step 2: Take a clean and spotless soft cloth and gently rub it on the iPhone screen.
Step 3: Restart the iPhone and the touch screen should now response.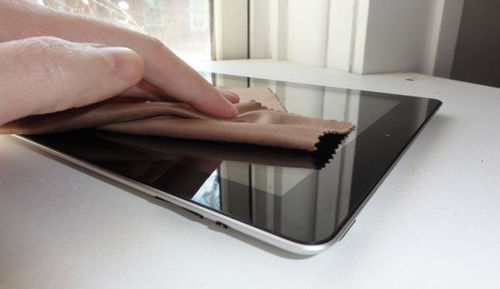 If this doesn't help then no worries, try the following mentioned method and something will surely work out with your device.
Method 2: Modify 3D Touch Settings
This method will work if you are using iPhone 6 or later if your device is not responding to 3D touch. Simply modify the settings by using the following steps.
Step 1: Open 'Settings' followed by 'General'.
Step 2: Touch on 'Accessibility' and then tap on '3D Touch'
Step 3: Modify the sensitivity settings according to your requirement.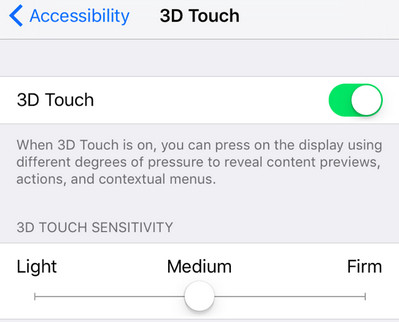 If this doesn't resolve the issue either then there has to be some iOS related issue on your iPhone and you will have to use a third party extension to resolve this. We will be using iOS System Recovery in this tutorial to fix this issue.
Method 3: Fix Unresponsive Touchscreen on iPhone with iOS System Recovery
iOS System Recovery is a professional tool that helps to repair any kind of iOS related issue at home. Whether your iPhone was stuck on white screen of death, can't get out of recovery mode or restar endlessly, this program can resolve any of those mentioned issues. It works on all models of Apple devices and it is assured that no personal data will be erased using this tool. This tool simply re-install the iOS and update the system software to the latest version. It is supported in both Windows and Mac computers.
Step 1

Install iOS System Recovery

Firstly, download the tool on your computer and install it by reading the instruction. Keep clicking next until the software starts installing then click on 'Finish' when it is done. Now, launch the software to start repairing your device. Select 'System Recovery' from the main interface of the software to initiate the repairing process.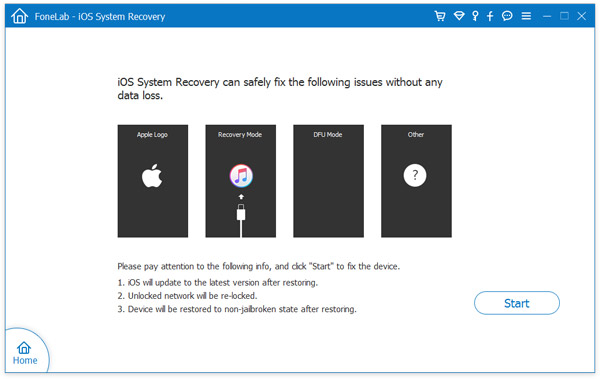 Step 2

Connect iPhone to Computer

Next, connect your device with PC using a USB data cable and let the software automatically identify your iPhone. When the tool recognizes your software, click on "Start" to proceed.
Step 3

Download iOS Firmware

On the next page, fill in the device information correctly to successfully recover the system. Once done, click on "Download" to start downloading the required firmware for your device.

These files are larger in size so it is recommended to have a stable internet connection before proceeding with this step. This may take several minutes, so kindly be patient while the downloading is taking place.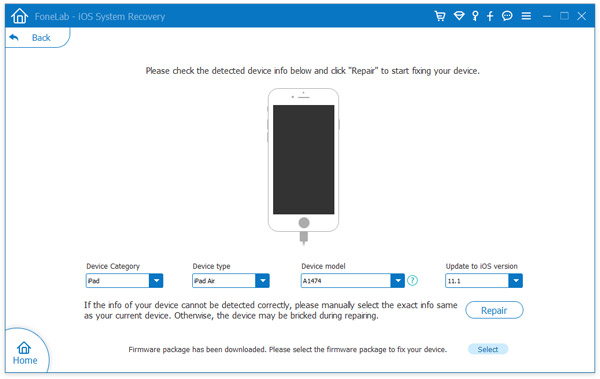 Step 4

Start Repairing iPhone Screen Not Responsive

After the downloading is finished, the software will automatically start repairing your device to make sure it works normally again. Reboot the device after the process is done and your phone should work normally now.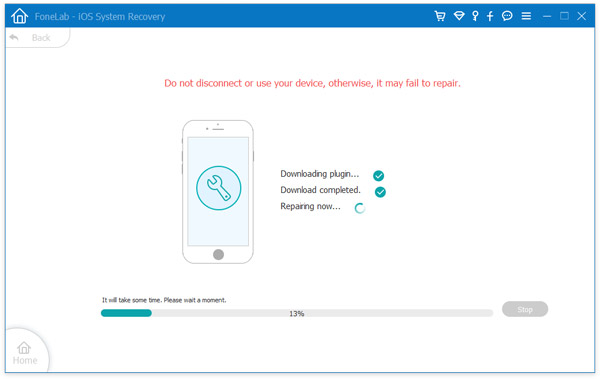 Conclusion: In this tutorial, we just showed how to repair unresponsive touch screen and demonstrated how to use Dr. Fone toolkit – iOS System Recovery software. Please note that if your iPhone is facing any kind iOS related issue such as black and white screen, frozen screen or any kind of issue that makes your iPhone not work normally then you can use Dr. Fone tool – iOS System Recovery to fix this issue from your home. Hopefully, you managed to repair your phone by using the tips shared in this article.