iPhone/iPad Turns into White Apple Logo Screen, How to Fix
Your iPad or iPhone has just suddentally turned into while apple logo on the screen, and you are perplexed. You don't know what to do because you can power it on. This is a normal occurrence that many apple users have stumbled upon, and the good news is that there is a way to fix this problem. In this guide, you will learn all that you need to know about fixing this kind of problem. The white apple logo is famously referred to as the Apple logo screen of death, and it affects all iOS devices including iPad, iIPod, and 3GS 4S/4/5S/5C/5/6S Plus/6S/6 Plus/6/7/7Plus/SE/.
So, What is White Apple Logo Screen?
When you are updating or installing apps on your iPod, iPhone or Apple iPad, something may interfere with iTunes or device from completing the process and the device will instead start to reboot again and again and never pass the white apple logo. Sometimes, you may even not do anything with your phone, but the Apple logo get stuck on the while Apple logo. This is normal.
This problem normally come as a result of a corrupted iOS. In the case, you have to repair your operating system on your phone or iPad. There two approaches to fix iPhone/iPad stuck on Apple logo.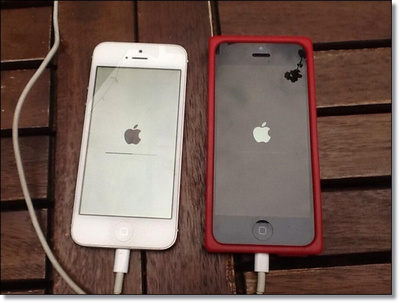 Method 1: Use iOS System Recovery to Fix Apple Logo Screen on iPhone/iPad
The first method is to use iOS Sytem Recovery, a professional iOS system repairing tool that gives you a great way to fix iPhone stuck on Apple logo issue. The tool repairs the corrupted operating system on all kinds of iOS devcies. What makes it stand out is that there is no data being deleted during the whole process. And no damage is made to the device. It is safe and effective to fix all sorts of system issues for iOS devices, such as while screen of death, stuck in recovery mode.
Step 1

Download iOS System Recovery and Go to the Option for System Recovery

To begin with, you should download iOS System Recovery first, then install it and run it on your PC or Mac. There are a lot of functions within this program. To fix the while screen of Apple logo issue, please click More Tools -> iOS System Recovery.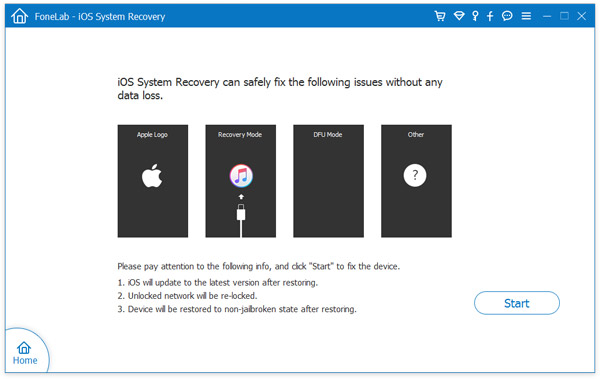 Step 2

Download Proper iOS Firmware

Once the program has started running, connect your iOS device to your computer through a USB cable and then choose the iOS System Recovery function on the primary interface. Ensure your iOS device is in Recovery Mode so that it is able to be detected. Once the tool discovers your device, click on the "Download" tab and download the compatible firmware to repair the device.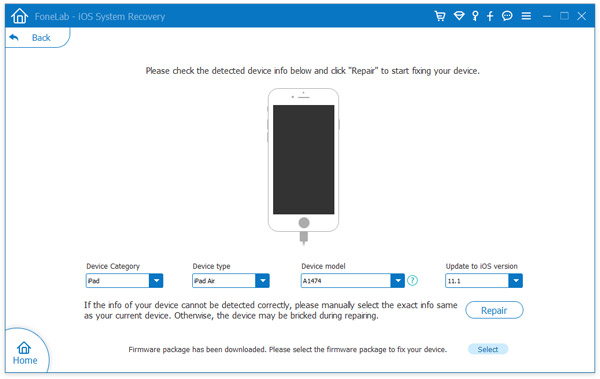 Step 3

Fix iPhone/iPad While Apple Logo Screen by Installing iOS Firmware

After you had done downloading the iOS firmware, iOS System Recovery will start to unpack the files and install the new iOS firmware. The entire procedure will not take you more than ten minutes. Once the tool is done repairing the system, your device will reboot and your iOS will go back to how it was.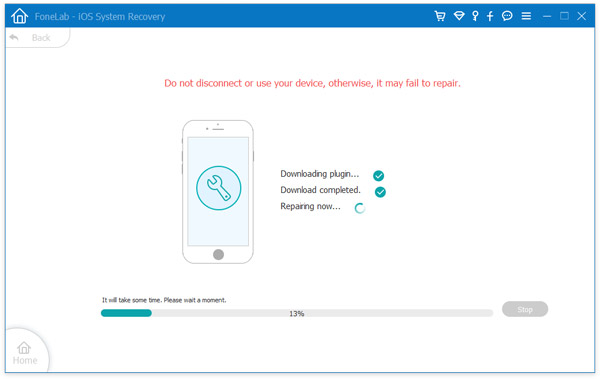 Method 2: Restore iPhone/iPad to Factory Settings
This is another method of fixing the white Apple logo on your iOS device. You can factory reset your iOS device with iTunes. You need to know that factory reset will clear every information that is in your device. However, if you want to save your data on your Mac or computer, use the iPhone Data Recovery to save all the important data.
Step 1: Connect your iOS device to your PC via a USB cable and press and hold the Home and Wake button simultaneously until the device resets.
Step 2: Release the wake buttons as soon as the Apple logo appears. Do not release the home button until the option to connect to iTunes appears on the screen. If it doesn't work automatically, open iTunes yourself and then click "OK". After a while, a message saying iTunes has detected a device will appear on the screen.

Step 3: Carefully follow the instructions on the screen to complete the recovery process and it may take you a few minutes. Therefore, you should be very patient.
Step 4: Ensure your iOS device is connected to your PC with iTunes. In addition, you shouldn't interrupt your device during the recovery process.

As you can see from the above steps, it is not a rocket science to fix the issue. However, you should be careful with the method two, as it will erase all data on the iPhone. If you forgot to backup the devcie, all the data will be gone forever. So my suggestion is to go with method 1 first. It is less risky and quite solid to solve the problem.