How to Free Download Music/Videos to iTunes
For iOS users, iTunes is the program we can't live without especially for music management. We use it buy, download and sync music to iPhone/iPad/iPod. Channels like SoundCloud, YouTube, or Vimeo are great online platforms where you can get excellent newly launched videos and songs. In some cases a particular album is released on web, and not available iTunes. This is the most heart-breaking situation for any music enthusiast and as a result people looks for some third party app to get the desired file downloaded to iTunes.
Such instances are common these days as it is hard to put the music into iTunes due to Apple's high moderation policy. We need to figure out a way to download the free music from web and import them into our iTunes library. iTunes Music Manager is one excellent app to download music as well as videos from 1000+ online websites. Discovering newly launched music is interesting with this program. You just need to input your taste; the rest will be handled by this tool. With this software in hand, you can download, transfer, record, play, share and manage music no matter on which platform you find it. Downloading MP3 files directly from YouTube is also supported. You can capture any song that excites you. Intelligent filters will find out music launched over the Internet and split tracks automatically. In this tutorial, I will tell you how to download free music to iTunes. For other useful features, you can explorer it by yourself.
User Guide: How to Download Music/Videos to iTunes for Free
Step 1

Download and Install iTunes Music Manager

The program comes into two versions and you can use it on Windows PC or Mac. Please download the program on a computer and follow the setup guide to install it. Later, open the program when installation is done.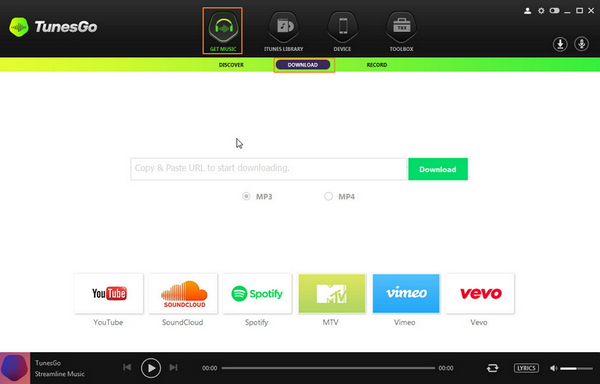 Step 2

Find the URL of Music/Video File You Want to Download

From the main interface, click "Get Music" from the top menu and select "Download" from the menu tab. Then there is a search bar and download button shown on the central of the program. Now, copy the URL of the media file from your browser and paste it to the search bar. Finally, select MP3 or MP4 you want to download from. After selection, click "Download" button to start the download process.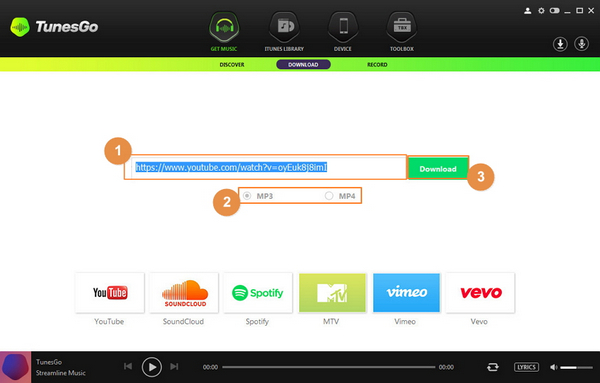 Step 3

Import Downloaded Music to iTunes Library

The download may take some time depending on how large the file is. When the download is completed, the program will convert the downloaded file to iTunes acceptable formats in default. Then the music will be automatically imported into iTunes library. At the end, you can view it at "iTunes Library" -> "Download".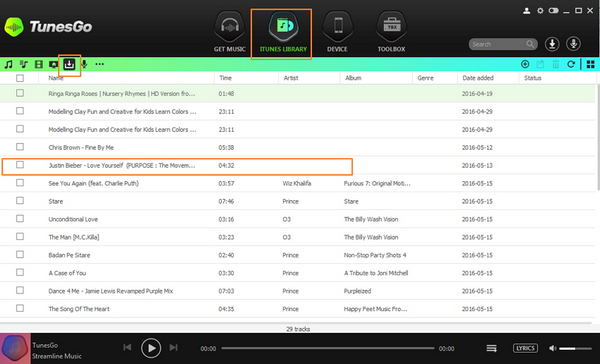 How to Freely Download Music to iTunes with Discovery Features (Windows Only)
Besides the suggestion mentioned about, there is another way to download music to iTunes with the help of Discovery function. However, this only works on Windows PC.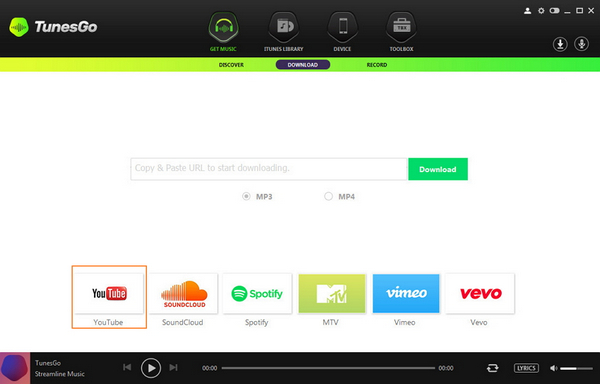 First, open the program and go to "Get Music" -> "Download". Click site icon listed at the bottom. Here takes YouTube for an example. Now enter the keyword in search bar. Then iTunes Music Manager will display all the results from YouTube.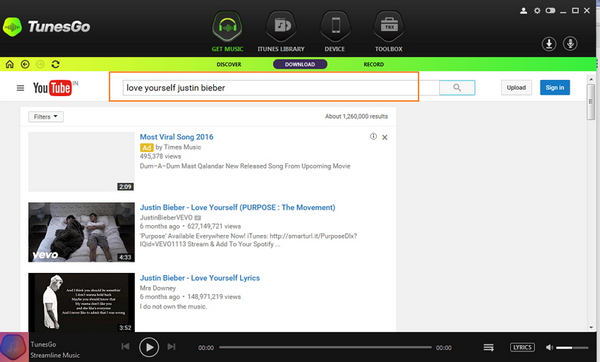 Click the video link. If you like it, then you can download it directly by clicking the download button at top left corner. Select the file type and file size from the options. Then the file will be downloaded on your computer and import it to iTunes library later.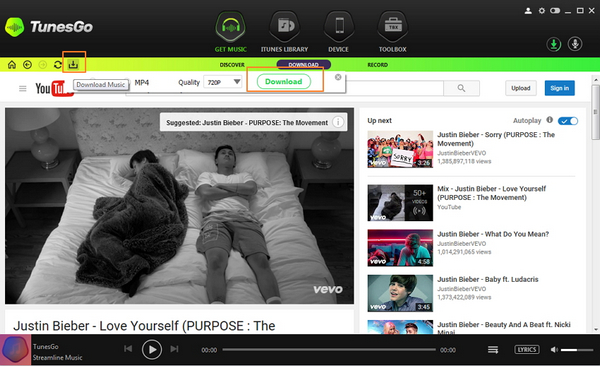 It is much convenient to use iTunes Music Manager to download music to iTunes from various online resources. So you can build your own iTunes library as many as you want. Also, music download is only one feature of this program. Besides this, you can transfer iTunes music to other devices or record music from online streaming sites. It is the one-stop solution for all music fans and currently there are no competitors even close to this program.