How to Fix iPad Stuck on iTunes Logo and USB Screen
Most of the times when your iPad or iPhone or iPod is stuck on iTunes logo or frozen or showing white screen then a simple reboot can fix the issue. But if your iPad is stuck on the iTunes logo while restarting the device then rebooting won't really resolve this issue. Mainly, iPad is stuck on the iTunes logo or Apple logo when you fail to update the software properly or due to some malfunctions in hardware. Apple clearly stated in their support website that a stuck Apple device can be fixed from the recovery mode or connecting your device to PC and fix it using iTunes software.
Now, it can be really frustrating if your iPad is abruptly stuck on the iTunes logo but it is not the end of your iPad yet. Still there are few methods that can be implemented to fix this issue. In this guide, we will share a couple of methods that you can use to get your iPad out of the stuck iTunes logo screen and use it normally.
Method 1: Hard Reset iPad
Hard reset simply means to restart your iPad but using special instruction to reset the default settings of your device. In many occasions, a basic hard reset can really resolve this issue and here's how to do that.
Step 1: Turn off your iPad and restart it by pressing Home and Wake button simultaneously.
Step 2: When you see the Apple logo, let go of the Power/Wake up button and keep holding the Home button until it is successfully restarted.
Step 3: If it still doesn't work then connect your iPad to PC and launch iTunes on your PC.
Step 4: You will be able to see a message on the iTunes that will say "There's a problem with your iPad that requires it to be updated or restored". Click on "Update" to install the iOS again on your iPad and restart it when it's done.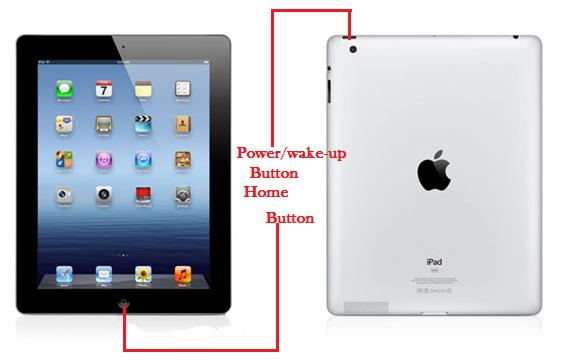 NOTE: The data on iPad will be permanently erased if you chose this method. So make sure you already backed up the device. Or you should follow the steps in Method 2.
Method 2: Fix iPad Stuck on iTunes Logo with iOS System Recovery Software
If the above mentioned method doesn't work then don't get irritated since we have one ultimate trick to resolve this issue. iOS System Recovery software has made it very easy to resolve any kind of iOS related issues like if your iDevice is stuck on iTunes logo or showing a white/black screen, stuck on recovery mode or your device is simply performing abnormally. This tool will totally update the firmware of your iPad and will make it fresh as new. Don't worry, none of your data will be erased using this program and you can run this tool from both Mac and Windows systems. Use the following manual to fix your issue with iPad.
Step 1

Install the Program and Connect iPad to Computer

Firstly, download the software from the official website and the trial version is absolutely free. Next, install it and connect your iPad to PC using a thunderbolt or USB data cable. Now, launch the program and click on "System Recovery" to initiate your iPad recovery process.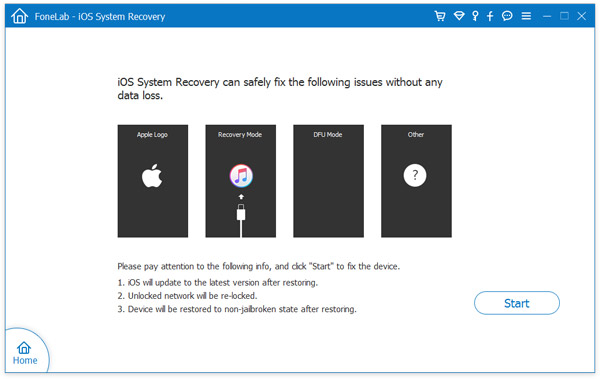 Step 2

Reboot iPad in DFU Mode and Download the Latest Firmware

Not to worry, you don't have to manually download anything, the software will do everything for you. Simply, reboot your iPad into DFU mode by pressing Home and Power buttons together for about 10 seconds and then release the Power button after the lights appears on the screen and keep holding the Home button just like we demonstrated in the following picture.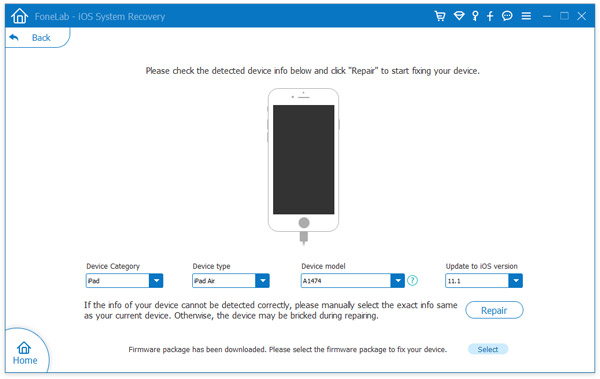 Step 3

Fix iPad to Normal

As soon the firmware is download, the software will automatically start repairing your iPad. Make sure to keep your iPad connected to your PC to avoid any disturbance and when it is done, you can reboot your iPad and it should start normally now.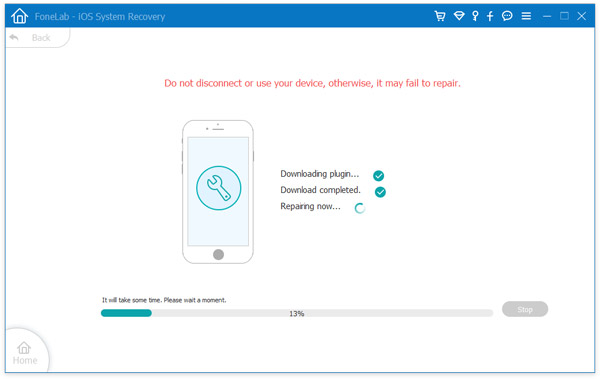 Conclusion: Basically, iPad is stuck on iTunes logo when there is some malfunction in the hardware and that can be fixed by updating the software and the firmware.iOS System Recovery tool exactly does that and fix your iPad to normal. In addition, if your device is stuck on Apple logo or showing white screen of death or have any iOS related issue then you can use the same software to fix your device and it works with all Apple devices like iPads, iPhones and iPods. Hopefully you guys found this manual useful and were able to fix the issue.