How to Download and Install iOS 13 Beta on iPhone
iOS 13 is the next release of Apple's operating system for iPhones. Alongside it, Apple is also working on the new iPadOS, and both of these are currently in the beta stage. The official public release of iOS 13 will most likely happen after Apple's September event when the new lineup of iPhones will be unveiled, but if you have an iPhone or an iPad, you can easily try out the latest iOS or iPadOS on your device without having to wait for the major public release.
There are a few requirements that you must fulfill before you can get them, however. The first is to register yourself in Apple's developer program or beta program, and the second is to register the device on which you want to install the beta version of iOS 13 or iPadOS. Both of these processes are explained in detail in this article.
Register Apple Developer Program
Apple Developer Program is intended to allow application developers to have a comprehensive preview of the new features and improvements that will eventually make it to the final release of new version of iOS, iPadOS, tvOS and watchOS. These developer beta versions are typically unstable, so you will be doing this at your own risk. However, even if you are not a developer, you can get a developer account and install a developer beta version much before the official public release.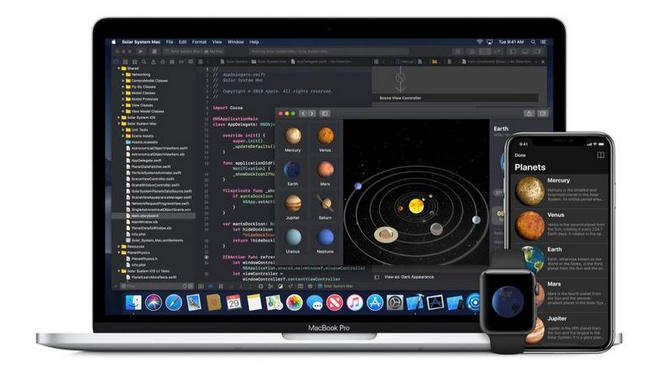 Please note that this is different from the Public Beta, which is open to all users on Apple's generic Beta Program for iOS users. This program allows the general public to test out new operating system versions after the developer beta stages are completed. At this point, the OS will be relatively stable, and it is easy to roll back to the previous version in case you run into trouble. Now, let's look at how to register for the Developer Program so you can download and install iOS 13 or iPadOS.
Method 1: Download iOS 13 Beta and Install it on iPhone Directly
Step 1: Before you proceed with these steps, make sure that you have a full backup of iPhone. In most cases, all your apps and data will be deleted when the new operating system is installed, so you want to make sure that you have a full backup with which to restore your data and apps once you upgrade to the beta version of iOS 13 or iPadOS.
Step 2: Once you have done the backup, you will need to go to Apple Developer Program website and enroll into the program using an Apple ID.
Step 3: After your developer account has been approved and activated, you can go to the Downloads section of the website and look for featured downloads.
Step 4:Sign in Apple Developer Program on an iOS device, where the beta version to be installed. Go to Download sections and click "Install Profile". Then a new configuration file being downloaded and tap it for install.

Step 5: Restart your device at this point. After doing so, go to Settings > General > Software Update, and you will be able to see an update available for iOS 13 beta. You can now install the OS version and start enjoying some of the great new features that will be coming up in the final release of iOS 13..
Method 2: Download 13 Beta and Install it on Mac via iTunes
If you want to download the IPSW image, then click "Download Restore Images" and select iPhone mode from the list. In this way, where the beta program will be installed on iPhone via iTunes on a Mac.
Step 1: There are two things that you need to do before accessing the iOS 13 beta download. The first is to make sure that your Mac computer has the latest iTunes version as well as Xcode 11 Beta.
Step 2: Assuming that you have already registered for an Apple developer account, head over to the developer website and use your Apple ID to sign in.
Step 3 : The next step is to register your iPhone or iPad's UDID to qualify it for beta downloads. The best way to get your UDID is to plug your iPhone or iPad into the Mac, open iTunes and click on your device icon, then go to the Summary tab. Here, you will see a serial number, and when you click on it it will change to display the UDID. This UDID must be registered before you proceed.

Step 4: Once you choose your iPhone or iPad model from the list of devices displayed on your screen, you can go ahead and download the IPSW file for this particular version of iOS beta.
Step 5: Once the file is downloaded on your computer, unzip it using the default file archive program installed on your Mac computer. Connect your iPhone or iPad to the computer and launch iTunes. Now tap on the icon for your device, which you will see on the top left of your screen.
Step 6: On your Mac's keyboard, hold down the Option key and, with your mouse, click on the Restore iPhone button in the Summary tab of iTunes.
Step 7: Now, choose the IPSW file that you downloaded earlier and click on Open. Within a few minutes, iOS 13 beta or iPad OS beta will be installed on your iDevice.

How to Get and Install iOS 13 Public Beta on iPhone
Now that Apple has launched the public beta version of iOS 13, you can register for Apple Beta Software Program for public beta testers and download and install it.
Step 1: In the Apple Beta Software Program website, click on 'Sign up' and use your existing Apple ID to register yourself.
Step 2: The next step is to log into your account and accept the terms and conditions of the beta program. If you have already done this before with a previous Beta version of iOS, you will need to first uninstall your profile before enrolling your iOS device for iOS 13 Public Beta. Otherwise, simply click on the 'enroll your iOS device' link under Get Started.
Step 3: On your iPhone, head over to beta.apple.com/profile, after which you can download and install the required configuration profile.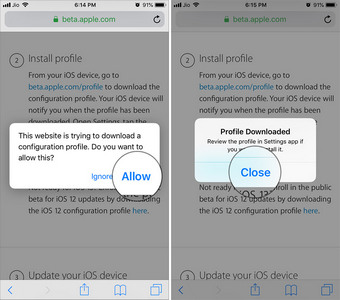 Step 4: If you have carried out the first 3 steps properly then you go to Settings > General > Software Update, you should be able to see the iOS 13 or iPadOS public beta update available for download and installation.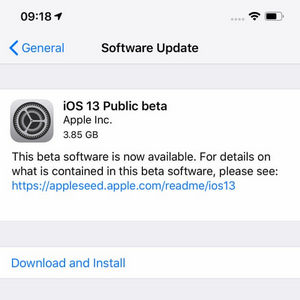 These are the ways you can use to download and install either the developer or public beta versions for iOS 13 and iPad OS. In the past, users were able to install beta versions through an over-the-air update or even without registering for a developer account. These methods are no longer possible, so your only recourse is to carefully follow the instructions played out in this article.