How to Delete Music from iPod Touch without iTunes
How to delete music from your iPod Touch? Generally, you have to use iTunes for sync or delete any music tracks from iPod. But after the release of iOS 8, things are improved a lot and now it is even easier to delete music, single track or the full album from the iPod Touch. In this article, I will show you two different methods for delete music from iPod touch without iTunes that explains everything in step by step. It is valid not only for iPod Touch but also for iPhone and iPad as well.
Method 1: How to Delete Music Directly from iPod Touch
The ancient iPod has no option to delete anything directly from the device but Apple has included the "delete option" on iPod touch. In addition, you can now delete music directly from the device, including iPod, iPhone and iPad. You can delete selected music tracks of your choice or you can also delete the entire music list from your iPod Touch as well. Now just follow the instructions.
If you use you iPod touch with iOS 8.3 then follow this:
1. Go to the Music app.
2. Then go to Songs list.
3. Now find the songs you want to delete.
4. Slide to the right until you got the delete button.
5. Tap on "Delete" to delete your selected songs.
If you use the iPod Touch with iOS 8.4 or above, then follow this:
1. Go to the Music app.
2. Select My Music.
3. Select the song you want to delete.
4. Tap "Next" to the song name.
5. Tap "Delete" and confirm.
To clear all music from iPod touch, on the other hand, you have to go to Settings -> General -> Usage -> Music. Now go to "Edit" and then tap on the minus (-) symbol that is close to "All Music." Now tap the "Delete" button. In a few seconds, all the songs will be deleted from iDevice.
Method 2: Use iPhone Transfer to Delete Music from iPod Touch
If you already follow the Method 1 to delete music tracks from iPod touch, there is no doubt it looks like a bit dumb and time consuming. This is why we recommend another method on this topic. iPhone Transfer is an amazing music management app for iPhone, iPod and iPad. It has a much clean user interface and you can delete the whole music with one click. In addition, I recommend you to use iPhone Transfer as the replacement of iTunes because it manages your iPod Touch much better. With this premium quality app, you can delete music tracks, transfer music list from your iPod Touch to your PC or Mac. You can also sync new music list and even you can transfer music from your iPod Touch to your brand new iPhone 6 or iPhone 6 Plus. Below are the steps on how to deleted iPod Touch music without iTunes:
Step 1: Download and install the iPhone Transfer on your PC. Then simply launch the app.
Step 2: Connect your iPod Touch with USB cable to your computer.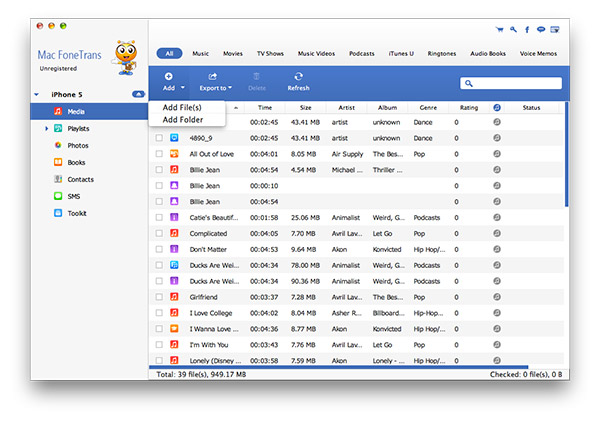 Step 3: Now click "Media" on the left of this app and select Music tab.
Step 4: Simply select the music tracks you want to delete and click the trash button to delete your selected music tracks from your iPod touch.
For most of the iOS users, iPhone Transfer is the preferred app to manage music, contacts, notes, messages, media, calendar and other iOS contents as well. In short, I can say that it is a great iTunes alternative and saves you a lot of time than using iTunes.