Top 5 Web Browser for iPhone/iPad/iPod Touch
One of the most common usages for iPhone is for web surfing. We can do a lot of staff within a browser such as reading news, watching videos. It is the app we can't live without on any smartphone. All iOS devices come pre-loaded with Safari, which is the default web browser for Apple's products. However, beyond this, there are many other great options available for iPhone and iPad users. You can select one on the basis of the feature or the user interface, regardless of whether it is a third-party plugin or tab syncing with the desktop. Now, it is time for us to get into introduction of top 5 picks of web browsers available for iPhone users:
No.1 Pick: Safari Web Browser
Safari is a stock app shipped in default on any iOS device. Most users have the experience in using this browser and it naturally comes to their top choice. To make mobile browsing functional and easier, this browsing application comes with rich features. The great attraction about this browser is that a user can open any number of tabs and also the 'reader' mode makes reading highly enjoyable and hassle-free on this browser. Also, if you find an article to be interesting, you can add it to iCloud for reading again later. Also, this browser enables bookmark syncing through iCloud. In addition, it is possible to add your favorite sites to your home screen as shortcuts as you can quickly get back to them as and when needed. As it is free and comes preloaded, most iOS users do not bother about getting a new browser.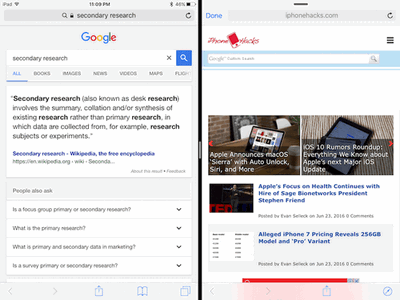 No.2 Pick: Chrome Web Browser
Even though Google Chrome for iOS is relatively a new addition, just a minimal period was enough for this browser to catch the attention of many iOS users. For instance, those who were using Chrome on their desktop readily switched to Google Chrome on their iOS as well. The reason is the Chrome Sync and seamless browsing of bookmarks, search history and much other stuff on both desktop and iOS. Also, the stack tabs feature in Chrome is highly appreciated by many iOS users. In addition, it enables private browsing, which is yet another feature to consider.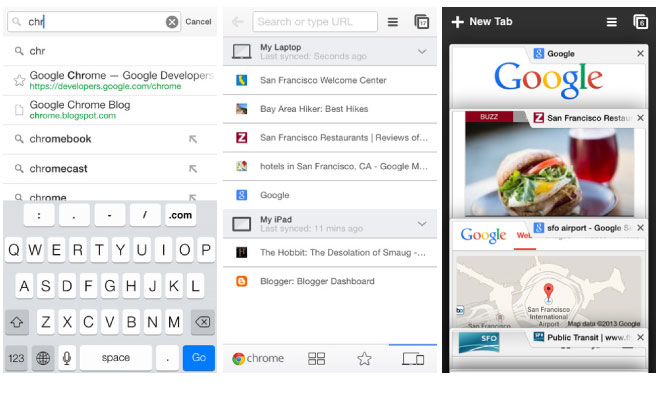 No.3 Pick: Dolphin Web Browser
Even though Dolphin initially won the hearts of Android users, the browser has not failed to hit the iOS as well. It helps with saving of password and you will explore many other features and benefits through their new Dolphin Connect service. The speech-to-text engine called Dolphin Sonar is an excellent attraction for iOS users. It also permits custom gestures for browser navigation. Similar to that of Reader view in Safari, this browser also has the 'webzine' to enjoy reading without debilitating ads and other stuff. In addition, the third-party plugin support is an added feature to consider.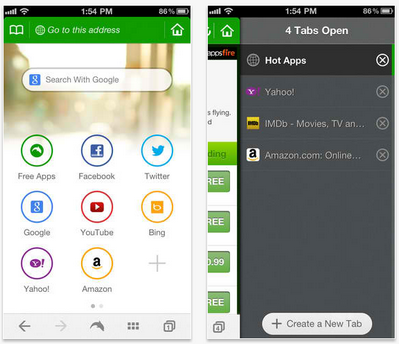 No.4 Pick: iCab Web Browser
This browser comes with a price tag of $2. But, you will get good return on investment with its excellent features and facilities like exporting bookmarks and bookmark folders to and from the desktop, ability to import and export bookmarks, form auto-fill and ad blocking to name a few. As the application supports Dropbox and offers custom link to third party services like Facebook, you can try this browser.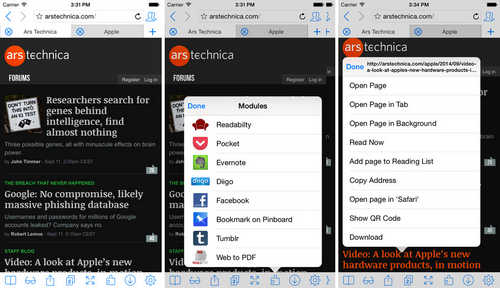 No. 5 Pick: Opera Coast Web Browser
This is yet another top pick for iOS due to its deep features. Opera Coast for iPhone is totally free and you will get some attractive features like Dropbox support, password management, form autofill, ad blocking, etc. Also, it will be possible to skin the browser with your favorite themes to make it look the best for you and you can also save important web pages for offline viewing. The gesture that can be configured for navigation is another attractive feature important to mention.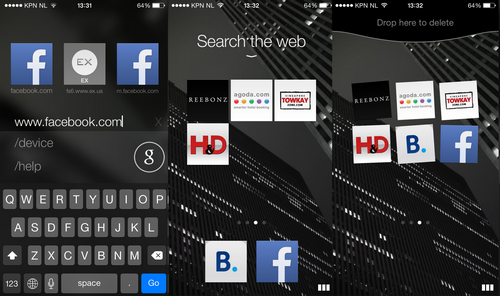 Conclusion: If you are a long time Mac user, then Safari is the best one as it can sync with iCloud and other Apple services. If you want a light weight browser without complex staff, then Dolphin is the option you should seriously consider. Chrome and Opera Coast provide the same experience as desktop, so they should be favored if you used them on computer.