How to Open or View HEIC Image File on Windows and Mac
HEIC, known as High Efficiency Image file format, is the latest innovation of Apple introduced with the new iPhone X. The purpose of this file type is to diminish the picture file size without compromising the image quality. What it means is that if you take any photos from iPhone camera then the default image format was JPEG, which used to consume over 25MB size. However, the latest HEIC file format will save the same image but under 1MB file size.
Moreover, the picture quality has improved drastically considering the size of the picture is very low. But, one of the major issue faced by most non-Apple users is to open these files on their Windows computers or Android. Unfortunately, no default app can open this file type on their respective systems. That's why, in this tutorial we will list down the best HEIV viewer apps that could help you to open these files on your PC or Android smartphones/tablets.
Method 1: How to Open HEIC File via Dropbox
You must be surprised knowing Dropbox – a cloud server can read HEIC files. But that's true. Dropbox updated their app recently which allows you to view HEIC files and also it allows you to download those files on your local system and the image will be automatically converted to JPEG or PNG format. So in short, you can view pictures as well as download them to a native file type. Here's how to use Dropbox to view HEIC files.
Step 1: Download and install Dropbox on your iPhone X. It is freely available on App Store.
Step 2: Download the Dropbox tool on your Windows computer as well and install it.
Step 3: Now, open the app on your iPhone and upload all the HEIC images on your Dropbox account. If you don't have an account on Dropbox then you can create one for free.
Step 4: Open the app on your PC and login to the Dropbox account which you just used to upload the pictures from iPhone. Finally, select all the files and download it on your PC but they will be saved on JPG or PNG format.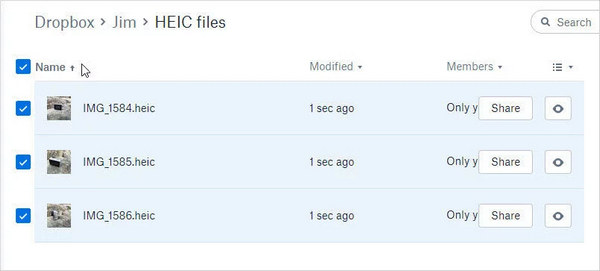 Method 2: How to View HEIC File via HEIC Converter
Another easy way to view HEIC files is just to convert them to a more suitable file format that is available on Windows or Mac computers such as JPG, JPEG or PNG file format. In this tutorial, we will be using iOS HEIC Converter as it is the most effective program available. The usage of this program is extremely simple. All you need to do is install the program, upload the files that you want to convert and save the new file format image on your PC to view them seamlessly within seconds.
Moreover, you can convert HEIC files to JPG in huge batches and trust me, it one of the fastest image converting tool we have ever seen. You can even convert images one by one if you want or you can even selectively convert images. Additionally, you can modify the image quality by adjusting the preferences. Also, the drag and drop feature is available on this tool as well. Over a million users has opted in for this program and the trial version is totally free to this date.
Step 1: After installing the program on your PC, click on "Add" icon to upload pictures from your PC.
Step 2: Adjust the image quality as per your choice and choose the folder where you want to save the output images.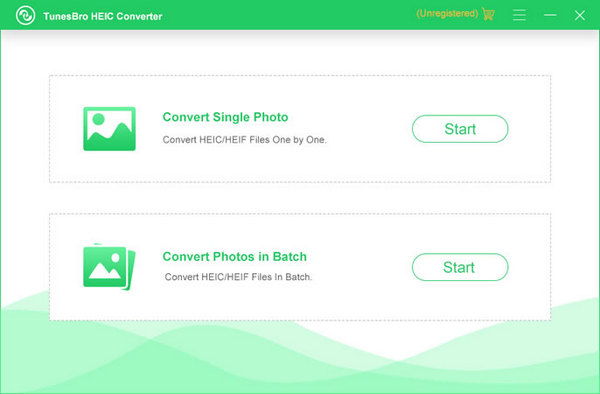 Step 3: Once the files are converted, the output folder will be opened automatically and you should be able to view all pictures on your PC now.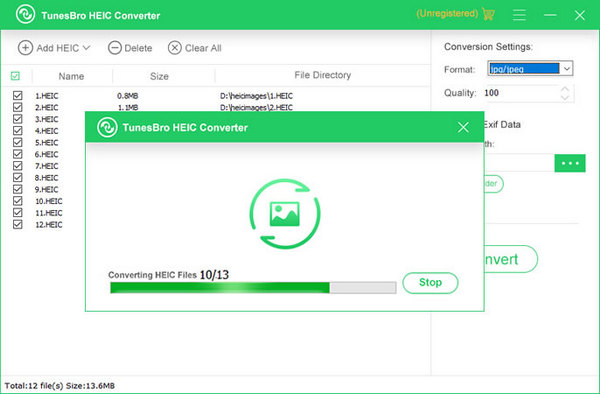 Method 3: How to View HEIC File via iMazing HEIC Converter
iMazing HEIC Converter is yet another solution to view HEIC files on your Windows PC. It is a free application available online and you can download the program directly from the official website.
Step 1: Install the program on your computer and launch it as an administrator to see its main user interface.
Step 2: You can either upload the HEIC files manually on to the tool or you can drag & drop the HEIC files inside the tool and they should appear like thumbnails.
Step 3: Now simply select a file type that is readable on your PC like JPG or PNG and tap on the Convert option to save the images on your PC.
Step 4: As soon the files are converted, you will be able to open them using any default app on your PC.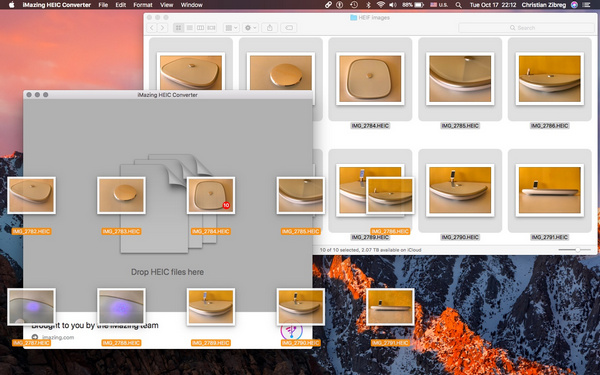 Conclusion: In this tutorial, we have listed down the best 3 HEIC viewers in 2018. Keep in mind, HEIC files are still very new and there's not a lot of ways to view them on your PC or Android phones. However, using the tricks shared in this article will certainly help you to view your precious images in your desirable device.