How to Transfer Data from Sony Phone to iPhone 7/6S/6/5S
When the new iPhone 6S was publicly available, many of Sony Xperia users are preparing to purchase one to replace the old phone. You know the operating system on both phones is totally different and make it hard to transfer data between them. However, if you decided to do it hand by hand, then it would take hours to complete the job, especially there are many important files on the old phone. So in here, I am going to introduce an automated content transfer tool called Phone to Phone Transfer, which can transfer content between different smartphones in 1 click.
In the following tutorial, we will show you how to transfer different types of data from Sony phone to iPhone, taking Sony Xperia Z3 and iPhone 6S as an example. In fact, the program supports a lot of smartphones and tablets, below is a short list of supported devices. The steps are the same, please don't worry about that.
Sony Phone: Xperia X Permance/XZ/XA, Xperia Z3/Z3 Compact, Xperia Z5/Z5P and Xperia C4/M4.
iOS Device: iPhone 7 Plus/7, iPhone SE/6S/6/5S/5, iPad Mini/Air/Pro and iPod Touch.
File Type: Text Messages, Contacts, Photos, Music, Videos, Call log and Calendars.
User Guide: How to Transfer Contacts & SMS from Xperia Z3 to iPhone 7/6S/6
Step 1

Install Phone to Phone Software on Computer

Download and install this program on your computer. After installation, open it from desktop shortcut. On the primary window, find and click "Switch". There are other options you can explore later by yourself.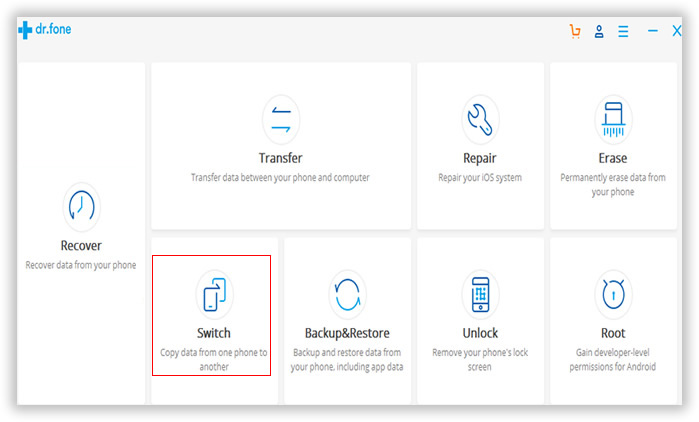 Step 2

Connect Sony Xperia Z3 and iPhone 6S

Plug your iPhone and Sony Xperia Z3 to the computer using USB cables. The program should detect both phones in a minute. If not, make sure the USB drivers are installed properly. The source phone is the old phone with your data stored and the destination phone is the new one you wish to transfer data to. You can change the position by clicking "Flip" button in the middle of the two phones.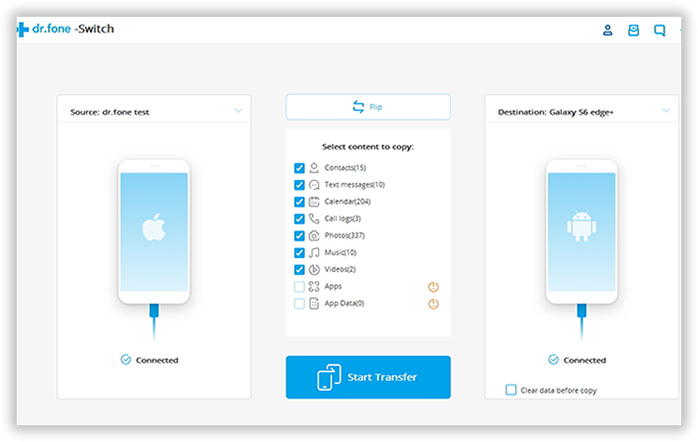 Step 3

Select Data Type for Transfer

The two phones should be displayed on the screen after connecting. Sony Xperia Z3 as the source and iPhone 6S as the destination. In the middle, there is a list, which shows what kind of data available for transfer, including contacts, text messages, music, photos etc. Mark the option selected if it was the right data type you need to transfer.  
Step 4

Move Selected Files from Sony Xperia Z3 to iPhone 6S

When you are done selecting files, you need to click "Start Transfer " button to start the transfer. After it copied all the files you wish to transfer, click done. The Window will close and you can view all the data on your iPhone 6S now.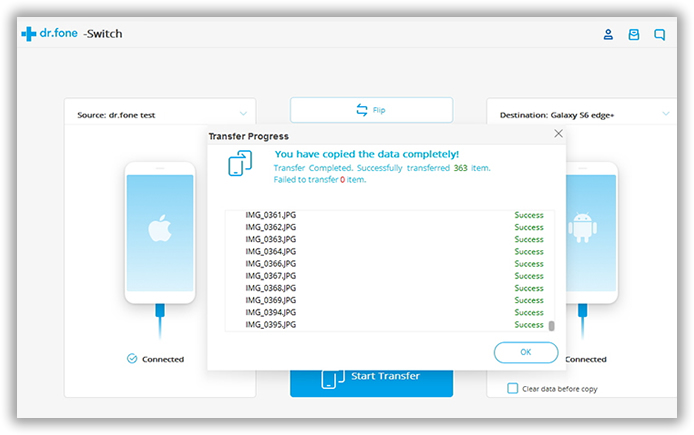 Phone to Phone Transfer offers a very convenient content transfer method from Sony Xperia to iPhone. As far as I concerned, there is no such an app that would do better than this program. What's more, it is far more than a data transfer app because it has other powerful features you can use in further. Generally, with this program, you will save a lot of time on managing your mobile device. Data transfer can be finished in a few minutes. Never worry about losing data on your phone as the program has a built-in function for that. Want to protect your private data when selling the old one? No problem, you can use the erasing feature to permanently delete data on your phone.