How to Transfer Data from Moto X/G/E to iPhone 8/X/7/6S
So you have been using your Moto phone for a long time but you had a great desire to give it a try on iPhone. iPhone is an excellent phone and now you might be planning to shift everything to the new iPhone from the old Moto phone. Transferring contact one by one is definitely a time consuming and tiresome job. That's why you need to use an effective third party software to transfer content from one device to another.
PhoneTransfer is one of the best software for data transfer between different mobile devices. With the help of this software, you can easily transfer contact, messages, call logs, calendar, photos, music, videos, apps between two phones. The latest version of this software also supports iPhone 6S and iPhone SE. This software is completely safe and all the content it transfers is the same as the original ones. The best part of using this software is that all the dirty work is done in background and it only takes a few minutes to copy hundreds of files.
Moto Phone: Moto X/ X Pure/X Play, Moto G/G Plus/G Play, Moto E/E(2nd Gen) and Nexus 6.
iOS Device: iPhone SE/6S/6/5S/5, iPad Mini/Air/Pro and iPod Touch.
File Type: Text Messages, Contacts, Photos, Music, Videos, Call log and Calendars.
User Guide: Transfer Contacts/SMS/Music from Moto X/G/E to iPhone 8/X/7
Step 1

Download PhoneTransfer Software and Install It on Your Computer

This program works perfectly on Windows PC and Mac computer. First you have to download the latest version of phone transfer software from the official site. And once you have downloaded the file, then you need to install the program on your computer. Finally, launch it when the installation process is completed.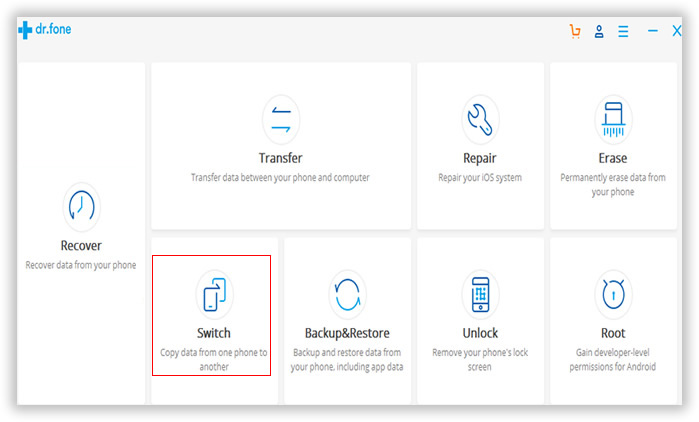 Step 2

Open PhoneTransfer Software and Connect the Phones

From the startup window, there are 4 choices listed. Now you need to click "Switch" and connect your Moto phone and iPhone to the computer with USB cables. A minute later, the two phones should be recognized by the program and their names are displayed on the program.

Note: If you see the iPhone is showing as the source phone, which it should be the destination phone then you can easily switch the side by clicking "Flip" button.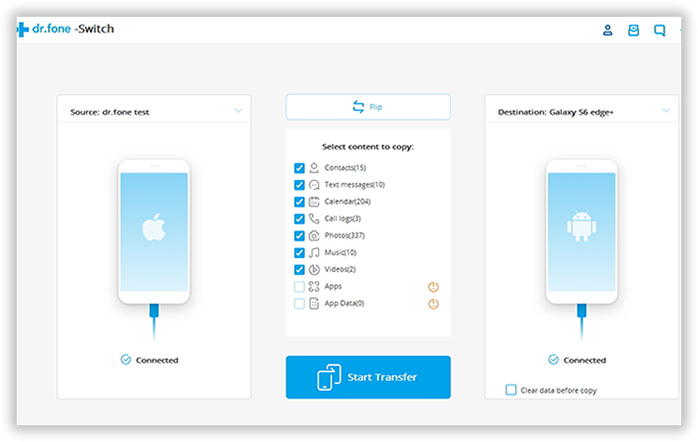 Step 3

Select the Items You want to Transfer

The program is able to transfer multiple types of data from Moto phone to iPhone and we already listed them on the above introduction. Use the mouse to select the data types you want to transfer. However, apps can't be transferred due to different operating system. You need to download them from App store instead. 
Step 4

Now Start Transferring Selected Files from Moto Phone to iPhone

Click on "Start Transfer " to initiate the transfer process. Make sure that you don't disconnect the device before completing the procedure. There is a progress bar displaying the whole transfer process, which you can see how many files being transfer and how many being left.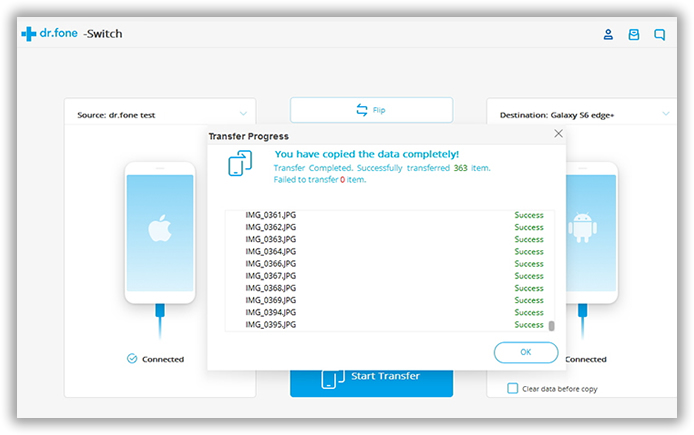 Currently, PhoneTransfer supports more than 3000 phones and different wireless networks. The super-friendly user interface allows anyone to transfer data without experiencing any problem. Apart from transferring files, it also helps you to erase all the data from your old phone so that you won't have to worry about privacy issue. All the data will be removed permanently with the easing feature. What's more, you can also use this program to backup and restore phone data.