iTunes Could Not Backup iPhone Because an Error Occurred
Most iPhone, iPad and iPod users depend on iTunes to backup their files to a computer. But a few users have reported that they're unable to proceed after an error shows up saying that "iTunes could not backup the iPhone because an error occurred". What does this mean, why is it happening and how can you solve the issue?
Backups are extremely important because they preserve very precious content, like your photos, music collection and so on. Losing such data could cause disastrous consequences on your personal and professional life. But Apple's iTunes software isn't infallible; at times, it shows odd errors like the one described. There are several possible reasons for this error being displayed.
1. The installed iTunes software is out of date. Please download and get the latest iTunes on the computer.
2. iOS device is diabled. You need to get the device back to normal first.
3. iOS device being locked. Just unlock the device by inputing the right passcode.
4. Computer might have a security application blocking this action; Please install the latest update.
5. Computer don't have insufficient space for the backup. Clean up C drive for freeing up more space.
However, if none of above recommended suggestions work, you can try doing one of the following:
Use a Trusted and Flexible Utility to Backup iPhone, iPad or iPod
Aiseesoft FoneLab is a professional iOS data recovery tool that will work well for this purpose. FoneLab essentially offers a full toolkit for both iOS and Android. The iOS toolkit consists of three modules: iPhone Data Recovery, iOS System Recovery and iOS Data Backup & Restore.
The iOS Data Backup & Restore module is what you'll be needing to overcome the error in question. The smooth and intuitive interface isn't just a pretty face; underneath is some powerful code that lets you backup all your data to a Mac or Windows PC with literally one click.
Step 1: Simply download and install the software on your PC or Mac, run it, and perform the backup by clicking More Tools -> iOS Backup & Restore from left sidebar.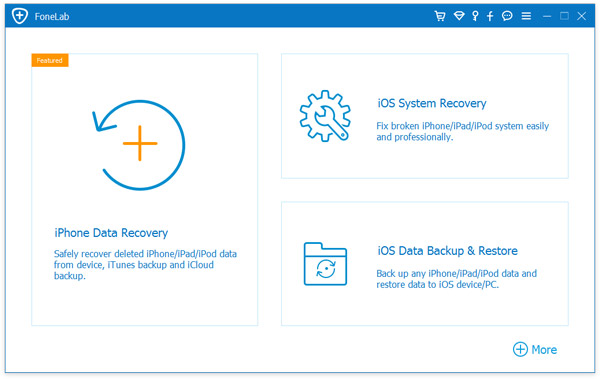 Step 2: On next page, select "iOS Data Backup" and choose what types of content you wish to backup.
Step 3: Click "Next" button to start the backup process. It's a no-brainer, and you'll be done in a few minutes. The module even allows you to preview everything in your backup. What's more, you can just as easily preview and recover data back to your iOS device whenever you need it.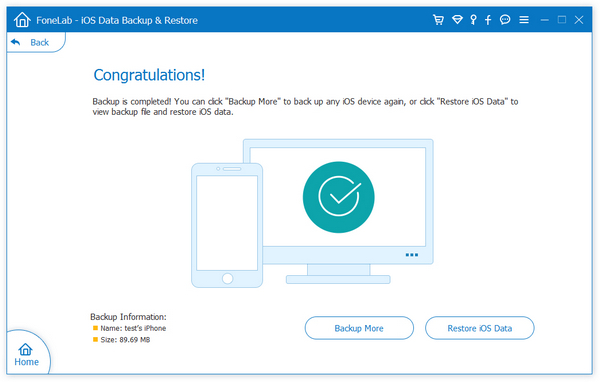 Use iCloud to Backup iOS Device
Apple offers iCloud plans if you go over your free 5GB limit, but how expensive it is depends on how much data you have. If you're a photo buff or an avid video fan you may need upto 2TB, which will cost you about $9.99 in the U.S.
Using iCloud allows you to bypass iTunes and store all your files and media directly on Apple's cloud servers and then access them from any device.
There are a few disadvantages of using iCloud that you should know about. For example, if you have large files or a large number of files, a slow internet connection could mean waiting for a long time for your files to be backed up. Also, even if Internet speed is not a problem for you, you may find that third-party media that's not from iTunes may not get backed up, in which case you'll need yet another solution for those files.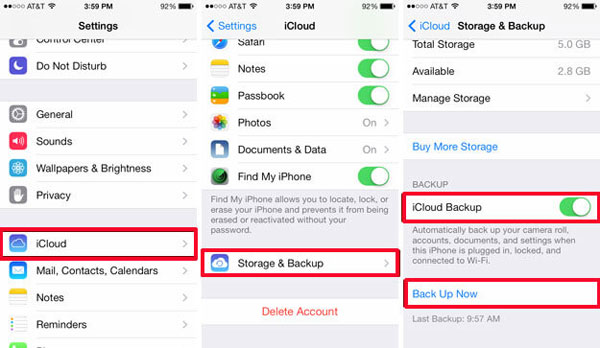 The backup process is critical, as mentioned earlier, but even more critical is whether or not it's going to cost you more and more money over time. Buying a software utility for life allows you limitless storage capacity because you'll doing the backup to your own device. With cloud storage, the tiers cost more as you go higher.
In the end, three things - cost, convenience and security - will help you decide which solution is best.