How to Access iCloud Backup File on Mac or PC
A lot of people use Apple devices like iPhone or iPad and probably you are one of them. As a common practice, many users have been storing crucial information such as photos in iCloud so you can easily restore them when you accidentally delete it. Or you are more willing to access the iCloud file on a computer instead of the website. Unfortunately, Apple doesn't provide such a tool and you have to figure out by yourself. However, with sophisticated technical means, we can view and see iCloud backup file on a Windows PC or Mac computer.
iOS Data Recovery is one of the best tools used for retrieving lost data from iCloud backup so you can view it on personal computer. It can easily extract all kinds of files from iCloud and you can save the selected files on a computer. One of the most crucial advantages of using this software is that you can preview each individual files stored on iCloud. It is fully secured because it only allows you to access your own account. Besides, it is also able to extract data and files from iTunes backup file.
OS: Windows 10/8/7/Vista/XP and Mac OS X
Accessible Data: Photos, SMS, Contacts, WhatsApp Messages, Notes and Media Files.
Tutorial: How to Access iCloud Backup File for iPhone/iPad/iPod
Step 1

Select A Data Recovery Mode

Plead download and install the program on your computer first. Then open the program at the end of installation. There are 3 data store modes in this program. In here, select the specific recovery mode "Recover from iCloud Backup Files" from the left sidebar.

Now you can see a small window on the right and put your iCloud user name and password to login here. The program is highly concerned about your personal security and it never keeps your account info.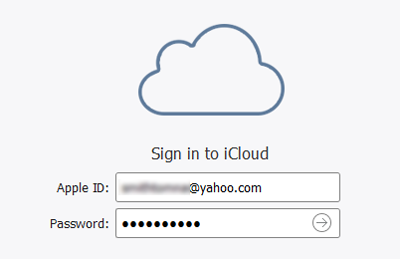 Step 2

Download iCloud Backup File on a Mac or PC

Once you are logged in, the program can easily find all the backup files in your account and you need to choose the one that you are going to view the data. Click "Download" button to save the backup file on the computer. The download will take some time depending on how large the file is. When the download is finished, click " Scan" button to extract files on that backup file and later you can see the file on your computer.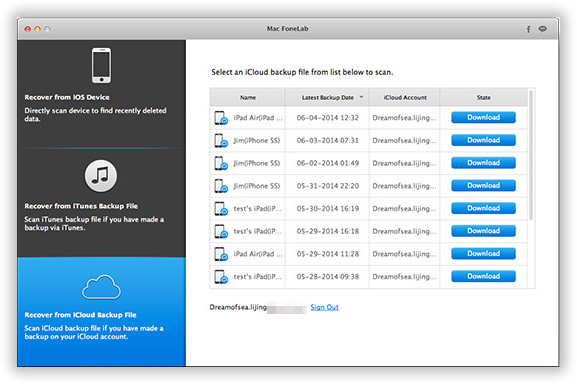 Step 3

Preview and Access data from iCloud Backup File

The entire process of scanning will be completed within a few minutes and once the process is done, you can preview almost all the data in your iCloud back up files. You should go through the files one by one and tick the files that you want to save. Now finally click "Recover" button and you will have all the recovered files kept on your computer .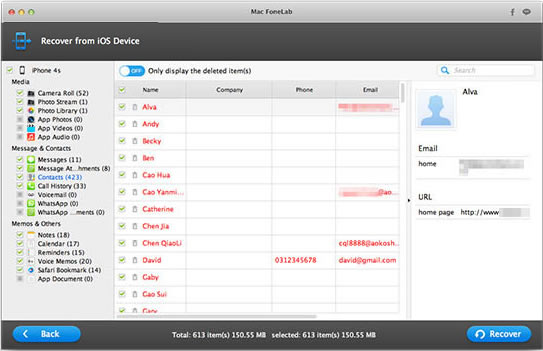 This software offers the maximum flexibility to let user access their backup data on iCloud. The users are free to backup the data individually if they thought it was important. This will save more storage on iCloud thanks to this great iCloud backup downloader. It also allows you to preview the files before recovering it to your computer and this is one of the best advantages of using this program. It comes with the highest rate of data recovery in case you didn't back up the data but want to restore the lost data from iPhone, iPad or iPod. Feel free to download this program on your computer and verify the above saying by yourself.