How to Download and Extract Backup Data from iCloud
iCloud is the default backup solution on iPhone, iPad and iPod. You can back up your contacts, photos, text messages and other kind of staff to iCloud by simply turning it on your device. When your data is being wrong deleted, or got damaged, you can easily restore all the files to the new device from the iCloud back data. Unfortunately, Apple doesn't offer the way to download iCloud data directly on your computer. You only have two options left when restoring from iCloud: restore the whole backup data or restore none from it. That's less flexible and quite annoying sometimes because you only needed to recover a few items from the backup.
When Apple didn't provide solution to this question, then there are the chances for third-party developers to make up the gap. iCloud Backup Downloader is an awesome tool which helps you to download iCloud backup data and restore the ones you wish to recover. The whole process is very simple as you can see from the following tutorial. When the data is being extracted, you are free to preview each file among the backup. All the Apple's iPhone, iPad and iPod are supported by this program, meaning all iCloud backup data on those devices can be downloaded via this program. iCloud Backup Extractor has lived up to its promise by serving individuals what they promised by delivering a flawless service of data downloading and extraction. In the area of data recovery, it is simply the best. Below are the steps, you need to take to download and restore the data from iCloud backup.
Tutorial: How to Download Backup File Directly from iCloud
Step 1

Download and Install iCloud Backup Downloader on Computer

This well-known program is a cross-platform app that supports Windows and Mac OS X. You are free to download and test the program according to your computer system. After download, kindly install the program on your computer with the default wizard. Launch the program when installation is completed.
Step 2

Sign in iCloud with the Right Email and Password

Select 'Recover from iCloud Back up File' from the left side. The other two options is for other usages. You can try them out either if you were interested. Then the program asks you to input the right email and password to sign in iCloud. iCloud Backup Downloader never stores your personal details during this process. You can see the terms an conditions on the site.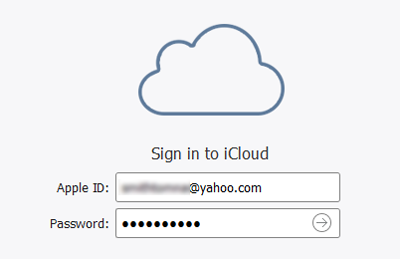 Step 3

Download iCloud Backup File from the List

After successfully sign in, the program will display all the backup files under that account. You need to choose one and click 'Download ' button to download the right iCloud backup data. The time for downloading varies and it's largely depending on how big the file is and your internet connection speed.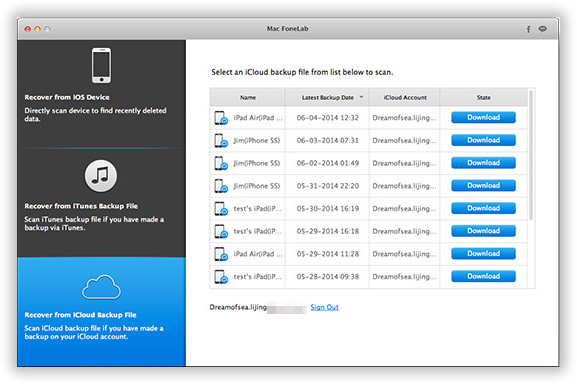 Step 4

Preview and Extract Data from iCloud Backup (Optional)

When download is completed, you can extract the iCloud backup from the program. Then all the files in that backup file will be extracted onto the program. All the files are grouped under different categories, you can preview each one before recovery. After selection, click 'Recover ' to start retrieving the data on your computer.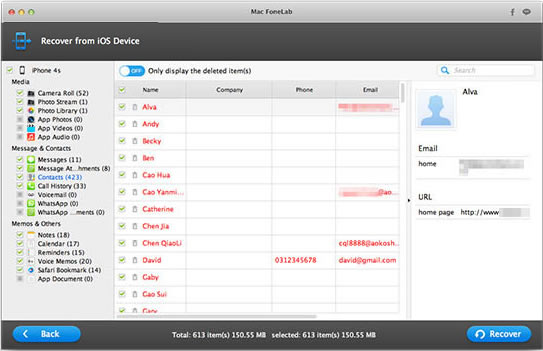 With this iCloud backup downloading tool, you can recover deleted or lost data from iCloud without the device at hand. There are a lot of things you can do with this amazing tool. The most interesting part of this software is that it supports recovering data from iOS 9 and is fully compatible with the latest devices from Apple. With iCloud Backup Downloader, data recovery can be done in a very short while and with maximum satisfaction. If you have given it a try and you are satisfied, why don't you share this with your friends so they can also benefit from this awesome software. iCloud Backup Downloader is here to give solution to all your iCloud backup download needs.