How to Get out of Headphone Mode on iPhone 8/7/6/5
A few iPhone users might have experienced this issue once in a while in their lifetime while using iPhones or other iDevices. iPhone is generally stuck in headphone mode when you are listening to music or watching videos and all of a sudden, a phone call comes or it was water damaged. This sends a confusing message to iPhone and it simply stops responding when you plug in the headphone.
How Do You Know your iPhone is Atuck in Headphone Mode or Not?
It is 100% assured that your iPhone is stuck on Headphone Mode when you are plugging in headphone on your iPhone and the volume up and down will have no impact on it. You may try to start the music but no sound will come out and you will constantly see a Bell icon whenever you try to change the volume. In addition, this may occur due to plugging incompatible headphones or if you are connecting and disconnecting your headphones too frequently.
If you are experiencing the same issue today then you have come to the right place. In this article, we will show you few solutions that may totally get rid off this problem and your iPhone will recognize your headphone perfectly again.
Solution 1: Get Out of Headphone Mode by Removing iPhone Case or Cover
This is one of the silliest solution but it worked with several people. What happens most of the time is that your headphone is not actually plugged in perfect and your iPhone case is preventing the audio jack to penetrate correctly. In that case, simply remove the iPhone cover and try to plug in your headphone again.
Did it work? If yes then perfect and if no then, head to the next solution.
Solution 2: Reboot iPhone
If removing phone case didn't help then make sure to reboot the iPhone once so that you can make sure there's no software issue on your iPhone. Simply, long press the power button and keep it turned off for like 10 minutes then turn on the iPhone again.
Plug in the headphone and see if it's working. In many cases, rebooting the iPhone resets the software and drivers to its working settings which may cause the issue. If this still doesn't help then move on to the next solution.
Solution 3: Fix iPhone Stuck in Headphone Mode via System Recovery App
If the above two solutions didn't help you at all then in that case, a third-party tool is needed like iOS System Recovery. It will help you to fix the issue in a simple manner. So basically, you will have to install the program on your PC and connect your iPhone so that program can update your iOS system and fix the problem by itself. This program is widely used to resolve issues related to iOS system, such as stuck on Apple logo, Connecting to iTunes, etc.
However, you should have a backup of the phone first. If not, the data on iPhone would be deleted after the issue was finally fixed.
Step 1

Install iOS System Recovery on Computer

iOS System Recovery is a computer program so first you will need to download the Mac or the Windows version depending on which platform is comfortable for you. Then install iOS System recovery software on the computer and open it to see the main interface of this tool for the first time.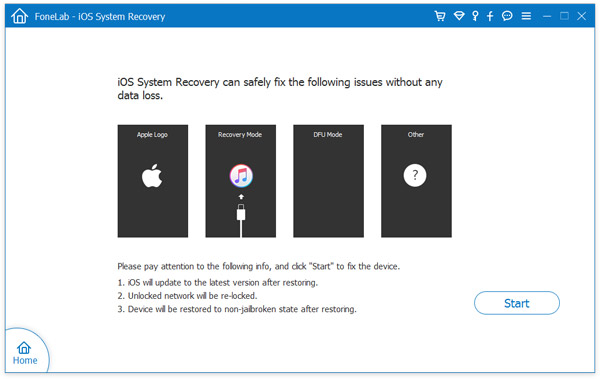 Step 2

Connect iPhone to Computer

Next, connect your iPhone to PC with the help of a USB data cable or thunderbolt if you are using Mac. After that, click on "Start" to initiate the process.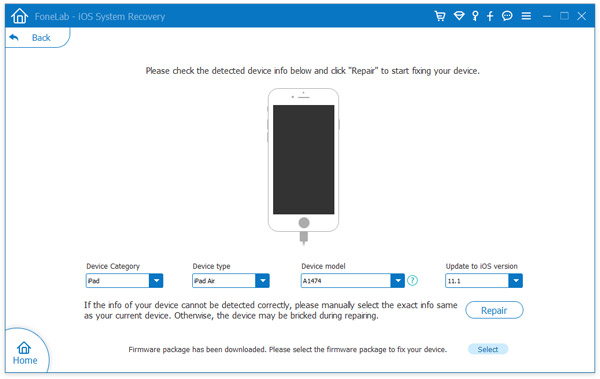 Step 3

Download iOS Firmware and Fix the Problem

The program will automatically recognize the issue on your iPhone and when the issue is detected by the tool, simply click on "Confirm". Finally, click on "Repair" and let the program fix the problem all by itself.

When it is done, your iPhone will be restarted automatically and you may try to plug in the headphone at this point and it should work perfectly.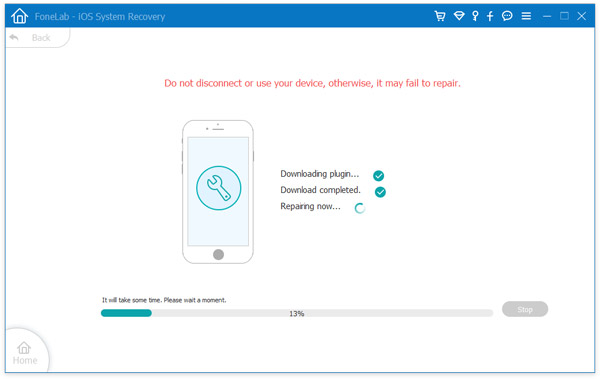 There are loads of reasons why an iPhone could have stuck in headphone mode but if you are using iOS System recovery tool then it will detect the issue all by itself and will repair it effortlessly. Moreover, you can use the same program if your iPhone shows any kind of issues related to iOS system. If you find any problem with the tool then feel free to contact the 24X7 support system and receive friendly assistance as soon as possible.