How to Connect iPhone to Car via Bluetooth or CarPlay
A modern iPhone can be used to perform enormous activities throughout daily-life routine. But you can't glue on to an smartphone screen while you're driving. If you proceed to multi-task, it is indeed clear that you might face a fragile situation ahead. So how to control iPhone during driving? This is the topic we are talking today.
Basically, there are two ways to connect iPhone to a car: Bluetooth or Apple CarPlay, a more advanced feature than Bluetooh, which includes:
Voice command Control: Apps like Sir can help users while they wish to call someone from their contact list.
Read Text Message:Speaks out received texts instantly and covers a wider choice to deliver quick responses in return.
Play Music on iPhone: Favorite music playlists could be accessed without even having to open the 'Music' app.
Confortable Navigation: Much simpler as maps are mirrored to the car's display screen. Moreover, a glance at your car's touchscreen keeps you updated on turn-by-turn directions.
How to Connect iPhone to Car Hands Free via Bluetooth
Merely a setup procedure for users who haven't had any prior experience with Bluetooth pairing. iPhone only does smooth assist through Bluetooth, if it's properly paired. Also, it's a one-time set up and thereafter iPhone should identify previously paired devices automatically.
Step 1: Turn 'ON' Bluetooth on iPhone from 'Settings'.
Step 2: Turn on Bluetooth on the car. Now, devices that are currently within range will be sorted under 'Other Devices' in the iPhone.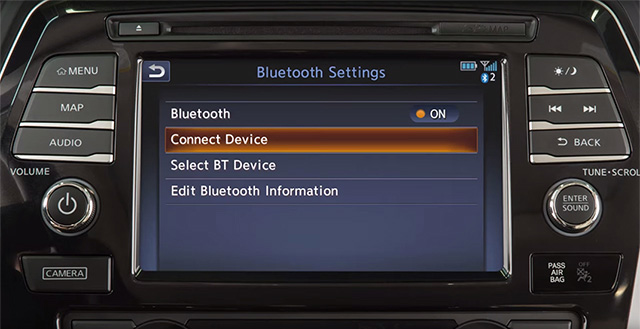 Step 3: Spot your car's name and click to pair.
Step 4: After successful pairing, your car's name will be listed under 'My Devices'. 'Connected' will be shown next to your car's name whenever your device is in use for functions like CarPlay.
Connecting iPhone to car via Bluetooth is easy but the features are only limited to phone call and music. For advanced tasks such as voice command, Bluetooth is not available. That's the role of Apple CarPlay service.
How to Connect iPhone to Car via CarPlay
CarPlay is a branded new service provided by Apple. It is a brilliant and secure way to use iPhone in a car with tons of features, which is controlled by voice command. CarPlay with Siri support is the best way to control an iPhone when driving. However, this function is not supported by old models.
Step 1: Please check the car list supported by Apple CarPlay.
Step 2: Turn on Bluetooth on iPhone and the Car.
Step 3: Go to Settings -> General -> CarPlay on iPhone. Now the iPhone starts scanning the car nearby.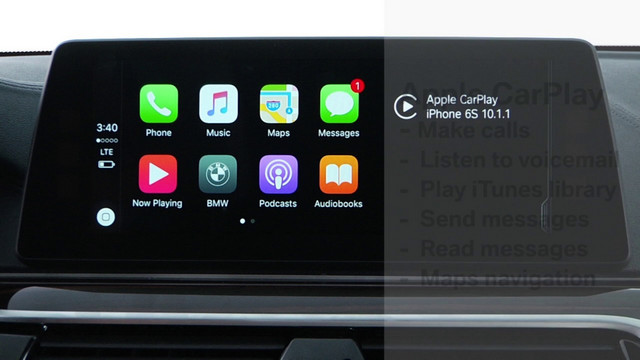 Step 4: Input the password and pair the car. This might take a few minutes depending on the connection condition.
Step 5: Send voice command on the car and the demanding activity will be pushed to iPhone accordingly.
iPhone Not Connecting to a Car Troubleshotting
Tape Other Bluetooth Devices: As Bluetooth is a wireless means of connection, your phone antennas should be fine to establish a link. For this, check if there's any other Bluetooth related gadget lying around turned on (Like a wireless speaker). iPhone only remains connected with one device at a time through Bluetooth and you must turn off irrelevant ones. If this doesn't work, click 'Forget Device' on devices that you tend to use frequently through Bluetooth.
Restart iPhone:: If you've been switching connection through a number of Bluetooth devices, your phone's reception should probably stay weak. Restart your phone before you try again with your car. (Make sure to turn OFF Bluetooth for a while after restart)
Forget Car as a Paired Device:Head over to iPhone's Bluetooth menu and spot your car's name under 'My Devices'. Tap info (i) icon located near the name and select 'Forget This Device'. This will remove your car's paired access through Bluetooth. You'll have to pair them up again to see if it works.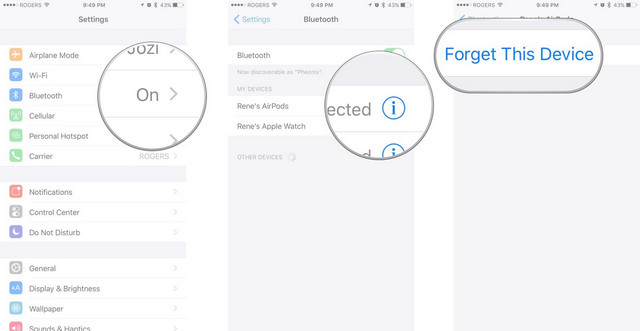 Summary: If you tend to glance at your iPhone's screen while you steer (or even if you know someone). This guide would pretty much change their ways. Car Play's a fantastic feature you might easily get adapted to. Besides, all its features are served free of cost, just to leverage people's comfort. Lift your driving potential to the next level if you own an iPhone 5 or newer.