How to Transfer Text Messages from Galaxy Phone to iPhone
If you change your phone from Samsung Galaxy S5 (as an example) to iPhone, what comes in your mind is how to transfer important data such as messages from the old Android phone to the new iPhone. Obviously, you need an advanced phone transfer tool to enable you to migrate all the data with minimal effort. Though the transfer can be done manually, the method is not straightforward, which would take hours to be completed. The truth is that there is a one-click solution on the market that moves all your data between Galaxy phone and iPhone.
PhoneTrans is the smartphone transfer software that you need here. This program guarantees you faster, safe and secure text messages transfer from Samsung Galaxy to iPhone. It makes it easy to move everything from one phone to another. Other than text messages, this program lets you move contacts, call logs, calendar, music, apps, and much more from one phone to another. Mobile Trans is developed for use in different networks and supported devices including Samsung, Apple, Motorola, Sony, Oppo, Alcatel, LG, Microsoft, HTC, and Nokia.
Supported Samsung Device: Galaxy S3/S4/S5/S6/S6 Edge/S7/S7 Edge/S8, Galaxy Note 3/4/5/7 and more Android-based phones
Supported iPhone Model: iPhone 8/8 Plus, iPhone X, iPhone 7/7 Plus, iPhone SE, iPhone 6S/6S Plus, iPhone 6/6 Plus, iPhone 5S and iPhone 5
Supported File Type: SMS, Contacts, Photos, Music, Videos and Documents.
User Guide: How to Move Text Messages from Galaxy S5/S4/S3 to iPhone 8/X/7
Step 1

Install and Run PhoneTrans on Computer

PhoneTrans is a desktop-based program that runs on Windows and Mac OS X. Just download the right version of the program from above download button. After that, install the program on your computer and open it when installation is finished. Click 'Switch ' from the main screen.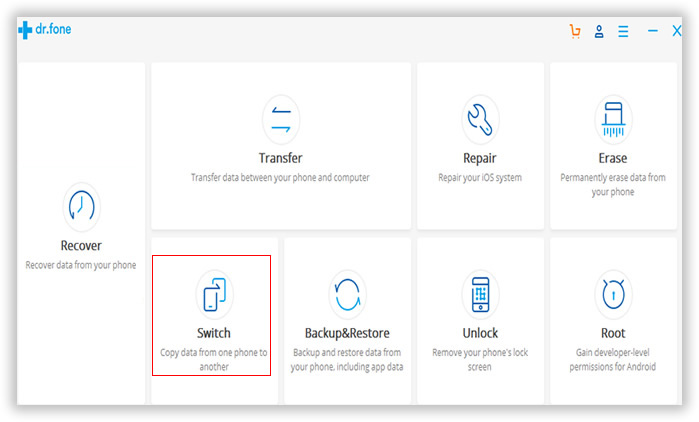 Step 2

Connect Samsung Galaxy Phone and iPhone to the Same Computer

PhoneTrans needs connection to access the internal system on each phone, so you need to plug both phones to the same computer with the USB cable. Then the program can access the phone via USB connection. When the two phones are connected, their names will be shown on the main screen. The source should be Samsung Galaxy and destination phone should be iPhone. If the position is wrong, click the 'Flip' button to change. 
Step 3

Select Text Messages from Content List

As you can see from the list, there are several types of content available for transfer. Select the items you wish to transfer. If the option is in gray color, it means the content can't be transferred during this time.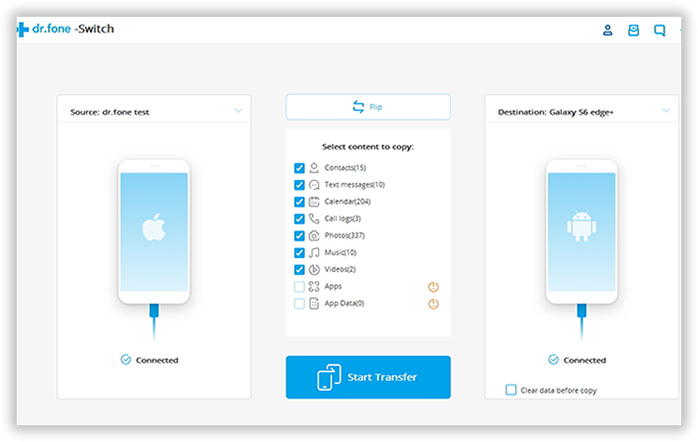 Step 4

Start Transferring SMS from Samsung to iPhone 8/X/7/6S/SE

After selection, click 'Start Transfer ' button to begin the content transfer process. If the transfer was only for text messages, the whole process should be done in less than 5 minutes. However, the final time depends on how many files being transferred. There is a process bar indicating how many items being transferred.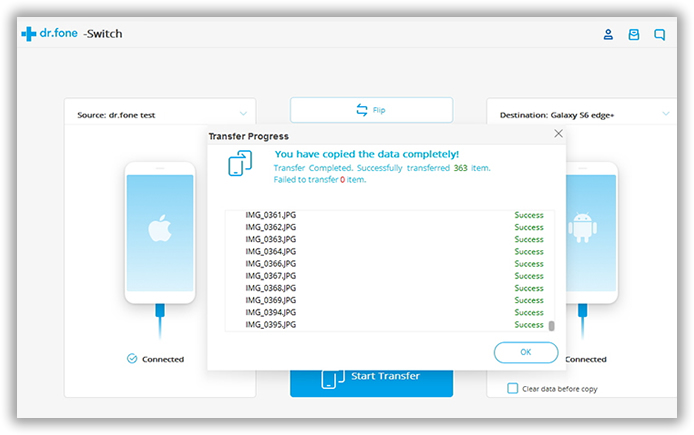 With it, you can also easy transfer hundreds of messages from iPhone to Samsung with One-click
The software is safe and secure. It is 100% safe and risk-free. This means that you can be sure that no single message will be lost in the process of transferring. Samsung to iPhone Transfer has been approved by a majority of media stakeholders around the world. The positive rating and approval by the public are a sure way to tell that the program has all that you need. The better part of this program is that upon buying, you are not left to struggle with it without knowing where to begin. You are assured of constant support from knowledgeable support staffs.
There are representatives who are ever ready to assist you in whatever needs you want help assisted. You can access them through live chats online or via the email. It enables you to transfer all files in your phone with just a click of a button. As stated earlier, PhoneTrans supports over 3000 smartphones running on different OS. This means that there is no point of worrying about the compatibility of this device. Beside file transfer, the program helps you erase your phone and also backup and restore your phone data.
As seen is this article, this is absolutely the best transfer tool on the market today. Not until you get and use it, you will never know what iPhonetransferrecovery PhoneTrans can do. Get one today and try it yourself. The software is available online for download and it comes with a free trial version. Get yours and transfer text messages from Samsung Galaxy to iPhone now!