Transfer Data from iPhone to iPhone With Cable (iOS 13+)
Recent discovery in OS 13 Beata 3 suggests that there is yet another way to transfer data from one iPhone to another. Until now, there are only three methods to transfer data from one iDevice to another. The first is the wireless method using iCloud backup. Basically, you upload data from the source device into iCloud as a backup file and, subsequently, restore it to the new device. The second way is to connect the source device to a computer running the latest versions of iTunes, then doing an iTunes backup, which can later be restored by connecting a new device to the same computer using a data cable. The third way is to use third-party software for data transfers, which we will talk about a little later.
According to 9to5Mac report, a branded new data migration between iPhones becomes available in subsequent versions of iOS 13. The artwork in question shows two iPhones connected directly to each other using a data cable, which works very similar to Samsung smartphone. Although the method does not yet work in the third developer beta of iOS 13, the leaked image is an indication that this might be a feature that Apple introduces into the iOS 13.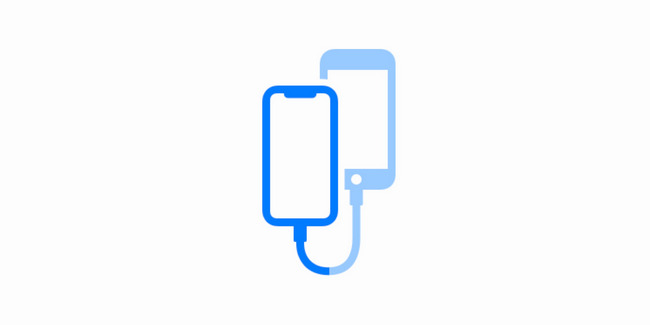 Transfer Data from iPhone to iPhone with Data Cable Only
Essentially, what you will need is a lightning-to-lightning data cable and two devices running iOS 13. Apple doesn't currently sell such a cable, but we guess it will be packed with new iOS devcies shipped in late 2019. You can also buy such a cable from third-party manufacturers. It's possible that Apple will release such a cable just for this purpose.
You must also make sure that the cable you are using can handle data transfers because not all of them are capable of that. If this is true, then users of iOS 13 could be getting a brand new method of data transfer that is much more reliable than doing it wirelessly via iCloud backup. However, it is still too early to say whether or not this feature will, in fact, be available on iOS 13 since the feature has not yet been enabled as of the third developer beta.
It is definitely possible that Apple is thinking about bringing the feature to iOS 13, but there is no guarantee for that. Until the feature can actually be activated in a subsequent beta version of iOS 13, nobody knows whether the feature will make it into the final release or not.
Advantages of Direct Data Transfer between iPhone Running iOS 13
One of the advantages of having a direct transfer method such as this is that there is much less of a chance of data being corrupted or altered in any way during the transfer process. Since you will be transferring the data between two identical operating systems, there should not be any format compatibility or other issues once the transfer is complete. That being said, we will have to wait until subsequent beta versions of iOS 13 are released before we can say for sure that this will be a new feature added to the iOS ecosystem.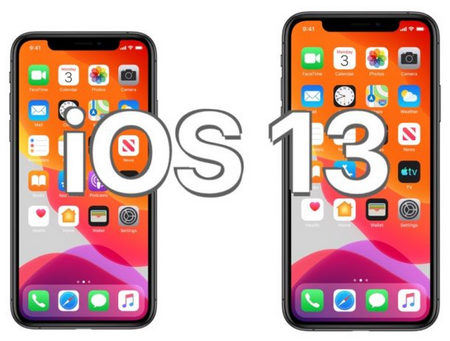 Another Easy Way to Transfer Data from Old iPhone to New iPhone
In the meantime, you can reliably transfer data from one iPhone to another using a third-party software like Phone to Phone Transfer. This desktop application acts as an interface between two iOS devices to enable seamless and trouble-free data migration between a source device and a target device. Since the software only acts as an intermediary utility, you will not face any issues with regard to file formats, data corruption, accidental data deletion, and other issues that are common with other transfer methods.
In addition to this, you will also have the benefit of being able to transfer only specific types of data according to your choice. For example, if you want to only transfer contacts and media, there is an option to do this. Let's take a quick look at how it works.
Step 1

Installation

The first thing you will need to do is get two lightning to USB data cables. You will also need to have the software installed on a Mac or a PC. You can download the program from this page.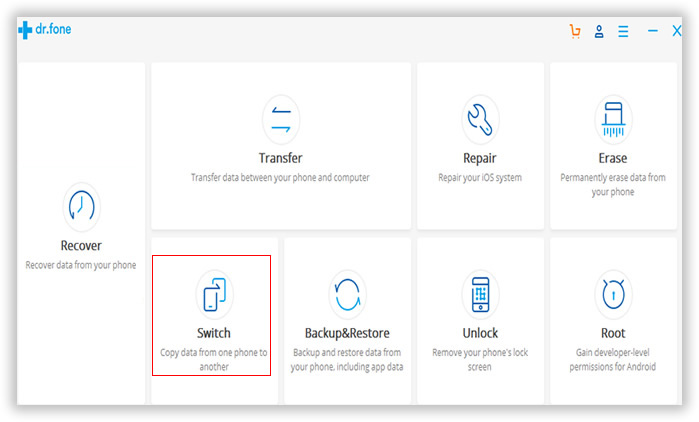 Step 2

Connect iPhones to Same PC or Mac

Once you have installed the software, launch the program and connect both devices to the computer. In the main software window, click on the Switch option, and you will be taken to a new page which shows the source device on the left and the destination or target device on the right. In the center, you will see the various data type options that you can choose to be transferred.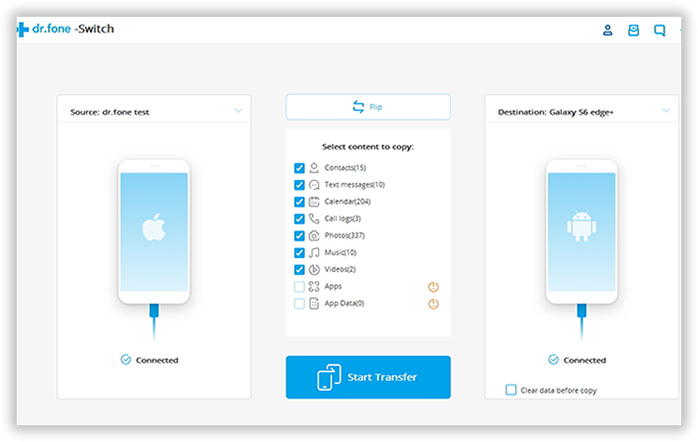 Note: Make sure that the device containing the source data is on the left and the target device which will receive the data is on the right. You will also see a Flip button in the center, which you can click on in case the device positions are inverted.
Step 3

Start Transfer

You can now select all the data types that you wish to transfer from the source to the target device. Once you have selected your data, simply click on the Start Transfer button to initiate the data transfer.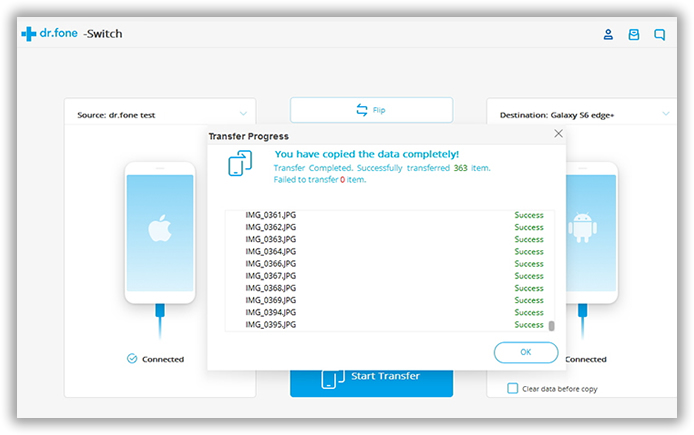 Depending on how much data you are transferring, this may take a little while. At the end of the process, you can check your target device and you will see that all the data types that you selected will now appear on the device. You may now unplug both devices and shut down the program.
Until we see that the wired device-to-device data transfer feature actually makes its way into a subsequent version of iOS 13, using third-party software is possibly the best and most reliable way of maintaining data integrity when you transfer information from one iPhone to another.
Another major advantage of using Phone to Phone Transfer is that, apart from being able to do data transfers quickly and reliably between two iPhones, it also offers a host of other features that you can see in the main software window when you launched the program. There are several amazing features such as iOS recovery, data backup & restore, device switching, and other valuable tools that iOS users will find extremely convenient to have.