Common iTunes Error when Restoring iPhone – How to Fix
iTunes has really developed over the ages. Back when iPhone was released, you could only manage your music collection with iTunes but with the latest version of iTunes, you can now backup and restore your iDevices as well as fix major iOS system related issues.
However, iTunes often shows errors when restoring iPhone or any other iDevices unexpectedly imgfor mysterious reasons. The most common error faced by iPhone users when restore iTunes is the "iTunes can't restore" error. This error usually occurs for the following reasons:
1. Outdated iTunes version.
2. Pending updates on Mac or Windows computer.
3. USB data cable connection issue.
4. Internet Connection Problem.
5. Hardware malfunction of failure.
Also, the similar issues that you may face with iTunes during restoring iPhone are as follows:
1. iTunes can't restore because the iPhone is disconnected.
2. There is a problem with the iPhone that requires to be updated or restore.
3. iPhone has timeout.
4. Error code: 2001, 3014, 1671, 1611, 9006, 1, 9...
5. Hardware malfunction or failure.
The solutions are very straight forward and this issue can be fixed by using the following troubleshooting methods:
Tips 1

Update iTunes

Download the latest version of iTunes on your Mac or Windows computer and update iTunes with the most recent version. If the error is occurring due to incompatible software update then this should resolve the issue.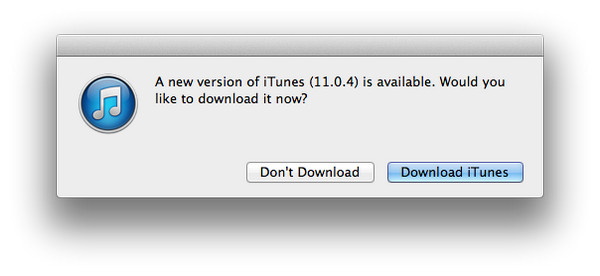 Tips 2

Update Computer Software

If you have any pending updates available on your Mac or Windows system then go to control panel and update your computer. The recent updates on Mac and Windows make the iTunes unavailable for Apple users. So, if you can just download the latest update directly from your system then it might resolve this case.
Tips 3

Connect iPhone with USB data cable

Instead of using Wi-Fi or USB hub ports, try to connect your iPhone to PC directly with the help of a thunderbolt or USB data cable. If the issue is with connectivity then it should resolve this trouble.
Tips 4

Uninstall Untrusted Software

This program works both on Windows and Mac computers, please download the right version according to your computer's operating system. The installation process is quite sample by following the built-in wizard. After that, a shortcut icon will be shown on the desktop to let your start the program quickly. The main screen shown as below:
Tips 5

Restart Your PC

If any update on your computer requires a mandatory restart then you must reboot your PC to apply its effect. After restarting, start the iTunes program again and try to restore again and see if it works with you.

If none of these solutions resolved your issue then surely the problem is with your iPhone system and you must take help from professional and commercial third party iOS system recovery software to diminish this issue forever.
How to Restore iPhone from iTunes Backup via iPhone Data Recovery
In this guide, we will be using iPhone Data Recovery to restore iPhone from iTunes backup. It is a great alternative to iTunes regarding this matter. Originally, it was introduced to restore backup files from your iPhone and iCloud but over the years, it has developed so much that now it can even perform iOS system recovery and repair your iPhone and other iDevice to normal.
Step 1

Download iPhone Data Recovery

You will be needed to install iPhone Data Recovery on a Windows or Mac computer and run the program on it. From the user interface of this program, click on "Restore from iTunes Backup File" from the side bar.
Step 2

Select iTunes Backup File

A few seconds later, all iTunes backup files are listed on the screen. You need to choose a correct one beofre proceeding to the next step.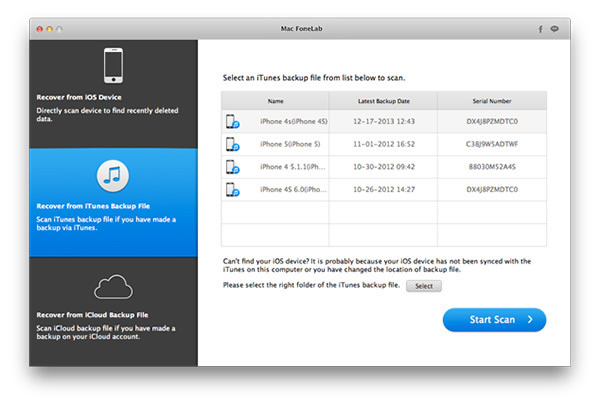 Step 3

Recover Lost Data from iTunes Backup

Click the Start Scan button. Then the program will analyze file structure in that file. A few minutes later, you will all content displayed into different categories. You can preview any one them and select it if it was the one you are looking for. Finally, click "Recover" button to save them on your PC.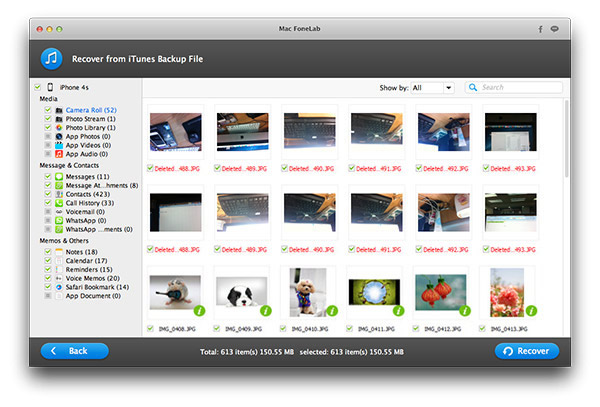 In this guide, we showed how to use iPhone Data Recovery to restore iPhone from iTunes. You don't need to buy different software to perform these tasks when FoneLab can alone handle both tasks perfectly. It can scan your phone for free but in order to recover data from iTunes or any other backup file, you must register the software to avail the full benefits. But it is a onetime worth of investment considering how powerful and efficient this software is. Plus, this program has thousands of satisfied customers and we are pretty sure, it will work perfectly with you as well.