How to Transfer Contacts/SMS/WhatsApp from Pixel to iPhone
Contacts, SMS and WhatsApp are one of the most used apps on smartphone in nowadays. Contacts contain all important information about colleagues, friends and families. On the other hand, SMS and WhatsApp are quite crucial in order to send and receive messages, pictures, videos and other valuable staff. So, it's quite understandable to move them to the new iPhone during upgrade.
In this brief tutorial, we are going to show how to transfer contacts, messages and WhatsApp chats from Google Pixel to iPhone 8 in 3 ways. Please note, that we will be using different apps and software to transfer contacts, SMS and WhatsApp from Google Pixel to iPhone 8, so make sure to follow the methods carefully.
Part 1 : Transfer Contacts & Text Messages from Google Pixel to iPhone X/8/7
In this part, we will show how to transfer contacts and SMS from Google Pixel to iPhone 8 using Move to iOS app. It is a wonderful app provided by Apple especially for those who are moving to iPhone from Android. Follow these below steps to migrate contacts & SMS from Android to iOS.
Step 1. Boot up your iPhone, connect to WI-Fi and select "Move Data from Android".

Step 2. Install "Move to iOS" app on your Google Pixel phone. It is freely available on Google play store, so you can simply search and download it.

Step 3. Open the app on Android phone and it will show a 6 digit code that you will be required to enter on your iPhone 8 to establish connection between them.

Step 4. Select Contacts and Messages from the data transferring list and tap send to transfer all the contacts and messages from Google Pixel to iPhone 8.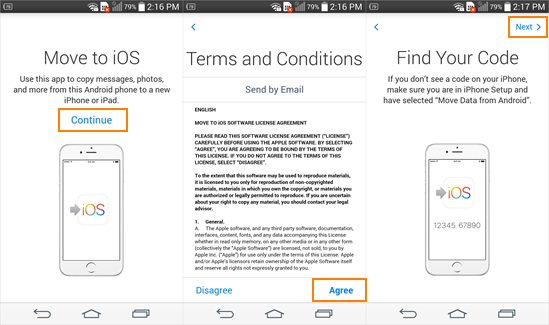 Part 2 : How to Transfer WhatsApp Chats from Google Pixel to iPhone X/8/7
This method perfectly works if you were transferring WhatsApp chat history from one device to another. Basically, we will upload WhatsApp chats on cloud server from Google pixel phone and restore them on iPhone 8. Here's how to do that:
Step 1. Open WhatsApp on your Google Pixel phone and go to Menu > Settings > Chats >Chat Backup.

Step 2. Tap on Backup option once and wait for WhatsApp to backup your entire conversation history.

Step 3. Now, install WhatsApp on iPhone 8 and enter the phone number in which you saved all the chats.

Step 4. Receive the OTP and enter it then restore from the backup automatically.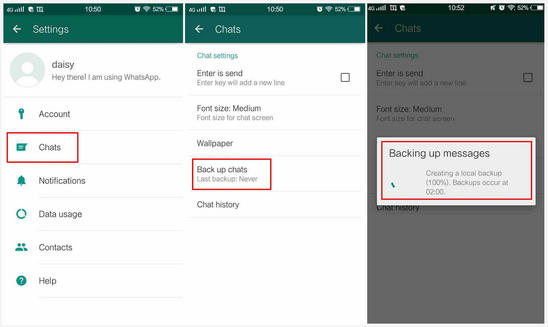 It will take few minutes to restore all chat history but once it is finished, you should be able to see all the messages from your previous device.
Part 3 : Transfer All Content from Google Pixel to iPhone in One-Click
If you are looking for a simpler solution that will allow you to transfer contacts/SMS/WhatsApp chats in just one click then Phone to Phone Transfer is the exact tool that you are searching for. It is an efficient and marvelous Android to iPhone data transferring tool that helps to migrate any kind of data from your old device to the new one with just a simple click on your mouse. It allows you to transfer SMS, contacts, WhatsApp, pictures, videos, music and other data types effortlessly.
It is supported in over 4000+ smartphone models including iPhone 3/4/5/6/7/8, Samsung, Sony, Asus, Motorola, Google and so on. Moreover, it supports other mobile operating systems too such as Symbian, Windows, iOS and Android.
Step 1

Install Phone to Phone Transfer on a Computer.

Install Phone to Phone Transfer on a Mac or Windows computer. Then follow the steps to install it on computer and initiate the data transferring process after installation is completed.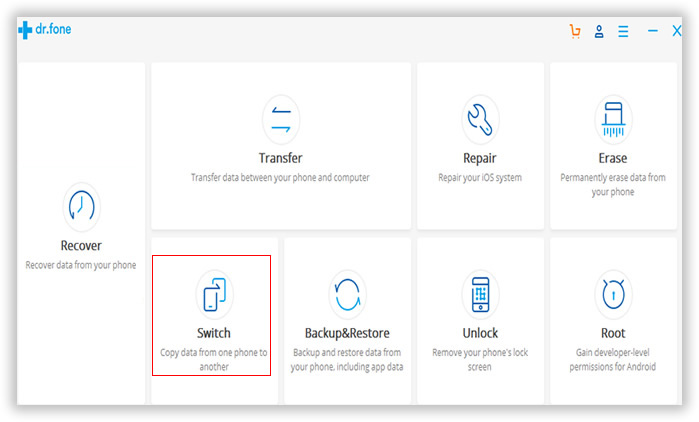 Step 2

Attach Google Pixel and iPhone to the Same Computer

Connect Google Pixel and iPhone with 2 different USB cables and wait for the program to detect them automatically.

Please note: Enable USB debugging on Google Pixel and unlock iPhone 8 if there is a passcode on it.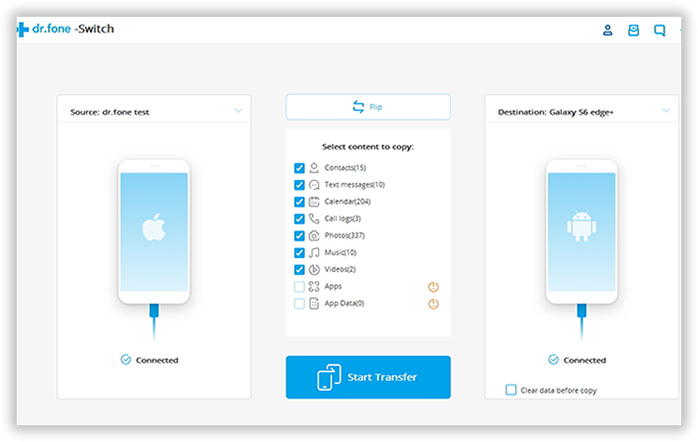 Step 3

Select File Type and Start Transferring Content from Google Pixel to iPhone

Click on "Switch" and both phones should appear on the next Windows. Make sure that Google Nexus appears on left side and iPhone 8 on the right side. If not then click on the flip button to reset the position.

Choose Message, Contacts and Apps from the menu and hit the "Start Transfer " button to migrate all the data from Google Pixel to iPhone. Now, check your iPhone and it should appear everything from your Google Pixel identically.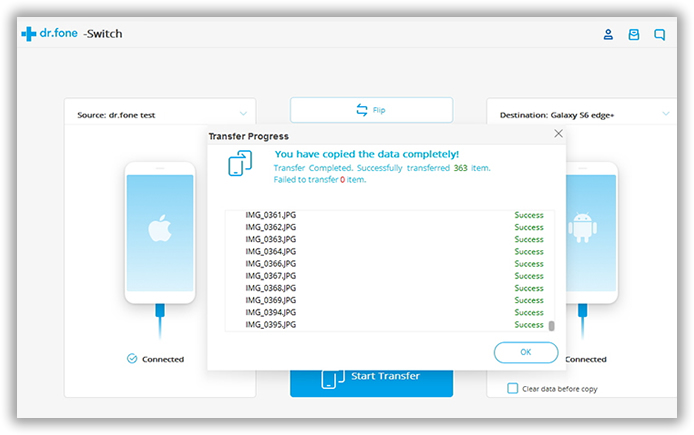 Upgrading phones can be very challenging because most of our important stuffs are loaded on the old device such as messages, contacts, pictures, videos, WhatsApp chats etc. Obviously you can try different apps to migrate all data but they could be very hectic because you will have to download a lot of apps and waste a lot of time. But thanks to MobileTrans, you can transfer all data from one phone to another with just a single click. No need to have any technical skills, just install the tool, connect your devices and all DONE!