Recover WhatsApp Photo and Video from iPhone/iPad/iPod
A few years ago, we could just send text messages using mobile phones. With the rapid development of smartphone technology, we can now send text messages, photos, audio even videos with instant messaging app and Whatsapp is the most popular app among them. There are cases that these handy little devices get dropped, stamped, and accidentally erased. The question is what do you do when you accidentally delete your phone's contents - your contacts, your calendar, your favorite apps, and of course WhatsApp photos or video clips? Then don't worry, that happened each day to other people and there are many solid solutions out there to help you restore the lost data.
iPhone Data Recovery is one of my favorite tools for restoring deleted data from my iPhone. It can recover Whatsapp photos or videos directly from your iPhone or from your iTunes backup and iCloud accounts. However, it's hard to retrieve previously deleted or encrypted data with other programs. Since Whatsapp works by signing in with a phone number, they themselves don't have an iCloud-type service so it is up to third-party programs like iPhone Data Recovery to help you restore your important documents, pictures, and videos. You can recover all of your files in one shot or one at a time, so you are free to work according to your schedule. Also, please keep in mind that if you are trying to recover WhatsApp photos, videos… or any other data… you must stop using your device as new data may overwrite the data your phone. Remember, the data is still there. It's just hidden from seeing. So don't panic! iPhone Data Recovery is here to help you!
Have a look at the features it offers:
Directly recover WhatsApp messages, history, photo, video and attachment.
Other file types including contacts, sms, photo, video, notes,music and documents.
Easily Restore data from iTunes or iCloud backup.
Super user-friendly interface with easy-to-navigate menu.
Restore lost data due to iOS update/downgrade, jailbreak, factory reset, etc.
Supported iDevice: iPhone 7/6S/6/5S/5/4S/4, iPod Touch, iPad Air, iPad and iPad Mini
Part 1: Recover WhatsApp Photo or Video from iTunes Backup File
Restore iPhone using iTunes is an all or none option. It means you restore all of the data from the backup or don't. There is no flexiable option out there. That's why I don't use iTunes for restore. iPhone Data Recovery has a much more agile functions in regard of data restore. You are free to choose the items you'd like to recover.
Step 1

Install and Open iPhone Data Recovery

iPhone Data Recovery is available in Windows and Mac OS X, so download and install the right version according to your own computer system. There is a default installation wizard during the process. Just follow the intructions it tells. When the installation is completed, launch the program and below is a screenshot of the program.
Step 2

Choose the Right iTunes Backup File

From the main interface, select Recover from iTunes Backup File. It takes 1-3 minutes to scan your computer to find the backup files. Once this is finished, iPhone Data Recovery will display all the backup files scanned on that computer. Select the right one from the list, click Start Scan button to let the program analyzing WhatsApp messages, photos and videos in that backup.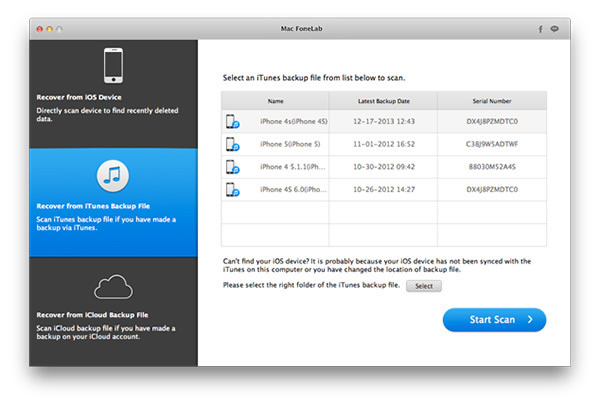 Step 3

Preview and Recover WhatsApp Photos or Videos

When the scanning process is completed, iPhone Data Recovery displays all the scanned files on that device and groups them into categories as the following. WhatsApp is under Message & Contact category. Then click WhatsApp Attachment, you can see all the photos, videos, or audio from there. Preview and select the right ones according to your own needs. Then, click the Recover button to begin the real restore. Don't forget to choose a local folder to store the recovered files.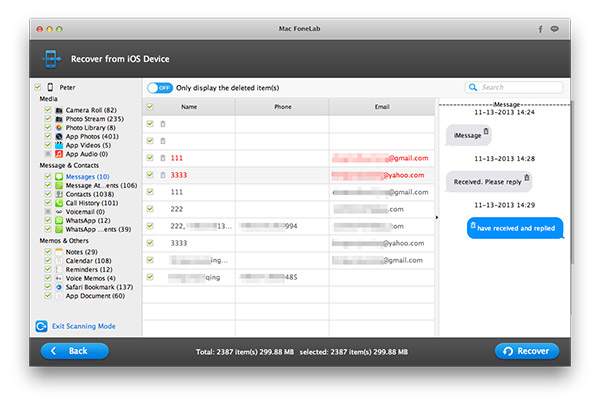 Part 2: Restore WhatsApp Photo or Video Directly from iPhone/iPad/iPod
If you don't have an iTunes backup file, then you should choose this method to recover WhatsApp photos or videos directly from iPhone, iPad or iPod Touch. However, you should first download and install iPhone Data Recovery first. In here, we take iPhone as an example.
Step 1

Connect iPhone to a Computer

Install iTunes on the computer you are going to use. iPhone Data Recovery uses iTunes as a bridge, so this is a must. Then plug the iPhone to the same computer via USB cable. Launch the program from the desktop shortcut and select Recover from iOS device option located at the left sidebar.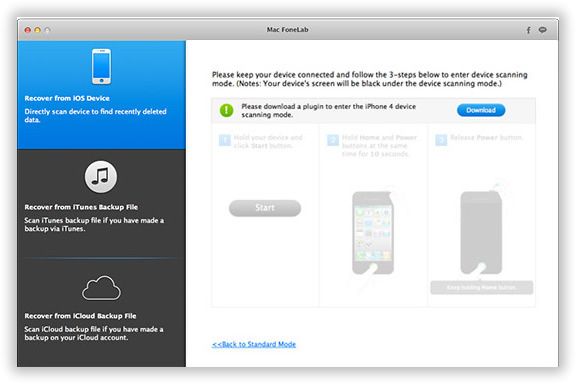 Step 2

Scan Deleted WhatsApp Messages and Attachments on iPhone

When the iPhone is recognized by the program, click the Start button to let the program scan the iPhone. The scanning process takes around 10-20 minutes. So please keep the device connected during this time frame.
Step 3

Preview and Recover WhatsApp Photos or Videos

When the scan is done, all the deleted files will be groupped in categories. Fortunately, all of the files can be previewed before recovery. WhatsApp photo and vdieos are under WhatsApp Attachment category, please note that. Choose right ones you are looking for and click the Recover button to begin the recovery process. When this is done, choose a local folder to store those recovered files.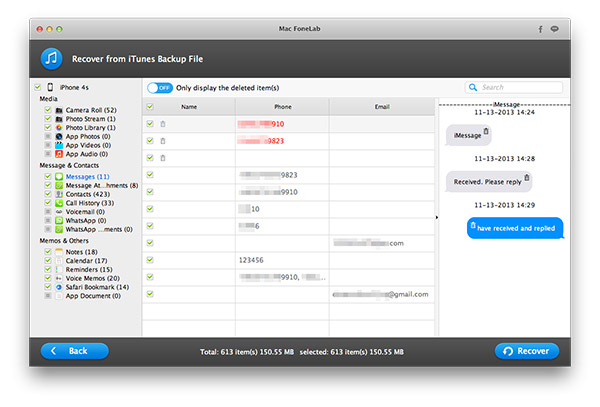 Part 3: Retrive WhatsApp Photo or Video from iCloud Backup(Optional)
When the device is not at your hand, and you didn't have an iTunes backup, then this is the only option left.
Step 1

Type Apple ID and Password

First download and install the program as described in above sections.Open the program after installation and select Recover from iCloud Backup File from the main menu. The program asks you to input the right Apple ID and password so that it can log in the iCloud and analyze backup files from iCloud.

Note: The program NEVER keep your account info or content during the session.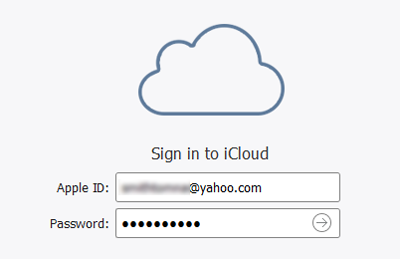 Step 2

Download iCloud Backup

After the scanning is done , all backup files will be listed on the main screen as you can see from the following screenshot. Select one and download the right backup from iCloud.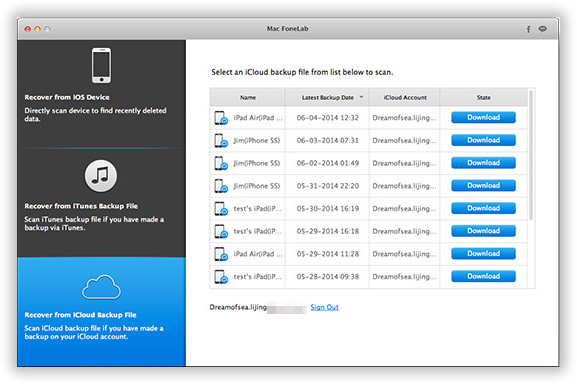 Step 3

Preview and Recover WhatsApp Photos or Videos

After the backup file was downloaded completely, then select that backup file to let iPhone Data Recovery extract files from it. Different content will be categoried in different groups. Select and preview the photos and videos from WhatsApp Attachments. Then click Recover button to start the recovering process. This will take a while depending on how many files being selected. Finally, choose a local folder to store the recovered photos or videos.

We live in a time of data - if we lose our digital information, we can become lost. We are also quite used to "planned obsolescence" and the knowledge that our handy little gadgets we use throughout the day might fail at any given moment. Security issues like phishing websites and hacking programs have made backing up and having the means to retrieve data to be indispensable survival skills in the modern world. Therefore, helpful software programs like iPhone data recovery are incredibly close to mandatory for everyday life. In fact, it's so mandatory that you may believe you're covered with your routine backup drive or network system. However, there have been many satisfied and five star reviews of iPhone Data Recovery- simply Google them and you will see it listed in many "Best" recovery programs lists. We have great confidence that you will find this program very useful. It is a great comfort to know that your data will be recoverable when the little incidents in life happen.