How to Recover Data (Photo, Video) from iPad without Backup
With the rapid development of mobile camera technology, people now are more willing to take photos with their mobile devices, such as iPad. One of the best benefits is that you don't need to carry an additional camera with you when shooting photos. Your phone or tablet is far enough to do that without losing any quality in the pictures. As you know, iPad is shipped with an extraordinary build-in camera with 1.2M pixels, almost as good as high-end single lens reflex camera. The high profile camera makes iPad an ideal device to take photos at anytime and anywhere.
However, one frustrating experience iPad users may suffer is the accidental deletion of photos. This could be a serious problem considering that most of the photos and videos stored have personal relevance to the user or they may be needed for their work. The trouble is compounded when the files that were deleted would be badly needed for an upcoming report or business transactions. You have to figure out a way immediately when the problem occurs.
In the past, accidentally deleted photos were irrevocable due to technology limitation. Nowadays, though, advancements in technology have led to the creation of software that can help users recover deleted photos from iPad. iPad Data Recovery is designed to make it easy for you to recover photos and files that have been accidentally deleted or removed from your iPad. Data can be recovered in three ways. You can retrieve them from your iOS, from iCloud files, and from iTunes. Supported device and file types:
iPad model: iPad Pro, iPad Air 2/Air, iPad Mini 4/2 and iPad 4
File type: Photos, Text Messages, Contacts, Music, Video, Call history, Notes, Voice memos and documents.
Tutorial: How to Recover Deleted or Lost Data from iPad without Backup
Step 1

Download and install iPad Date Recovery

The download link of this program is available on above. It supports Windows PC and Mac OS X. Please download the corresponding version and install it on your computer by following the default instruction.
Step 2

Connect your iPad to computer

Plug your iPad to the computer that installed the data recovery software. Once your iPad being attached to the computer, the program will detect it automatically. If everything goes well, then it asks you to go to the next step.

Note: This program provides 3 recovery modes for different needs, including: recover from iOS directly, restore from iTunes backup and restore from iCloud backup.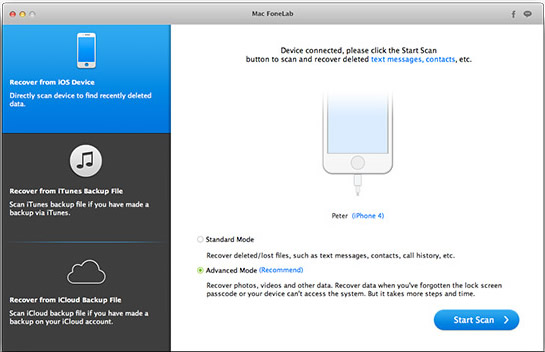 Step 3

Scan deleted Files on iPad

Choose Recover from iOS Device from the sidebar and click the start scan button on the bottom. Then the program starts to scan and analyze the whole file system on your iPad. This would take a while depending how many files on that device. So please be patient. .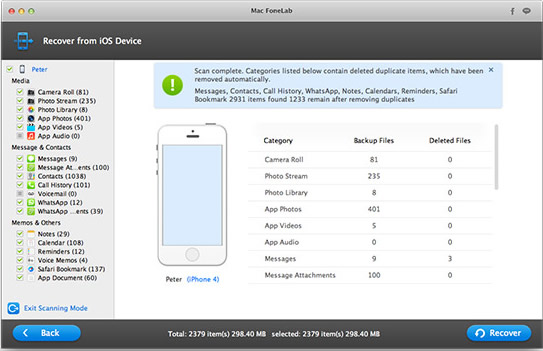 Step 4

Preview and recover deleted files

When the scan process is done, the program groups the scanned files categories. In each category, you are free to preview each file to see whether it's the one you are looking for. When the selection is finished, and then clicks the Recover button to take off the real recovery task.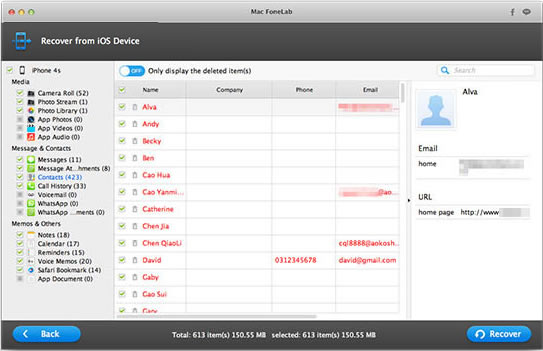 Aside from recovering data from iOS device, the software can also be used for extracting files individually from iCloud or iTunes backup. With iPad Data Recovery, you are kept invulnerable to permanent loss of your deleted photos and videos. You will feel safe with the knowledge that there is guaranteed way for you to recover your photos and videos if ever you accidentally delete them.