How to Unfreeze an iPhone/iPad/iPod in 2 Ways
An iPhone, iPod or iPad may get frozen at any time. The term- frozen denotes unresponsiveness of the device. This frozen condition of iPhone can be caused due to several factors. For instance, an old iOS version with no update may be regarded as one of the possible reasons. Moreover, if your iPod or iPhone has not enough internal memory, the performance of your device may be hampered. A low standard app, which is running on your iDevice, can also be a cause of frozen device. Thus, to unfreeze your device, it is better to use dr.fone. It is a good software system to recover data of your iOS device. Besides, you may also get back the normal state of your iDevice. There'll be no loss of any file or data during the process of unfreezing.
Method 1: Use iOS System Recovery to Restore Frozen iOS device
iOS System Recovery is a professional app to solve all kinds of iOS system issues as its name implies. Unfreezing iPhone, iPad or iPod Touch is easy with the app by flashing a new iOS firmware to the device. More importantly, there is no data being deleted during the whole process, which is much safe than other methods. That is the reason why it is recommended as the first solution.
Step 1

Download iOS System Recovery and Go to the Option for System Recovery

When you want to repair the freezing issues of iPhone from System Recovery option, you may get the button for "More Tools". Create a link of your desktop with iPad or iPhone Using the USB cable. While this is done perfectly, iOS System Recovery may show you its interface, and here, you have to press- Start option to begin the functioning.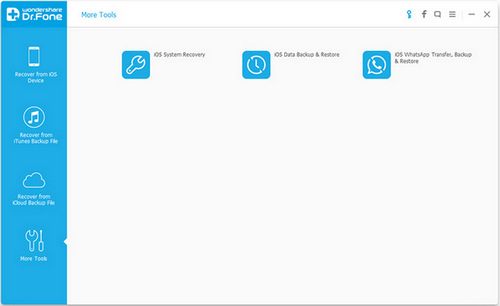 Step 2

Download Appropriate iOS Firmware

You have to avail such firmware, which suits best with iPhone, and it helps to repair the issue. In order to restore your device, this firmware is to be introduced as software. It also finds out model of iPhone and offer you newest iOS version. Within the short period, all files may be downloaded.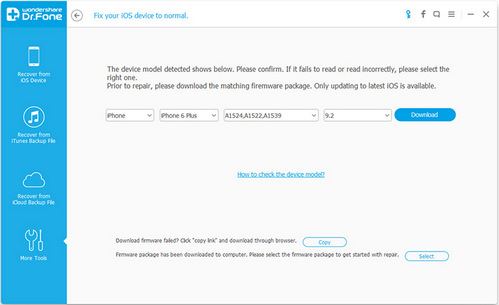 Step 3

Unfreeze iPhone/iPad/iPod to Normal State

iOS System Recovery will initiate its process of unfreezing your phone automatically after the completion of downloading process. While you have done this step, your mobile may again start working as the usual device. Within ten minutes, you can get an unfrozen phone, which is usable once more.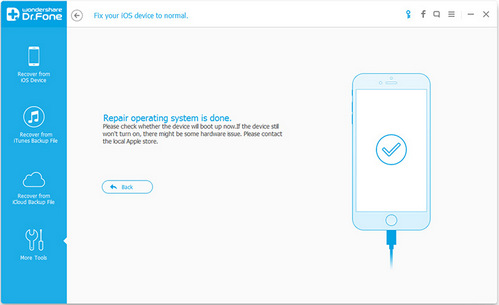 The app has really simplified your task of restoring the frozen phone. While it is not effective, your phone may have a problem of hardware. However, you have another option to unfreeze iPad. You may take advantage of iTunes of your own device.
Method 2: Unfreezing iPhone/iPad/iPod Touch with iTunes
Step 1: While you see that the freezing problem crops up very often, the restoration is to be done from factory settings. Make use of iTunes in order to back up your iPad or iPhone. Same procedure may be performed with the backup to your iCloud platform. However, it takes much time for the complete task.
Step 2: While your device does not have it, you need to download it from the official site.
Step 3: At the top portion of window, you may find a list of some buttons. While your device has not appeared on the iTunes, you have to unplug the system from PC; then deactivate your iPhone completely. After a few seconds, plug your device and press Home option until you see the logo of iTunes.
Step 4: Hit the button- Back up. It will start to back up the records of iPhone to a PC. Process for backup takes some minutes and you may observe a progress bar, placed at main window.
So, you may install  iOS System Recovery  or use iTunes in order to get your iPhone unfrozen. It's now easy to restore your data very fast without any risk. Same processes are to be followed for iPod and iPad also.