The Best 7 Messaging or Chat Apps for iPhone in 2019
Text messaging is used to be an efficient way for communications since the introduce of cell phone. Now messaging has far beyond texts. With a modern messaging or chatting app, you can not only send texts, but also pictures, audio and videos. Some of them even offer free voice and video calls free of charge.
Not surprisingly, there are tons of messaging apps for iPhone and many of them have similar features. Messaging is mainly for connecting friends, family members and colleagues so the major difference is the user base and secure level. Facebook Messager and WhatsApp is global favorite. Line is widely used in Korean and Hong Kong. Viber is popular in Japan and Wechat is the well known in China. Youo should switch to a new messaging app if you moved to a new country. Please check out the details of each app and give a try now!
No 1. Facebook Messenger - Popular and Safe Messaging App
Originally a spin-off product from Facebook's core social media application, Facebook Messenger has quickly risen to become one of the top texting apps on iPhone and Android. One of the unique features of this app is the ability to initiate a secret conversation with a contact that is fully encrypted from end to end. Although all messages, including normal ones, are encrypted during transit from your device to Facebook's servers, Secret Conversation messages are also encrypted for any recipient other than the person to whom it was sent. For the sender, the message will disappear 10 seconds after being sent, ensuring that nobody can see the message even if they get their hands on the device.
Aside from this cool feature, Facebook Messenger offers a ton of free GIFs and stickers, and it has one of the largest collection of emoji. Any active chat remains on your screen as a floating Chat Head that you can move around or dismiss by dragging it down towards the X. Facebook Messenger also allows file and location sharing and, in certain countries, there's also a payment option where you can send money directly to a contact. Voice and video calls can be made from the app, and the call and video quality are second to none. A lot of people now prefer to stay in touch with their friends and family using Messenger instead of making a conventional phone call. Data charges apply, of course, but in most countries, it's still cheaper than making a call from your SIM.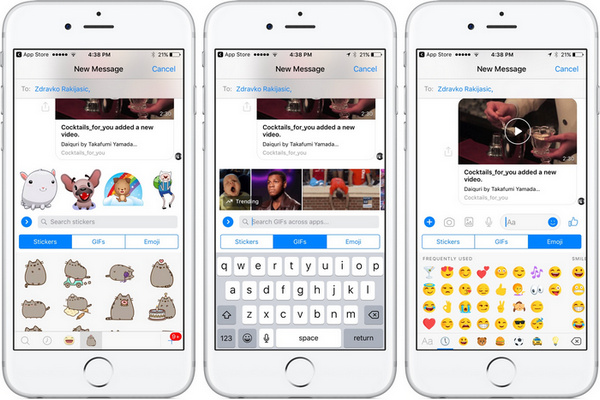 With Facebook now being used by more than 2.38 billion users around the world, Facebook Messenger has a comparable user base and is by far one of the most popular messaging apps on iPhone.
No 2. WhatsApp - Cross Platform Messager for iOS, Android and PC
The natural follow-up app to Facebook Messenger is the other chat application owned by Facebook - WhatsApp. In countries like India, WhatsApp is as ubiquitous as, and even more popular than Facebook Messenger. WhatsApp has standard features like voice and video calling, an extensive collection of GIFs and emoji like Messenger, and a simple interface that has resisted major changes since the app was launched in February 2009. WhatsApp also has a web client that lets you access your account from a desktop using a browser. You can't make calls from WhatsApp Web, but you can pretty much do everything else that you can on the mobile version of this awesome messaging app for iPhone and Android.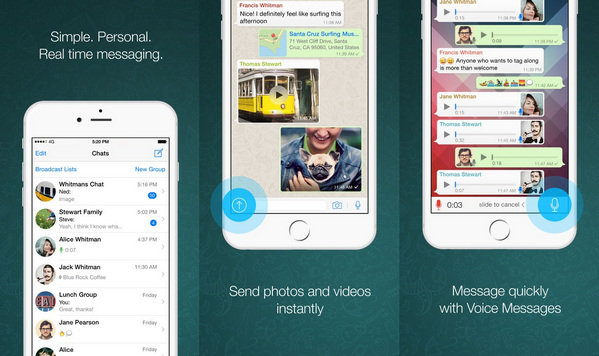 WhatsApp has a unique feature in that all accounts are linked to a mobile phone number, which helps authenticate users and integrate the app with the iPhone's other features. For example, if you go into the Contacts app, you'll see whether or not the person's phone number is associated with a WhatsApp account. That means you can initiate a call or a chat right from the Contacts page without having to first launch WhatsApp. You can also delete messages to un-send them, share live location with a contact, retain information when switching to a different phone number, initiate group chats and calls, and much more.
No 3. Line - All in One App with Free Messaging Calls
With over 600 millions users, the Line app is another very popular messaging app for iPhone. The user base is skewed towards Asia, its biggest market. As with Facebook Messenger, chats can be encrypted from end to end, and you can have up to 200 people in a chat group. The Line app also has a lot of similarities with Facebook. It has tons of popular stickers, and there's a Facebook-like timeline where your contacts can make comments on your chat posts.
Line can also be used to set up photo albums and have your friends be able to view them. Line to Line video and voice calls are quite clear and can work with slow Internet speeds - something that's a major feature in many markets where mobile data speeds aren't that fast. One of the great features that make this app popular in secondary markets is that data is compressed when being sent, which means less data usage.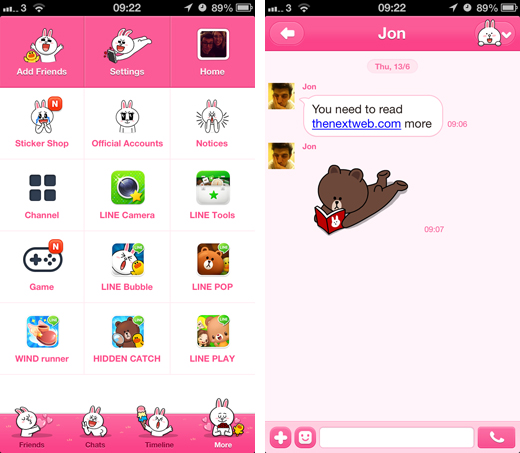 Like WhatsApp and also Viber, another messaging app, Line uses phone numbers to authenticate users. Line messenger was also one of the first mobile apps to feature group video calls, which has become a standard in today's competitive world of iPhone messaging apps.
No 4. Viber - Group Text Messaging with Unlimited Free Voice and Video Calls
Yet another popular messaging app for iPhone in emerging markets is Viber. This app has over a billion users around the world and offers some unique features like the ability to make domestic and international calls at very reasonable rates. You can also set your status to be hidden so your contacts won't know when you're online.
Chat extensions are another great feature that allows you to access music, videos and other content right from your chat window and share them with your contact.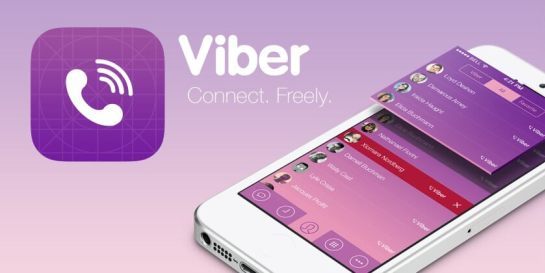 Viber also offers unlimited collaboration because there's no technical limit on the number of users in a group. There's also a desktop client that automatically syncs with your mobile app so you can seamlessly switch devices in an instant. Unlike WhatsApp Web, calls to a Viber number can be transferred to the desktop client.
No 5. WeChat - Best Messaging App in China with Tons of Features
With over 1 billion users primarily in the PRC, WeChat can be considered to be the WhatsApp of China. However, it goes beyond most of its peer applications because of the sheer number of integrations. Apart from voice and video call support, this messaging app also has a payment utility, games, dating, taxi-hailing, QR code support, and many more features.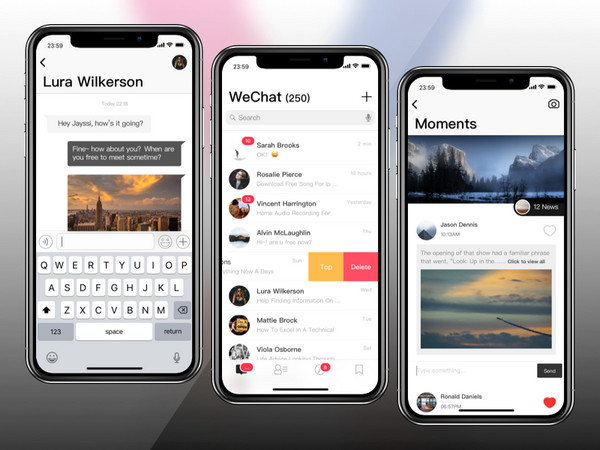 As of January 2019, the platform was upgraded to the latest version, WeChat 7.0. The social network and messaging app received a full facelift, along with cool features like selfie stickers, configurable chat alerts, and Time Capsule, which lets you share video posts on a time-bound basis.
Another great feature is the "Wow" Top Stories tab, which can be enabled by going to Me > Settings > General > Manage Discover. When enabled, you will be able to join a pool of shared content that is distributed to a large reader base. The feature is currently on a subscription basis targeting brands, companies, media, and individuals.
No 6. Google Hangouts - Best Messaging App for Collaboration
Hangouts is the spin-off from Google's Gmail chat, and is now widely used as a messaging app for sending text as well as making video and audio calls. It is a multi-platform application that offers unique features like screen-sharing (on desktop), admin controls for groups, etc. It is also well-integrated with other Google products like Drive and Gmail, which makes it an ideal collaboration platform for small and large teams.
Hangouts is also available for G-Suite corporate users, and offers a range of services and tools to make it a truly comprehensive communications platform. It also includes basic features like photo sharing, video and audio calls, color emoji, etc. The fact that Hangouts data is saved on Google's cloud servers means that chat history is automatically synced across all devices logged into that Google account. Whether as a corporate tool or chat app for iPhone users and Android fans, Hangouts is as good as they come.
No 7.SnapChat - A Messaging App Favored by Teenagers
This particular app is hugely popular with millennials because of the ephemeral nature of shared content. There are tons of features such as geofilters, a large sticker repository, the Stories feature that was later emulated by Instagram, Multi-Snap, which lets users stitch their videos as a story, SnapMap to track your friends in real-time, and so on. Geofilters can now be created on the go, with a decent collection of templates that can then be customized with stickers, text, Bitmoji and a lot more.
Voice filters are another unique feature exclusive to SnapChat. This allows you to record and modify voice and apply it to a Snap, which is the name given to a shared piece of content. The Tint Brush utility uses artificial intelligence in the form of object recognition, which means you can accurately select a person's hair or face and change the color to make them look different on the Snap. Some of the recently added features include Limitless Snaps, Backdrops, Attachments for links, Looping Videos, an Emoji Brush, a Magic Eraser, etc. SnapChat is currently used by around 186 million daily users.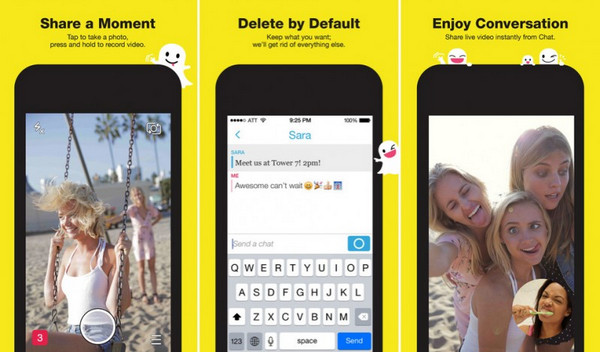 These iOS apps are currently the 7 best messaging apps on iPhone. Even though Message is used by a majority of iPhone owners, the need for variety, more options, and greater features keeps users hunting for new messaging and social apps to try.